Shen Yun: The Beauty of the Human Spirit
April 20, 2014 7:15 pm Last Updated: April 20, 2014 7:15 pm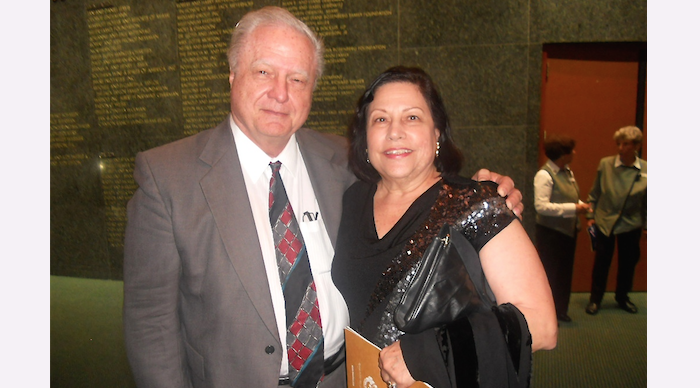 MIAMI—When John Proni saw Shen Yun with his wife, Maria, at Miami's Arsht Center on April 18, he knew he was seeing something special.
Dr. Proni, a physicist who specializes in the environment, said, "I think the show is excellent. I visited China in 1986, and in 1986 I didn't pick up the kind of happiness and harmony you can see in this show, which is very nice.
"I think that [Shen Yun] conveys a real sense of optimism, good fortune, and happiness—and brotherhood among people," he said.
Shen Yun Performing Arts is based in New York and is dedicated to reviving the traditional Chinese culture, which was all but wiped out by decades of communist rule.
"I would say it's one of the top shows that I have ever seen," Dr. Proni said, encouraging his wife to share her thoughts.
"I loved the show," Mrs. Proni said. "I loved the costumes and the dances. I loved the lotus dance [The Steadfast Lotus] and the one with the drums too. I thought those were the top."
Theatergoers often speak about The Steadfast Lotus and how it touched them. Although the dance tells a sad story of a mother taken away from her daughter by Communist Party police who seize her because of her beliefs, the story leaves audience members with a sense of hope.
Dr. Proni said he'd tell his friends and family: "Come here for a good time. Come here to learn some things. And come here to see something about the beauty of the human spirit."
Reporting by Edie Bassen and Louise Rothman
New York-based Shen Yun Performing Arts has four touring companies that perform simultaneously around the world. For more information, visit Shen Yun Performing Arts. 
The Epoch Times considers Shen Yun Performing Arts the significant cultural event of our time. We have proudly covered audience reactions since Shen Yun's inception in 2006.