Shen Yun Technology Impresses Seattle Couple
April 4, 2014 3:11 am Last Updated: April 5, 2014 3:16 am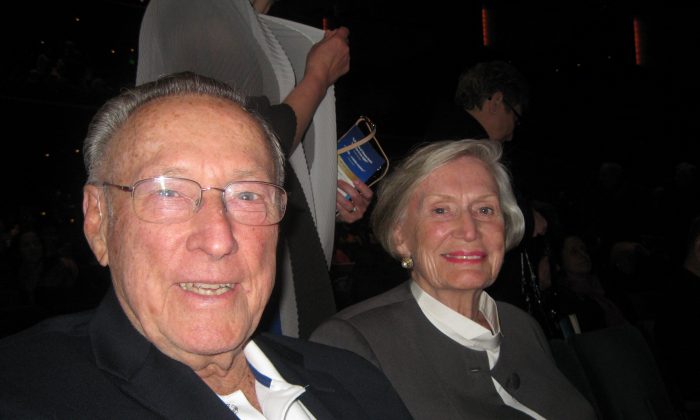 SEATTLE—"Oh, I was impressed," said Dewayne Korver after seeing Shen Yun Performing Arts at Seattle's Marion Oliver McCaw Hall, on April 3. Mr. Korver, a retired mechanical engineer for an oil company, attended the performance with his wife, Shirley.
"I'm particularly impressed with the integration between the dances and the computer-generated scenery," added Mr. Korver.
Shen Yun's state-of-the-art technology includes a digital backdrop that extends the stage to transport the audience to a world that depicts China's 5,000 years of divinely bestowed culture. "The backdrops are magical windows to completely different realms," reads Shen Yun's website.
The backdrop's images are set in perfect arrangement with the music of Shen Yun's full orchestra and its world-class dancers.
"Just the way it's so well-coodinated," Mr. Korver said.
As far as the dancing, Mr. Korver paid special notice to the how the females dancers "just seemed to glide as if they're almost gliding across the stage instead of walking. Kind of interesting."
Mrs. Korver was impressed by the use of color schemes to complement the dancers and orchestration. "The colors are fantastic … and costumes," she said. "Oh, I thought the colors were great!"
"They're so coordinated—the turquoise and the reds—they're beautiful!"
Mr. Korver concluded that he would "recommend it to anybody."
Reporting by Michael Green and Michael Fitzgerald
New York-based Shen Yun Performing Arts has four touring companies that perform simultaneously around the world. For more information, visit Shen Yun Performing Arts.
The Epoch Times considers Shen Yun Performing Arts the significant cultural event of our time. We have proudly covered audience reactions since Shen Yun's inception in 2006