HOUSTON—After years of wishing to attend a Shen Yun Performing Arts show, David Edery finally got his chance at Houston's Jones Hall for the Performing Arts.
Edery, a medical doctor, was floored by the Dec. 28, 2019, performance.
"Exquisite. Absolutely exquisite. Beautiful, very talented. Beautiful colors, grace, classiness, elegance, beauty, pure … Beautiful, absolutely beautiful. I'm flabbergasted," he said.
"I've been wanting to see it for many, many years. Never had an opportunity, and some friends invited us to join them tonight. … I'm surprised I waited this long to come and see it. My friends that are with me, this is their fifth time of seeing it."
New York-based Shen Yun is touring the world, reviving 5,000 years of Chinese culture through classical Chinese dance and other art forms. Since time immemorial, traditional Chinese culture has held the belief that Heaven plays a role in man's everyday life, that Heaven and Earth are inextricably entwined.
Audience members often say it's as if Heaven or heavenly beings have really appeared onstage.
"Very much so. Very much so. It's like a dream onstage. It's like people dreaming. It's like flowing, it's glowing, it's gliding. It's beautiful. I'm really mesmerized by the show," Edery said.
Shen Yun incorporates specialized animated backdrops to make it appear that characters fly through the air in a way that no other live performance does. These effects are patented by Shen Yun and struck Edery as especially impressive.
"I like when the angels came down. It's beautiful. Beautifully done … beautifully done," he said.
"The colors are bright. It just takes your breath away. So beautiful, beautiful, absolutely beautiful."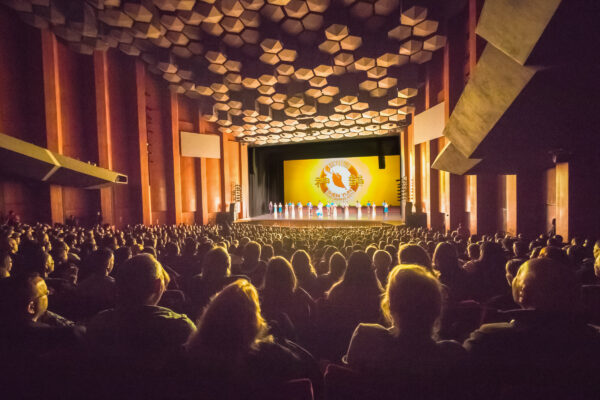 His reaction to the divinely inspired Chinese culture in the show was that it's "very graceful. Very pure."
"It's grace and pure. That's all I can say. It's peace. It feels good. It's safety. It's a feeling of calmness, of feeling good. Really feeling good. It's a lot of things," he said.
"It's emotional. It makes me feel happiness. And it's funny also. There are some funny parts in it."
The doctor summed up his message for others about Shen Yun: "Just a must-see. An absolute must-see."
With reporting by Sophia Zheng and Brett Featherstone.
The Epoch Times considers Shen Yun Performing Arts the significant cultural event of our time and has covered audience reactions since the company's inception in 2006.