SEOUL, South Korea—Shen Yun fans, some dressed up in a hanbok, a traditional Korean dress that is reserved for special occasions, gathered to greet the New York-based Shen Yun Symphony Orchestra at the Gimpo Airport on Sept. 29.
Milen Nachev, the orchestra's conductor, spoke at the airport about the success the company had enjoyed on its tour of Taiwan.
Nachev said that they had 12 very successful concerts in Taiwan and "everywhere the reaction of the audience was the same: they all said in their feedback that they've have seen images with our music. They feel energized, they feel spiritually uplifted—which is incredible."
The orchestra's musicians, who also accompany Shen Yun Performing Arts' companies as they tour, made their debut at Carnegie Hall in 2012. Due to popular demand and also because of Shen Yun's enormous success in Asia Pacific, Shen Yun Symphony Orchestra has also toured Taiwan, South Korea, and Japan in recent years.
Before their arrival in South Korea, the Shen Yun Symphony Orchestra's tour of Taiwan's cities created a box office record—nearly all 12 concerts were sold out—proving Shen Yun's enormous popularity.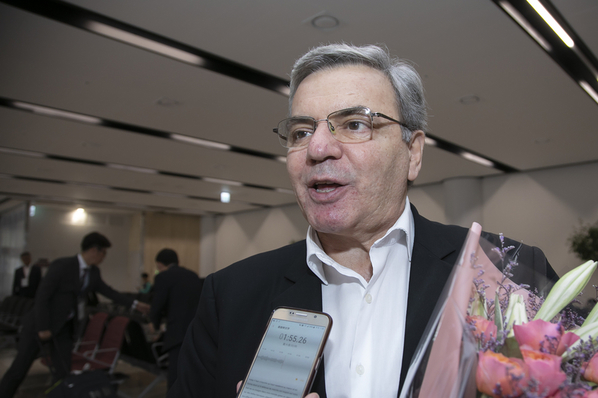 One reason for the orchestra's success, Nachev explained, is how the symphony orchestra has taken a different approach compared to other orchestras around the world.
"Shen Yun has a completely different repertoire strategy, and our program philosophy is quite different than other symphony orchestras. We believe that day, in the 21st century, to attract the attention of the audience, we have to promote and perform shorter pieces with different atmospheres, with different [emotions], and [different] spiritual meanings, that will make the audience more engaged," Nachev said.
When asked about what South Korea professional musicians can expect when they go to a Shen Yun concert, Nachev said, "Please pay attention to the deepness of the harmonic language, and to the incredible richness of the rhythmical structure of original Shen Yun compositions—you will feel amazed."
"We have surprises for the Korean audience. Of course, this is a secret. But I hope the Korean audience will enjoy [the surprises] very, very much," Nachev added.
A Unique Orchestra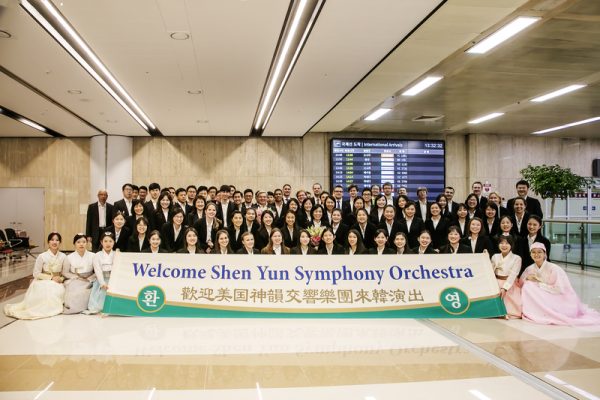 One of the orchestra's flautists, Chen Ying, pointed out that Shen Yun has managed to combine traditional Chinese instruments with a Western symphony orchestra to produce beautiful musical effects—the timbre, the harmony, and the balance.
Aside from the effects, Chen added that Shen Yun's original compositions allow the audience to appreciate the cultural richness of 5,000 years of Chinese history—reviving the rich Chinese history, almost lost in modern day China.
It is the wisdom of Shen Yun's artistic director that has made everything possible, Chen explained, which is why oftentimes that the audience feedback shows that they are so touched by the beauty of what they see and what they hear.
Chen concluded that she is looking forward to successful performances in South Korea—where she hoped that Shen Yun's music will be able to speak to and touch the hearts of Korean audience members.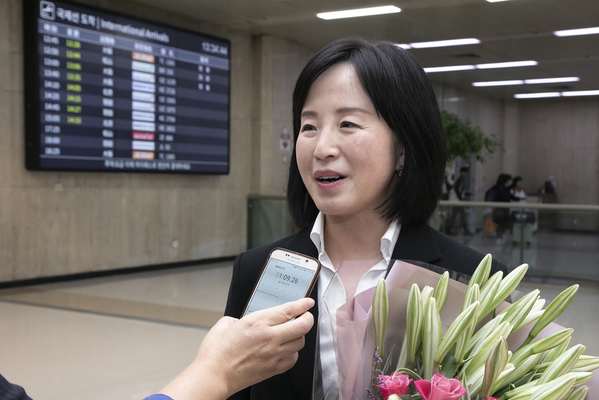 The first concert in South Korea is scheduled on Sept. 30 at the city of Daegu. Then Shen Yun will grace the stage of the Jeongsimhwa International Cultural Center in Daejeon on Oct. 2. 
Shen Yun Symphony Orchestra will kick off its North American tour in Canada, with one concert at Toronto on Oct. 5, before returning to the United States for concerts in New York City, North Bethesda in Maryland, Boston, Washington, D.C., and Chicago.
Reporting by NTD Television and Frank Fang
New York-based Shen Yun Symphony Orchestra comprises musicians from the five Shen Yun Performing Arts touring companies.
The Epoch Times considers Shen Yun Performing Arts the significant cultural event of our time and has covered audience reactions since the company's inception in 2006.