SYDNEY—Petra Geara and her 11-year-old daughter, Zoe, both thoroughly enjoyed Shen Yun Performing Arts as it dazzled audience members during a performance at the Sydney Lyric Theatre on March 6.
"We enjoy arts and we enjoy dance, and I wanted to find something that I can could do together with Zoe," Geara, a lawyer, told The Epoch Times. "Especially for kids, it is enriching to see the culture and rich dance."
Zoe said that Shen Yun is something very different to anything she has seen before.
"The sound is very nice. The sound matched the colors and the music was really good. It is really pretty," she said.
Geara, who grew up in Russia and is a polyglot speaking five languages and now learning Chinese, appreciated the fact that New York-based Shen Yun was bringing such a cultural experience to Asutralia.
"It's a rich story," she said.
Shen Yun is about half-way through its 2019 world tour as it continues on a mission to revive the essence of 5,000 years of "divinely inspired" traditional Chinese culture that has almost been lost in recent times.
This message of humanity's divine connection was something that Geara said resonated with her.
"I like the message. It's very clear," she said.
"They are trying to show how you're supposed to go back to your ancient truths to find the answers for the problems today. People just don't think about that."
Zoe said she also really enjoyed all the colorful costumes that were shown across the range of dances, from the long sleeves of the Tang Dynasty palace to the pleated skirts of the charming Yi girls.
"I liked all the colors and how it's 'flowy' … and when they dance, it flies in the air," Zoe said.
Sublime Color
Also in the audience was Mario Cortés, a corporate trainer who used to teach international students at an Australian university. He said also thoroughly enjoyed the opening performance of Shen Yun in Sydney.
He said he was impressed by how Shen Yun has been able to "capture the thread of such a long and wonderful history," as opposed to shunning the ancient in favor of money or ideology.
Mario attended the show with his partner, artist Linda Riseley, who was also very impressed.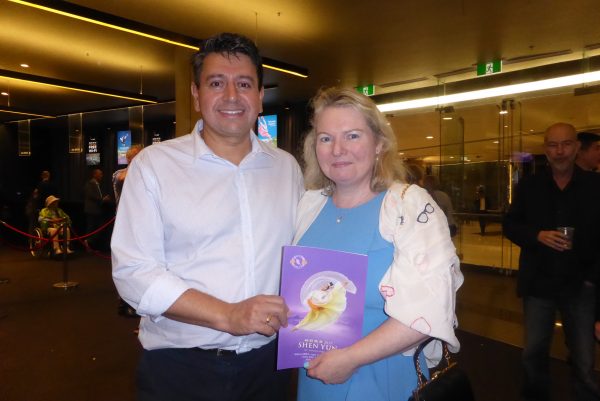 "They're just sublime. You can really feel the dancers are putting their all into it. And the color choices were so beautiful too," Riseley said.
"They're not what you expect."
With reporting by Anne Zhong and Mary Yuan.
The Epoch Times considers Shen Yun Performing Arts the significant cultural event of our time and has covered audience reactions since the company's inception in 2006.