Shen Yun Shows Brothers Their Heritage
April 21, 2014 2:00 am Last Updated: April 23, 2014 4:35 am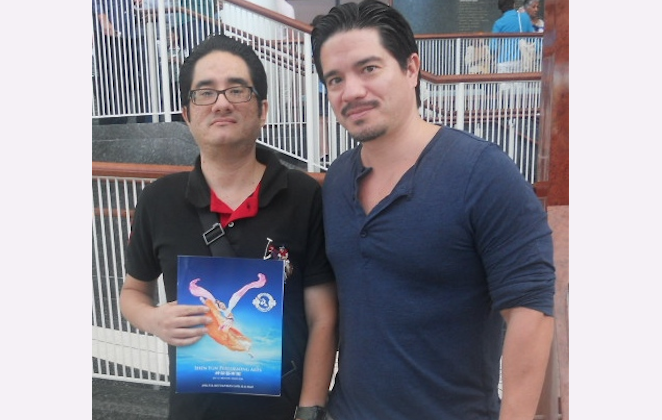 MIAMI—José and Renzo Chois said they felt that everything about the Shen Yun performance was beautiful. A special interest had brought them to the April 20 performance at The Arsht Center—their great-great-grandfather was Chinese.
"We thought [the performance] was like a connection to our background," José Chois said, "so we wanted to come here to learn a little bit from our history." The brothers are wholesalers of Panasonic products in South America.
"For thousands of years, Buddhist, Taoist, and other disciplines were at the heart of society," the Shen Yun website states. Traditional Chinese values were centered on the idea of harmony between heaven and earth. Through classical Chinese dance, ethnic dance, song, and stories, both ancient and contemporary, Shen Yun conveys this traditional culture.
"We thought it was very beautiful—the people, the dances, the culture, the way they move—everything was spectacular, and the singing was amazing," José Chois said.
He said he was hopeful that reviving China's traditional values such as truthfulness, compassion, and tolerance would help today's world. "A lot of our mistakes in life … are because we forget the past," he said.
Shen Yun was formed in 2006 by classical Chinese artists who came together in New York with the wish to revive China's true culture, which has been all but destroyed by the Communist Party, its Cultural Revolution, and similar campaigns.
"Entirely non-profit, and independent of the Chinese regime, Shen Yun enjoys the artistic freedom of New York, enabling it to now bring these ancient traditions to the stage," the website states.
Mr. Chois said he thought the performance conveyed how China used to be, as well as the oppression that exists there today, and the Chinese regime's aim of eliminating the traditional culture.
"The culture and the art, the singing, make us fuller and better people," he said. "Hopefully, everything will come together and make this world a better place."
Reporting by Edie Bassen and Louise Rothman
New York-based Shen Yun Performing Arts has four touring companies that perform simultaneously around the world. For more information, visit Shen Yun Performing Arts. 
The Epoch Times considers Shen Yun Performing Arts the significant cultural event of our time. We have proudly covered audience reactions since Shen Yun's inception in 2006.