COLOGNE, Germany—Marketing specialist Karla Rasmus marketing specialist said she felt that Shen Yun Performing Arts reminded her not to be driven by fear after watching the performance at the Musical Dome on Jan. 7.
"It imparted to me that you should think back, and return to what is really important in life," Rasmus shared. "That you need to believe in something—whatever that is for the individual—and that you shouldn't always let yourself be distracted by the trappings of our modern lives.
"You should just come back to your center a little more, especially in the time of the pandemic … and not let yourself be driven through life by fear. But that you should really find your way back to your own self again, to get back to your roots. That's what it showed me," she said.
Rasmus commented on how the messages in New York-based Shen Yun's songs resonated with her. A translation of the libretti was provided for audiences in different languages on Shen Yun's patented animated backdrop.
"The Red Dragon … the color red standing for communism, and that you shouldn't let it pull you down into its maelstrom. And this was also true for atheism and evolution—that we should strive to return to where we truly come from, to believe in something, whatever it is for each person, to have faith—that's what I saw in it. So there were quite a number of current issues there," Rasmus shared.
Visually, Rasmus found Shen Yun to be mesmerizing. The costumes worn by Shen Yun's dancers are lovingly handmade and reflect the fashion worn in ancient China as well as by the Middle Kingdom's many different ethnic groups.
I found the colors of the costumes very beautiful—they really carried you away to a completely different world.
"I found the colors of the costumes very beautiful—they really carried you away to a completely different world. It was truly the case that when these colors came on stage, you could just switch off, so it was really great! I can only say that it was awe-inspiring, and that it really swept me away," she said.
Rasmus urged everyone to experience Shen Yun for themselves and said she would love to return to experience it again.
"I will definitely tell them how good it was and that, if Shen Yun gives another performance here, they definitely have to go see it!  I would also come again!"
Great Respect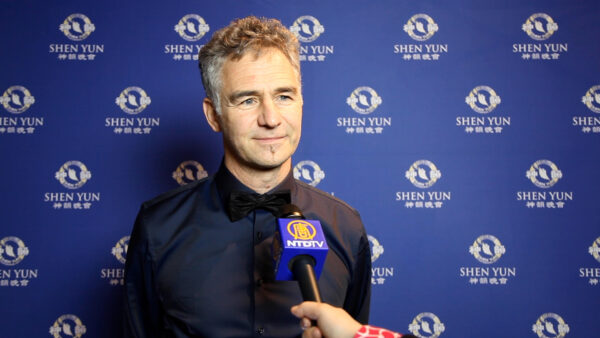 Another audience member to share his appreciation for the dedication of Shen Yun's performers was financial advisor Boris Lietzow.
"I think I can judge quite well just how high-quality, how demanding these performances are in terms of the movements, the sequences, and the discipline that is needed to achieve such choreography at this level," he said. "And, if I understood it correctly, there is also a new program every year, and I think that is very demanding and very admirable work. So it was very beautiful to watch and yes, I can only take my hat off in respect."
As someone who has traveled to China a few times, he expressed his support for the artists of Shen Yun as they fulfill their mission to revive "China before communism."
"I would say that you can achieve many things today, but if you lose your roots, you are no longer yourself. It's always this combination of the new and the old … the tradition remains a piece of you and if you lose it, you can often quickly lose your footing in life," he said.
"The tradition that is represented here is what I associate with roots … to say: 'This is where I come from.' For me, that's where many generations have played their part, where they have created something. And if I lose them, then the foundation is missing," he said.
Reporting by NTD and Maria Han.
The Epoch Times is a proud sponsor of Shen Yun Performing Arts. We have covered audience reactions since Shen Yun's inception in 2006.