PRAGUE—Shen Yun Performing Arts completed four performances over three days in Prague, the largest city and capitol of the Czech Republic and the audience expressed their admiration and appreciation for Shen Yun.
"It's a moving performance. It's the kind of experience that's hard to find words for," said Mrs. Markéta, who came to the matinee performance with her daughter on March 11.
"I'd say it's probably best captured in the name Shen Yun itself—the divine feeling expressed through dance," she said.
Shen Yun is based in New York, and its artists are trained in classical Chinese dance. This dance form has thousands of years of history and is actually where many other dance forms originate from.
"My daughter wanted to see this performance a few years ago because she is a dancer herself. So it was her wish that we were able to fulfill this year, and I have to say that it is a gift for me as well because her joy and excitement about it is really great," Mrs. Markéta said.
Shen Yun uses dance and music to tell stories of past and present-day China.
"The story that takes place in the background is moving—the story of ancient China with deep life values that are unfortunately incompatible with today's communist regime," she said.

The evening performance on March 11 welcomed acquisitions manager Adrianna Roffey and her daughter.
"What we liked the most was how the stories drew us in to show us more Chinese culture, traditional Chinese dance, as well as the Chinese system that has taken power over there for some time now, and it was all beautifully expressed through dance," Ms. Roffey said.
Shen Yun's singers are trained in the bel canto style of performance and no matter where Shen Yun goes, its digital backdrop provides the local audience with a translation of the text being sung.
"A lot was said in the songs. They were very profound with very profound ideas, and the final part was very interesting too, showing where the current generation is heading and how to return to traditions and faith," Ms. Roffey said.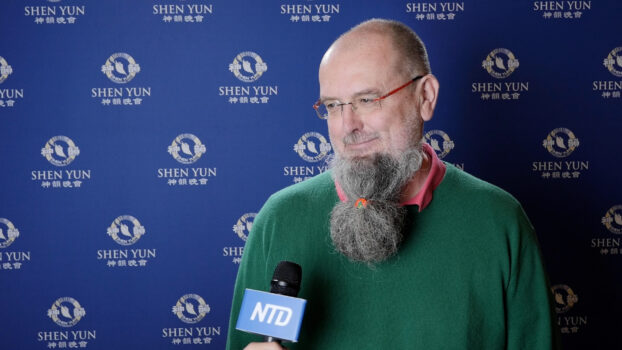 On March 12, Vojtěch Ryvola, a brewery owner, was in Shen Yun's audience.
"When the lady sang, it was such an incredible chill that it's an experience of a lifetime. But most of all, it makes you stop and think a little bit differently. A little bit differently in that it really affects the soul, not just the body," Mr. Ryvola said.
Shen Yun's orchestra is a flawless blend of East meets West. Chinese instruments like the pipa and erhu are highlighted within a classic Western orchestra.
"The music gives a certain strength," Mr. Ryvola said.
Throughout the performance, Shen Yun tries to remind audiences of the importance of unplugging and taking a step back from technology.
"Right now, I'm thinking about the fact that we should stop, that we're always running forward and trying to do better and better, and we should stop and look back," Mr. Ryvola said.
Reporting by NTD and Maria Han.

The Epoch Times is a proud sponsor of Shen Yun Performing Arts. We have covered audience reactions since Shen Yun's inception in 2006.