DETROIT, Mich.—Jesse Leece, a graphic designer, was very appreciative of the vividly animated backdrops he saw when he watched Shen Yun Performing Arts on Oct. 27.
"This is the first show that I've ever seen that incorporated animation along with it," Jesse said. "I was really impressed with all of the [dances] that included the animation …  It really increased the story, it made me understand what was going on better."
The animated backdrops in New York-based Shen Yun's performances are able to extend the stage endlessly and allow the performers to travel between scenes with ease. This also allows each dance to better tell a story, as a picture is worth a thousand words.
Jesse attended the performance with his wife, Erin, who is a solar energy consultant.
"The stories were very detailed," Erin said. "The stories really brought everything to life and showed us what's happened in China and is happening still in China as well."
Shen Yun's animated backdrop also displays the original text as well as an English translation.
I love the singing and what they were singing about.
"I love the singing and what they were singing about," Erin said. "We're spiritual people and I had no idea that our spiritual beliefs were in such alignment with that culture until I listened to the songs that were in this show."
Jesse spoke about how the performance portrayed atheism.
"The belief that we are spiritual beings and that [the performance] went into detail about atheism, and it went into detail about the how the modern society is kind of degrading the spiritual being," Jesse said.
"You can see people on their phones instead of talking to each other and just interacting [with] technology in a strong way is kind of pulling us away from who we really are," he said.
Erin said she agreed.
"I think that we're too focused on things and not focused enough on ourselves as people and it was eye-opening how different spiritual [beliefs] still have aligning ideas," she said.
Majed Younes, a senior IT project manager, and his wife Nada, a clinical psychologist, were also in the audience this evening.
"I'm so stunned with it that I didn't know [where] to look. It is so beautiful," Majed said.
It was a vibrant experience that captures all the senses.
"It was a vibrant experience that captures all the senses," he said. "It's not just a visual, it's auditory, it's a combination of the senses. You feel like you're part of the story."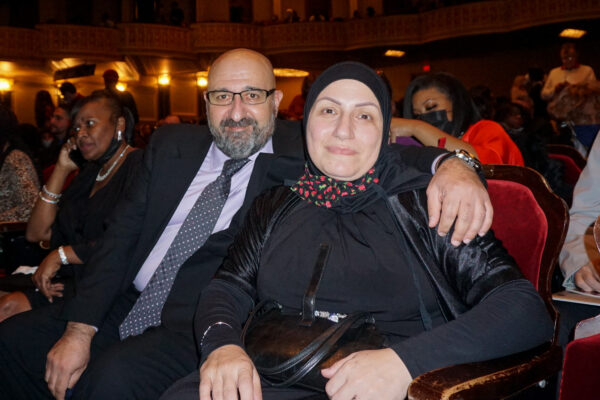 In one of the dances, Shen Yun tells a story of Falun Gong practitioners facing persecution in China.
"I enjoyed it, not the actual persecution, but the way they told the story because it's important for everyone to be aware of the historical context of what's happening," Nada said.
Her husband added that, "Without words or saying anything negative, [they] let people know what happened and they ended with positivity."
Nada spoke further about the beauty of what she had seen.
"It was vibrant with culture and color. And it was just like mystical. I don't know how to describe it. It's very breathtaking," she said.
"And it's in sync like everything played out. It's beautiful. It told a story without any words. And I thought that was just so beautiful."
Reporting by NTD Television, Nancy Ma, and Maria Han.
The Epoch Times considers Shen Yun Performing Arts the significant cultural event of our time. We have proudly covered audience reactions since Shen Yun's inception in 2006.