TOKYO, Japan—A Japanese entrepreneur said Shen Yun presented a heavenly world and Shen Yun dancers were like the beings in heaven, gorgeous and beautiful.
"It's a dreamlike beauty! Everything, from music and colors to dances, is brilliant. The elements melt into each other to present the perfect performance. On top of these, the show shows a great spirit," said Mr. Sasaki Morio, the president of a furniture and rug trading company, after attending Shen Yun Performing Arts at the Shinjuku Bunka Center in Tokyo on Jan. 24.
Mr. Sasaki said he felt he was "in a magical world," where "the beauty can't be described by any human words."
"I guess the dancers received outstanding training on their skills, techniques, and spirit," he said. "They are beyond professional. They coordinate like one body. Their performances are so synchronized and amazingly exquisite."
Mr. Sasaki said the beings in heaven must be like Shen Yun artists, who are "elegant and dashing."
Talking about his spiritual understanding, Mr. Sasaki said that the performance gave him a lot of food for thought, and had him reflecting on the universe, the future, and the origins of humankind.
New York-based Shen Yun is the world's top classical Chinese dance company, and has a mission to show the beauty and goodness of "China before communism." For 5,000 years China's civilization was built on values and virtues from the spiritual teachings of Buddhism, Taoism, and Confucianism.
'A Great Treat'
"Definitely I want to attend Shen Yun next year. I hope I will be lucky enough to buy a ticket," said Mr. Noguti Fuzio, the director of an aluminum manufacturer, as the tickets for the Japan arm of the tour had sold out quickly.
Shen Yun now has eight simultaneously touring companies, set to visit more than 180 cities this season.
Mr. Noguti said "it's a great treat" to attend Shen Yun, and he enjoyed every moment.
"The dancers' bodies are incredibly flexible. Their movements can't be made by an ordinary human," he said. "The female dancers kicked one leg up to 180 degrees, and then kept on spinning!"
According to Shen Yun's website, the basic skills of classical Chinese dance include postures, leaps, flips, spins, and other difficult tumbling techniques.
Each Shen Yun performance consists of nearly 20 vignettes, presented through highly-expressive art forms such as classical Chinese dance, original orchestral music performed live, soloists who sing in the bel canto tradition, animated digital backdrops, and more.
Mr. Noguti was surprised by the baritone and soprano.
"Their voices are fabulous," he said. "Especially when the baritone sang his last line. I felt that my heart was gripped, and the sound shook my body."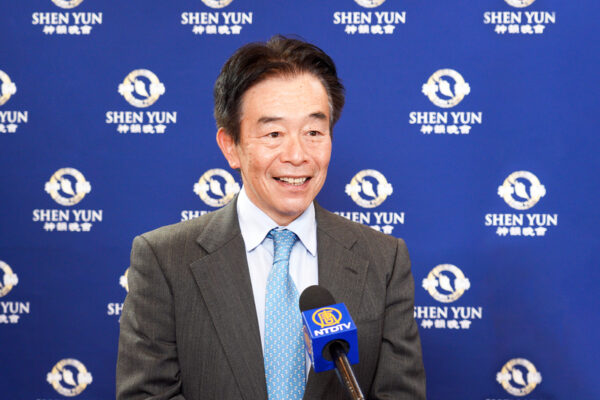 'Super Good'
Mr. Sano Yasuyuki is one of the world's best pulmonologists, a doctor who has special training in diagnosing and treating diseases of the lungs. He said Shen Yun was "super good" after attending the performance on Jan. 24.
"No matter whether they were jumping or flipping, the dancers did them so easily and adeptly," he said. "They coordinated with each other perfectly and beautifully. And all of them mastered the balance outstandingly."
Mr. Sano was amazed by Shen Yun's use of the backdrop, which the company holds a patent on.
"It's awesome! Very vivid," he said. "The dancers jumped into the backdrop and flew to the sky. It's astounding!"
Mr. Sakamoto Tatsuji, a former department director of an auto manufacturer, said he felt very lucky that could attend Shen Yun.
"Shen Yun is majestic! It's wonderful, it's far beyond my expectations," he said. "It's not only beautiful. I felt a harmonious atmosphere that was fantastic to experience."
Mr. Sakamoto said when the curtain first opened, he was very excited by the first scene on stage. From then on, he only became more and more excited because "all programs are magnificent!"
Reporting by Epoch Times Staff in Tokyo, Japan.
The Epoch Times is a proud sponsor of Shen Yun Performing Arts. We have covered audience reactions since Shen Yun's inception in 2006.