Majestic, self-disciplined, and stunningly refined—Piotr Huang's dancing leaves audiences breathless. Even when performing incredibly challenging leaps and flips, he maintains perfect control of every inch of his body, both in the air and when he lands soundlessly back onto the floor.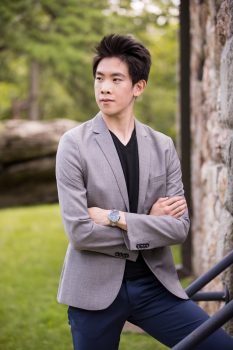 Through years of intense concentration and ceaselessly demanding more of himself, Huang has forged himself into one of the world's best classical Chinese dancers, touring the globe as a principal dancer for Shen Yun Performing Arts. His every movement emanates dignity, a righteous energy that makes him stand apart from the crowd.
When Huang first started dancing, it was just something he enjoyed, but as he delved deeper, he discovered a universe of boundless meaning rooted in five millennia of Chinese civilization. Even more so than by his passion for dance, Huang is now motivated by a sense of duty, a higher calling to bring the exquisite virtues and spiritual wisdom of ancient China to global audiences.   
Perseverance of a Shen Yun Dancer
Born and raised in Poland as the son of Chinese immigrants, Huang flew across the Atlantic Ocean eight years ago to study classical Chinese dance at the prestigious Fei Tian Academy of the Arts in New York, which trains many of Shen Yun's dancers.
Back then, Huang enjoyed dance, but he was far from flexible; he could barely even touch his toes. Etched in his memory are the times he had to practice leg splits, with two other boys holding his legs in place for as long as ten minutes. While most students were instructed to complete this agonizing stretching exercise once or twice a day, Huang had to endure it three times every day. It was so excruciating that he tried to evade training by hiding in his dorm, only to be lectured by his teacher.
Compounded with the training was his homesickness. Huang missed his friends and his old life in Poland. Every day, he wanted to tell his parents he wanted to quit and return home.
But while at Fei Tian, he was often given unique and precious opportunities to observe Shen Yun's dancers in rehearsals. "Every time I finished watching them, I felt deeply moved," he recalls. "Shen Yun's performances gave me a joy I cannot describe. At the time, I thought to myself: I also want to become one of them."
A Vast Culture
As Huang's understanding of dance deepened, he soon realized that "the most difficult thing isn't what's on the surface, like the techniques." Instead, it was grasping and evoking the profound inner meaning of a dance. At the core of classical Chinese dance is the concept of bearing, when you channel your innermost spirit into all your movements. It's the soul of the art, the essential ingredient that transforms movement into dance.
"As part of the new generations who grew up in the West, we don't have that deep of an understanding of Chinese culture. So our dancing is relatively straightforward. The inner meaning is not as profound. When you understand the habits or values of people from ancient China, the feelings evoked by your dancing are not the same," Huang says. 
Although Huang is ethnically Chinese, he initially spoke patchy Chinese and knew little about the essence of Chinese culture. So at Fei Tian, he honed his Chinese and immersed himself in the worldview of sages like Confucius who believed in virtuous conduct and self-cultivation. The more he studied, the deeper his love grew both for his cultural heritage and for dance. Soon he was selected to tour in practicum with Shen Yun, beginning a brilliant new chapter in his life.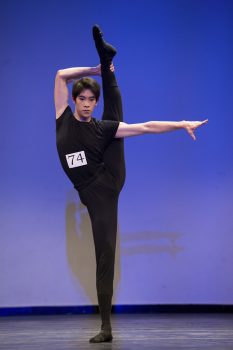 For each historical figure he plays in Shen Yun's performances, Huang pores over the character's life story and his written works to understand every stage of the character's life. He contemplates the character's decisions in life and then questions himself: Under similar circumstances, how would I behave? If I would make different choices, why did he choose differently?
For NTD Television's 6th International Classical Chinese Dance Competition, Huang played Li Bai, one of China's most beloved poets. To perfect the character, he read dozens of Li Bai's poems. Under the moonlight, he'd go for a stroll, listening to the music he picked for the dance and trying to experience Li Bai's feelings.
"When you're dancing, you have to forget yourself. If you bring your own thinking, it will surely interfere with the character," Huang says. For his impeccable interpretation of Li Bai, Huang was awarded the gold prize in the adult division.
When asked which Chinese historical figure inspires him the most, Huang replies: "There are simply too many. Too many." A figure currently on his mind is the Duke of Zhou, who acted as regent for his young nephew, King Cheng. "He could have stolen the throne, but he didn't. He just kept on helping [King Cheng] responsibly and diligently. At the time, the effort he put in for the country and the people—he truly put himself in the most humble position," Huang says.
Huang hopes to bring back such traditional values like benevolence, righteousness, propriety, wisdom, and honesty. Beliefs in moral and spiritual elevation once permeated all spheres of Chinese society, but in the past century, they have been rejected and defiled by the communist government in China—where Shen Yun is banned. As part of Shen Yun, Huang is rekindling the lost wisdom of the ancients, who celebrated virtue and endlessly strove to cultivate their character.
"I came to understand Shen Yun was not only bringing joy to audiences. At the same time, it was reviving traditional Chinese culture," he says. This is what fuels Huang as he leads over a hundred tightly packed performances every year, always with the same dedication as if every show was his first.
"We're not doing this for ourselves, so our motivation is different," Huang says.  
An Elevated Art

To truly move audiences, Huang knows that he can't simply act the part. Both onstage and off, he has to embody the moral values Shen Yun presents.
Like many of Shen Yun's artists, Huang is guided by the ancient Chinese spiritual discipline of Falun Dafa. Through abiding by the practice's tenets of truthfulness, compassion, and tolerance, Huang became a better, more considerate person. "When conflicts arise, we can calmly deal with them through cultivating ourselves," he says.
When he was young, Huang frequently clashed with his older brother and was inconsiderate toward his parents. Falun Dafa's principles have helped him become a kinder brother and more filial son, who now frequently dials home to check in with his parents.
This spirit of kindness and thoughtfulness permeates every aspect of Shen Yun. When Shen Yun dancers have fleeting seconds to switch costumes in the dimly lit backstage area, Huang says it's not a matter of taking care of yourself and making sure you're dressed. Instead, everyone helps each other, zipping up costumes and distributing props.
Huang's eight years of immersion in performing classical Chinese dance have enriched his life in ways far beyond what he could have imagined when he first started dancing. "The most joyous part," he says, is the time he spends every day with his fellow dancers. "Now, of course, they're my brothers," Huang says. "When someone walks over from afar, just from hearing the sound of his footsteps, I can tell who it is."
A veteran dancer now of classical Chinese dance, Huang has become a team leader tasked with helping the newer male dancers. "Helping the newer dancers is like looking at my old self. I also went through all this before, and veteran dancers helped me. While helping them, I'm also improving myself," he says. "I will see their shortcomings, and I can evaluate myself, like looking at a mirror."
Instead of forcing them to change or improve, he inspires with his example. "The easiest way is to do well yourself, so they can see these older brothers, how they behave," he says.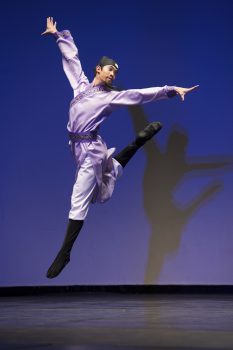 Someday, Huang hopes to become a professional dance teacher, to guide aspiring children into the magnificent world of classical Chinese dance. An art of not only technical mastery but also ineffable meaning, classical Chinese dance has imbued Huang's life with purpose.
As he tours with Shen Yun, he revels in each opportunity to bring Shen Yun's splendor to audiences around the globe and uplift them with a message of hope, goodness, and spiritual elevation.
"I hope I can travel on this path for as long as I can, while bringing the best for the audience and those around me," Huang says.  
Republished with permission from Elite Lifestyle Magazine.