Shen Yun 'Phenomenal' Says State Educator
April 16, 2014 12:27 am Last Updated: April 17, 2014 4:00 am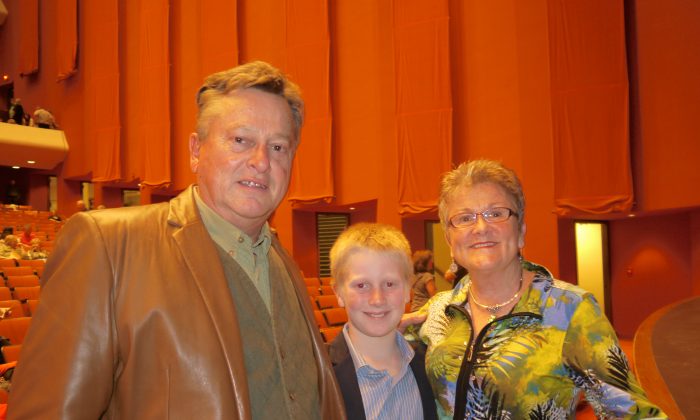 NORMAL, Ill.—Gary and Michele Seelbach greatly enjoyed Shen Yun Performing Arts. They saw the performance with their grandson "to give him some exposure to different cultural dance," explained Mr. Seelbach.
Shen Yun performed for one night on April 13 at the Braden Auditorium at the University of Illinois.
The performance made Dr. Seelbach feel "invigorated. It's just phenomenal, and exciting, and fun and beautiful," she said.
Now retired, Dr. Seelbach worked as an educator and consultant for the Illinois Board of Higher Education.
The performance made Mr. Seelbach feel closer to the Chinese people and gave insight into China's history. "That kind of exposure is wonderful," he said.
Mr. Seelbach retired with 34 years of service in state government in such positions as the Illinois State ombudsman's office for children, serving emotionally disturbed children and adolescents and executive director of the Community and Residential Services Authority.
Shen Yun performs ethnic and classical Chinese dance. The dance programs tell stories of virtue and heroism from Chinese history and from the present day. An orchestra of Western and Chinese instruments accompanies the dancers.
"So beautiful, the costuming is exquisite. The choreography is amazing," said Dr. Seelbach. "I can't get over how the women move, it's just like floating on air."
Mr. Seelbach agreed with his wife, saying, "Everything here is so smooth, and the transitions are just beautiful. It's just a work of art in itself."
He found the dance program very engaging. "It's just so active and involved and its so entertaining, and the movement is just wonderful," Mr. Seelbach said.
To set the stage, Shen Yun uses a projected backdrop that is animated for each of mini-performances. The backdrop maybe of an imperial palace, the planes of Mongolia, or an ethnic Miao village. The performers also interact with the backdrop, soaring into the sky or down into the sea.
"It pulls you right in," said Dr. Seelbach of the backdrop, "the way the characters are on the screen and then come to life," entering the stage as dancers.
One performance stood out for Dr. Seelbach. That program, The Steadfast Lotus, tells the story of a mother and daughter in China being persecuted for their beliefs in Falun Gong, a meditative practice. Dr. Seelbach said she could relate to that program because it was about something happening now.
Dr. Seelbach said she was shocked to learn that the Chinese government is trying to control even meditation, "which is such a personal experience."
With reporting by Catherine Wen and Nicholas Zifcak
New York-based Shen Yun Performing Arts has four touring companies that perform simultaneously around the world.There will be two performances in Columbus April 15-16. For more information, visit Shen Yun Performing Arts.
The Epoch Times considers Shen Yun Performing Arts the significant cultural event of our time. We have proudly covered since Shen Yun's inception in 2006.