BERKELEY, Calif.—Tax attorney Patrick Roach and fashion stylist Nicole Guarascio had high hopes when they arrived for their first date at Zellerbach Hall to watch Shen Yun's matinee on Jan. 16. The performance was everything they thought it would be and much more.
"It was captivating. There was so much color and dance and choreography. The athleticism—I can't imagine the amount of training that goes into it. It was amazing," Mr. Roach said.
As a fashion stylist, Ms. Guarascio thought Shen Yun's costumes were incredible. "The way the fabrics moved really emphasized the movements of the dancers and their athleticism. They have an expression of their own. I've never seen costumes like this before, and I can't help but be inspired by it."
"With each performance that went on, I found myself getting more and more excited about what the next dance is going to be, what the story is, and what was I going to learn about the history of China. It was a great experience throughout. I was sad when it was over. [Time] flew by," she said.
Now the world's top classical Chinese dance and music company, Shen Yun Performing Arts was founded in 2006 by a group of leading Chinese artists who had fled the persecution of China's communist party.
Following the 1949 communist takeover, traditional Chinese culture went through a period of mass destruction. Since Shen Yun's establishment, the New York-based artists have made it their mission to revive China's 5,000 years of divinely inspired culture.
"It took my breath away. The kind of message that was [shared] was very profound and relayed in a very delicate way. But also, in a very compelling way," said Mr. Roach.
"When it came to elements of faith, [Shen Yun performers] very much wore their hearts on their sleeves. That's an uncommon thing to see anymore but something I very much appreciate. It's refreshing."
Mr. Roach thought it was important for people to see Shen Yun because nowadays though it's easy for Americans to simply say that they oppose communism, "if you don't see it with your own two eyes, it's very easy to write it off."
"I think in a performance like [Shen Yun] where so much care is put into how [communism] is portrayed and the suffering that people have endured, it helps people to really understand. It's more than just reading something in a book or seeing a news piece," Mr. Roach said.
"You're seeing a kind of legacy. All the performers are of Chinese descent, so for them, it's very much personal and that comes across."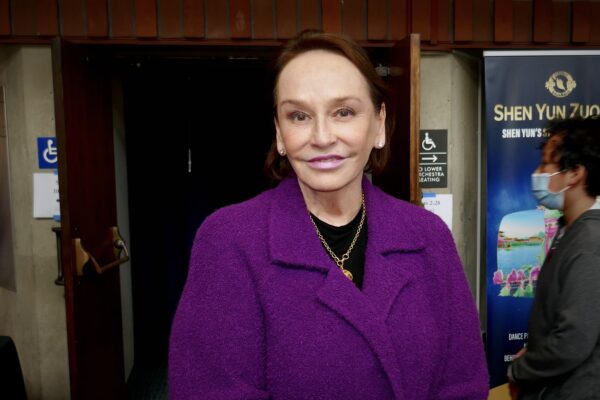 Dr. Elisa Stephens, third-generation president of the Academy of Art University in San Francisco, was also in the audience on the afternoon of Jan. 16. Under her leadership, the school established by her grandfather was expanded into the largest private accredited art and design school in the nation.
In her travels, Dr. Stephens has seen firsthand all the diverse regions of China. "I've been to all the places that I saw [in the performance] today. But you can always learn, and I learned [more today] through beautiful dance and expression."
The performance was not only beautiful, it was exciting, high energy, and [delivered with] beautiful technical skills.
"[Shen Yun] has exceeded my expectations. The performance was not only beautiful, it was exciting, high energy, and [delivered with] beautiful technical skills," she said.
Referring to Shen Yun's innovative backdrop projections Dr. Stephens said, "it was fabulous. It's always a pleasure to see technology combined with traditional dance. That's magical."
According to its website, Shen Yun's patented 3-D digital technology works together with the performers to "extend the stage to infinite realms" and brings to its audience "storytelling without limits."
Dr. Stephens was also touched by Shen Yun's mission to revive traditional Chinese culture and thought the themes depicted in the performance were "extremely current."
"We always need to remember our past. It's important that countries don't lose sight of that and don't allow their government to suppress it."
Reporting by NTD, Steve Ispas, and Jennifer Tseng.
The Epoch Times is a proud sponsor of Shen Yun Performing Arts. We have covered audience reactions since Shen Yun's inception in 2006.