Shen Yun 'Outstanding,' Says Author
April 26, 2014 3:55 pm Last Updated: April 26, 2014 4:02 pm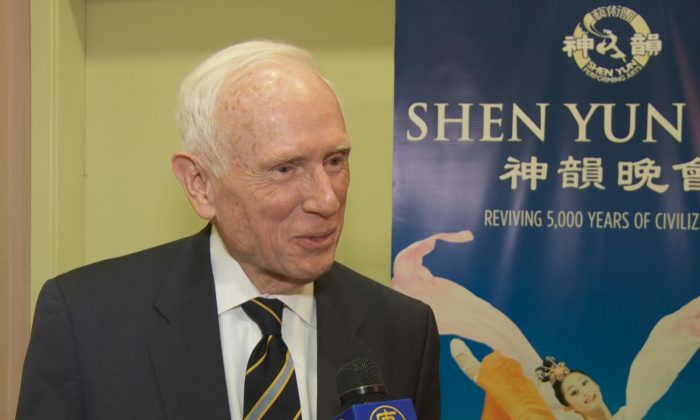 PHILADELPHIA—For author and businessman Lynmar Brock, watching Shen Yun Performing Arts perform at Merriam Theater was a memorable experience. 
"It's outstanding," Mr. Brock said on opening night, April 25. "[Shen Yun] brings to us a wonderful example of Chinese heritage."
A Philadelphia native, Mr. Brock was CEO of Brock and Company, Inc. for 45 years before his retirement in 2007. He is also the author of four books.
Mr. Brock said watching Shen Yun gave him an appreciation for Chinese culture.
Shen Yun was founded in 2006 in New York with the mission to revive 5,000 years of divinely inspired Chinese culture—a culture that has been almost lost under communist rule in China.
The hallmark of Shen Yun's performances is classical Chinese dance, performed by award-winning dancers, and accompanied by Shen Yun's orchestra. The performance also features Shen Yun's singers, who use bel canto technique to sing Chinese lyrics.
"We go to the opera, the ballet, the orchestra here … for [Shen Yun] to have come to Philadelphia, and to expose us and let us enjoy [China's] traditions and stories is splendid," said Mr. Brock.
He said he particularly enjoyed the stories and legends depicted in the performance. 
Drawing inspiration from China's rich and vast history, Shen Yun's performances are full of myths and legends.
"It's very nice to see that the traditions are continued," said Mr. Brock.
The Shen Yun website explains: "Shen Yun dances recount ancient myths, bygone heroes, or celestial paradises. Whether set in the past or in contemporary China, every dance embodies traditional Chinese values. Ideals of loyalty, filial piety, and veneration for the divine are cherished and celebrated. Heroes are extolled for their compassion and tolerance as much as their courage or determination when facing adversity." 
Reporting by NTD Television and Jasper Fakkert
New York-based Shen Yun Performing Arts has four touring companies that perform simultaneously around the world. For more information, visit Shen Yun Performing Arts. 
The Epoch Times considers Shen Yun Performing Arts the significant cultural event of our time. We have proudly covered audience reactions since Shen Yun's inception in 2006.