Shen Yun Orchestra, 'The Instruments Talk to You,' Says Retired Symphony Player
April 21, 2014 5:21 am Last Updated: April 22, 2014 8:54 pm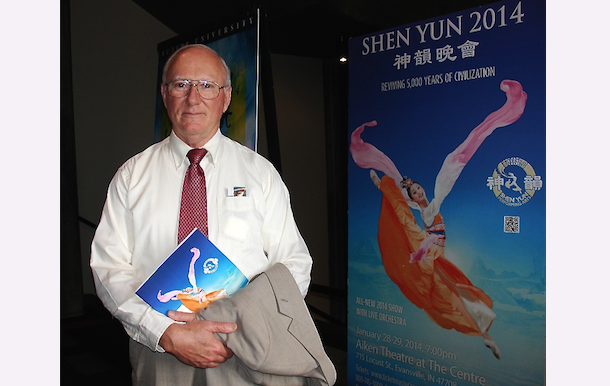 INDIANAPOLIS, Ind.—"The show has been fantastic," Mr. Kline said, "I have an avid interest in Chinese history and the early dynasties. It's a beautiful show in that it teaches you the history, and it shows you the beautiful things about the culture that may people don't know. So that is why I came."
He was referring to Shen Yun Performing Arts' show at Clowes Memorial Hall of Butler University on Easter Sunday, April 20.
Mr. Kline is a retired from 36 years with the Indianapolis Symphony Orchestra as a French Horn player.
He came for the history but also found Shen Yun Performing Arts Orchestra to be exceptional. "This orchestra is fantastic. I loved the instruments in it and all the sound effects therein," he said.
"The Shen Yun Orchestra masterfully blends two of the world's greatest classical music traditions. The Western orchestra with its energy and grandeur and the Chinese instruments with their distinct tones and styles, create a dramatic new sound," states Shen Yun's website.
"It was just professional, professionally perfect. Well done," said Mr. Kline.
Mr. Kline understands the taxing nature of being on tour but even so he said that "it seems to me that they strive to do their best. You have young players too. But you have great players in that orchestra. Make sure that they hear this."
"The ancient Chinese instruments include the soul-stirring erhu and the delicate pipa. They lead the melody on top of a full orchestra of Western strings, percussion, woodwinds, and brass," states the Shen Yun website.
He much enjoyed the traditional instruments. "You know, every country and every ethnic group has their own sound. And, the only way to describe it is to think of those people, that ethnicity, and what they've developed. The instruments talk to you."
The instruments tell of "the beauty, the tradition of ancient Chinese culture," he explains. "It told me exactly what it was meant to tell me. It got the message through very clearly."
The vocal soloist did not go unnoticed by Mr. Kine either. "By the way the soprano, fantastic voice, very powerful."
"The bel canto soloists are an integral part of the Shen Yun experience. Their impassioned songs give voice to hopes that have shaped Chinese culture for centuries, "states the Shen Yun website.
The message the music gave Mr. Kline was "one of just beauty and sadness that it isn't still persevere, that it doesn't still exist. But maybe someday it will again," he said. "Also, it tells me the promise of the future."
"Hopeful for the future and that things will improve from what they are now, especially in China."
Mr. Kline wishes Shen Yun "best of luck and be safe on the tour."
Reporting by Wan Ying and Cat Rooney
New York-based Shen Yun Performing Arts has four touring companies that perform simultaneously around the world. For more information, visit Shen Yun Performing Arts. 
The Epoch Times considers Shen Yun Performing Arts the significant cultural event of our time. We have proudly covered audience reactions since Shen Yun's inception in 2006.