AUCKLAND, New Zealand—Kristina Storozhenko, a former TV presenter, was impressed at the Auckland performance of Shen Yun Performing Arts, Feb. 27, 2020 and its presentation of the cultural heritage of China.
"It was absolutely amazing, really bright, colorful, historical; lots of humor, lots of fun effects on the screen," she said at the Kiri Te Kanawa Theatre. "You actually feel like you're inside the historical action … just like travelling in China and back."
New York-based Shen Yun was founded on a mission to revive 5,000 years of divinely inspired culture. It draws its themes from China's rich history which is founded on the spiritual traditions of Daoism, Buddhism, and Confucianism.
Storozhenko studied piano in music school and commented on the expertise of the musicians.
"I was really impressed with the music because I finished music school myself. The music was really, really amazing and the orchestra was really perfect.
It's so sensitive and so touching the soul. It was so bright and really like meditation.
"It's so sensitive and so touching the soul. It was so bright and really like meditation, in a way. I was just sitting there and feeling myself flying."
Shen Yun's orchestra is unique because it combines Western instruments and traditional Chinese instruments that include the erhu and pipa.
Another aspect of the performance that impressed Storozhenko was the high tech digital backdrop which complemented the sophisticated choreography. Despite having traveled widely, she had never witnessed anything similar.
"When the guy [was] coming out on the screen and later again appeared there, it was like … oh my [goodness], how did that happen? It was just so super magical."
Storozhenko was aware of just how much Shen Yun had touched the audience.
"It's super, super emotional and it really goes deep inside when you're sitting there. You really feel how the actors [are] feeling themselves. It's really, really about the deep scenes in life."
Shen Yun Should Be Appreciated
Marilyn Murray-York is an Auckland freelance journalist who through the performance learned of the restrictions placed on spiritual freedom in China.  After the performance, she expressed sympathy for the Chinese people who are denied the opportunity of viewing Shen Yun.
"[Shen Yun] is trying to show the traditions of Chinese dance … it's very ancient; it should be appreciated by their own culture," said Murray-York.
Murray-York said that Shen Yun had done well in bringing the persecution of the spiritual practice of Falun Gong in China to the attention of audiences.
Falun Gong is an ancient practice based on truthfulness, compassion and tolerance. After attracting millions of followers in the 1990s, it was banned in July 1999 by the Chinese communist regime, and practitioners have since been persecuted.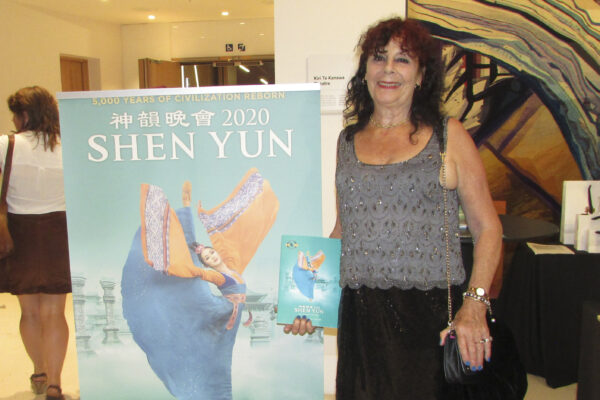 "It was lovely. It was really good to watch different cultures and to watch some ancient traditions and dance," she said.
Shen Yun's mission of bringing back China's ancient traditions was an admirable goal, she said.
"It's a good concept. It's too much of a material world. We should treat one another [with respect]; appreciate beauty and people in general."
She found the dancers very graceful and professional and the essence of the spiritual element found in life could be felt in the performances. 
"I just think it brings a happiness and a good aura to the whole work," said Murray-York. I think everybody needs that spiritual side to be brought out a bit more."
Shen Yun Astonishes
Colin Palmer, technical director, and his wife, Beverley, were also astonished by the performance. Mrs. Palmer was especially amazed and surprised by her husband's absolute enjoyment.
"It was fabulous," said Mr. Palmer.  "They were very acrobatic … very beautiful costumes."
"It's so vibrant, the movements—everything is so well coordinated … you can't keep your eyes off it!" said Mrs. Palmer.

Mr. Palmer enjoyed the blend of classical Western and traditional Chinese instruments in the orchestra.
According to the Shen Yun website, "Traditional Chinese music emphasizes the expression of inner feelings—the ancients always used musical instruments to relate their states of mind."
Shen Yun's individual performances present an expression of the connection between the divine and human existence not just in ancient times; the modern-day persecution of Falun Gong also highlights how a spiritual practice in China today still battles against all odds to convey the true purpose of life.
"It brings a whole breadth to life if you've got different thoughts, different beliefs," Mrs. Palmer said. 
"Everyone should be allowed to believe and worship," Mrs. Palmer said. "It's very sad if anyone is ever persecuted for their beliefs."
The beauty of Shen Yun, said Mr. Palmer, is that it enlightens its audience to concepts that are entirely new in a way they are very entertaining, sophisticated and outstanding.
With reporting by NTD Television, Nancy Yang and Diane Rowe. 
The Epoch Times considers Shen Yun Performing Arts the significant cultural event of our time and has covered audience reactions since the company's inception in 2006.