LONDON, U.K.—Not many people know that gymnastics' tumbling moves, spins, and jumps originate in ancient China's courts and have roots in martial arts and classical Chinese dance. One dance company from New York, Shen Yun Performing Arts, is reviving the origins of those thrilling and difficult techniques and is sharing them with the world along with mesmerizing music and costumes.
Today, New York-based Shen Yun performed in London. In the audience was Kris Wozniak, who is the founder and head coach of a sports academy that teaches karate and gymnastics. Wozniak spoke about the many things he'll take away from the performance that he'd like to pass on to his students and his own children, including the wonderment at gymnastics' roots in classical Chinese dance.
"It's absolutely amazing, so inspirational for me," he said at the Apollo Eventim on Jan. 26, 2020. "I'm doing martial arts over 30 years now. I teach gymnastics and martial arts … and [Shen Yun] is such an inspiration for me as a coach as well. So, it's breathtaking, absolutely."
Wozniak brought his whole family to Shen Yun and made a wish for their future after seeing the positive values in the performance. "I hope that they're going to remember this for a very, very long time and they can transfer whatever they learn today to their everyday life."
"So whatever I teach in martial arts I can see on the big stage now, and it's so colorful. I am speechless. It's so colorful, and the technique, the skills, the acrobatic moves, the dance moves, the choreography. I mean it's indescribable."
"All the acrobatics—just amazing, but I can see the details in the dance itself as well. Both females and males are just—professionalism is unbelievable," he said.
Wozniak's own motto for students at his club is "Aim high, never give up, stay strong, work hard, and challenge yourself." And he appreciated the values that were especially touching in Shen Yun, such as encouragement to get in touch with our inner selves.
"I think, you know, in today's world where everything is so commercial, this [Shen Yun] feeds mainly our soul, that's how amazing it is.
"It's absolutely breathtaking. Every single moment I can see the details. I'm trying to, daily in everyday routine, I am trying to spread this to my students and I'm thinking I am learning a lot as well, just observing. The professionalism is amazing.
"I quite like the message [that] has been sent as well: 'In our everyday rat-race, this is the moment I could slow down and have a think deeply as well.' The main message for me is just to slow down and do something more for our soul rather than for everyday rat-race," Wozniak said.
In bringing back traditional Chinese culture, Shen Yun is bringing with it the spirituality that lies at the heart of that ancient civilization. Practices such as Buddhism, Daoism and Confucianism are woven into its fabric, and legends of a Creator who will one day return to earth have lived on throughout the ages until today.
The Wozniak family enjoyed a dance piece called "The Miraculous Flute" in which a slew of wives appears out of thin air during a legend about ancient Chinese life.
"We were giggling with my family when we saw that magical flute, so this was very funny as well. So there is an element of surprise as well, always," Wozniak said.
Little Known Connections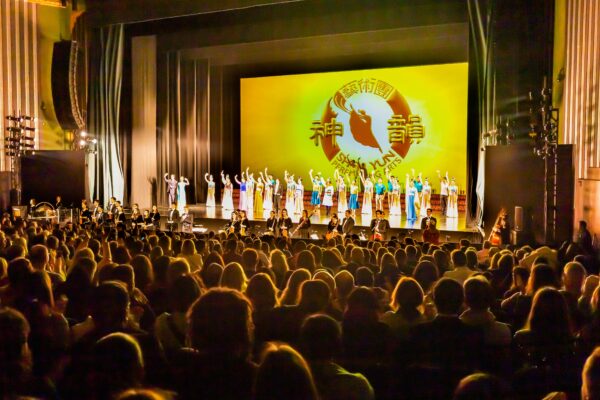 Many audience members appreciate the variety of themes in Shen Yun. For Wozniak, "The quality, that's the most important for me, the quality and also the message from traditional Chinese culture as well.
"For example, I heard in the message that actually that all the tumbling and the very difficult skills and technique come actually from ancient China. And many, many, people don't know about this, so today you can see this in gymnastics, in Olympics, and different sports but actually I've noticed, and many people don't know that they come from very, very, long ago in China. That's amazing. And people these days have to remember about this. And they have to appreciate and respect," Wozniak said.
Wozniak commented on the music and singing in Shen Yun, which uniquely combines Eastern and Western musical traditions. In addition to the Western orchestra blended with Chinese instruments accompanying the dances, there are bel canto soloists who sing original arias in Chinese.
"The fact there is actually live music from the orchestra is amazing it's absolutely different [from what] you know in everyday life, we can hear in the radio. That was amazing. And the singer, the piano player just is unforgettable experience. So I am very glad I am here. It was amazing," Wozniak said.
Shen Yun artists carry on the ancient Chinese tradition of meditation and self-refinement through a discipline called Falun Dafa. Falun Dafa teaches truthfulness, compassion, and tolerance, and can be spotted in a Shen Yun performance in stories of modern day China where an unfortunate and violent persecution against them is taking place.
Wozniak drew inspiring parallels between his principles and theirs. "What I've noticed, and we what we try to send to the young generation, is not actually the goal we achieve, it's the way, the journey we're going through, and I really appreciate and I am amazed like these people, the artists are actually giving their life to spend every day."
"Amazing they can actually sacrifice their life but they have to enjoy that as well. I understand they are quite far away from their hometowns and their family. There's the element of suffering, however, it must be their lifestyle. … That's the purpose of their life," Wozniak said.
With reporting by NTD Television and Brett Featherstone.
The Epoch Times considers Shen Yun Performing Arts the significant cultural event of our time and has covered audience reactions since the company's inception in 2006.
London, Europe
Shen Yun International Company