AUCKLAND, New Zealand—Shen Yun Performing Arts, with its reputation for performing the true authentic traditional Chinese culture in the form of dance and music, attracted a good audience for the showing at Auckland's ASB Theatre, on March 2.
The New York-based company takes 5,000 years of China's civilization and presents classical and ethnic dances with accompanying music played by a unique orchestra combining both Western and traditional Chinese instruments.
This performance appealed to people of all cultures and backgrounds, and for the matinee session, it was the choice for James O'Hare, a business owner from the United States, and his wife.
O'Hare accompanied his wife to see Shen Yun, who'd wanted to see it for her birthday. He, himself, expected to fall asleep.
"But I never fell asleep. It was terrific!" he said. He found both the dances and the music exciting.
"The backdrop was unbelievable. I don't know how you could possibly do that—spectacular. The computer backdrop, people coming in and out," said O'Hare.
Shen Yun uses innovative 3-D projection.  The animated backdrops extends the stage to infinite realms, which together with the digital projections, gives the audience the impression of being part of the scene.
"And the Chinese have such a history of culture. That's very important that the world learn about it. Particularly, and the fact that, what many of us see in the Western world is only communist China, so we need to see the old culture," said O'Hare.
China's 5,000-year history is steeped in a culture that values beliefs such as truthfulness, benevolence, and tolerance. It all came to an end when the communist regime took power in 1949 and began systematic campaigns to wipe out traditions and history. But many, including Shen Yun's founding artists, have sought to revive this traditional culture.
A 'Visual Feast'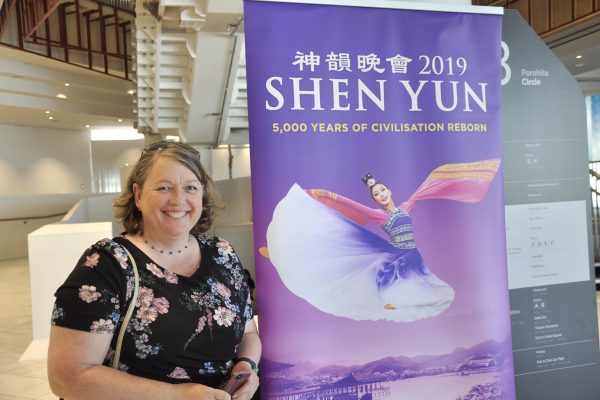 Helen Slattery, business owner, also came to see Shen Yun, with her 12-year-old daughter.
Slattery found the costumes and the music amazing.
"It was just a visual feast," she said. "I think it's amazing and colorful and bright."
Upon learning that Shen Yun was banned from performing in China, Slattery felt that something was not quite right in China.
She admired how Shen Yun portrayed the values of the traditional Chinese culture and added that her daughter was also able to relate to them.
"I thinks it's really important to bring your traditions into the modern world so that people can understand from the past to learn for the future," said Slattery.
Shen Yun's performance was so amazing, colourful and vibrant, that Slattery said she would certainly encourage people to go and see it for themselves.
With reporting by Jessica Mao and Diane Rowe.
The Epoch Times considers Shen Yun Performing Arts the significant cultural event of our time and has covered audience reactions since the company's inception in 2006.