Shen Yun Is 'Phenomenal,' Says Interior Designer
April 14, 2014 11:33 pm Last Updated: April 15, 2014 12:52 am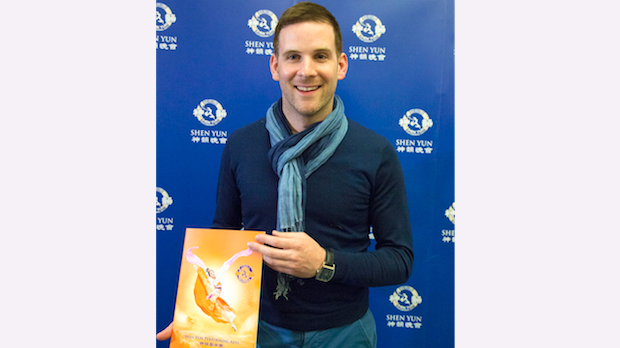 BIRMINGHAM, United Kingdom—Shen Yun Performing Arts captured the heart of interior designer Anthony Byrne during its opening night performance at the ICC Birmingham on April 14.
"The colour, the passion, the whole historical context of it all, I just thought it was absolutely fantastic!" said Mr. Byrne, who also has a background in chartered surveying.
"I think the whole thing is so impressive from the dancers to the choreography to the music," he said. "The costumes, the colours–everything about it is just beautiful."
Through the medium of classical Chinese dance, New York-based Shen Yun Performing Arts brings to life 5,000 years of Chinese civilisation.
"You can understand the whole history, the culture, the passion–just everything about it jumps out to you as the audience member, which I thought was pretty impressive, pretty fantastic," Mr. Byrne said.
Shen Yun's animated backdrops project scenes from different regions and times, including heavenly realms, behind the performers, creating an interactive set. Mr. Byrne said he was impressed with the way Shen Yun has incorporated the technology into the performance.
"[T]he amalgamation between the historical and cultural context of the dancers and the performance with the modern backdrop–that to me is very special because it's a mixture of both very ancient and also ultra-modern, which I think is quite cleverly done," he said.
He also liked the way each section of the performance is introduced by the emcees.
His overall feeling was one of rejuvenation. "Everything is quite overwhelming, quite phenomenal," he said. "You can't miss it!"
Reporting by NTD Television and Kat Piper
New York-based Shen Yun Performing Arts has four touring companies that perform simultaneously around the world. For more information, visit Shen Yun Performing Arts.
The Epoch Times considers Shen Yun Performing Arts the significant cultural event of our time. We have proudly covered audience reactions since Shen Yun's inception in 2006.