Shen Yun Is Easter Gift to 9 Year Old Ballet Dancer from Grandparents
April 21, 2014 12:03 pm Last Updated: April 24, 2014 12:41 pm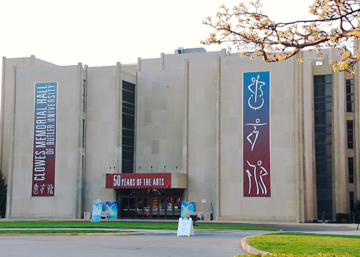 INDIANAPOLIS, Ind.—Lydia Swango, age 9, got a unique and appropriate Easter gift from her grandparents, Morgan and Della Ray. They thought it would be fun to take their little star/little ballerina to the premier classical Chinese dance and music company, Shen Yun Performing Arts.
It was the last of four performances at Clowes Memorial Hall of Butler University, on April 20.
Shen Yun's mission is to restore traditional and divinely inspired Chinese culture and its associated values and morals through the performing arts.
"Chinese dance is at the heart of what Shen Yun does. Known for its incredible flips and spins, and its gentle elegance, it is one of the most rigorous and expressive art forms in the world," states the Shen Yun website.
Lydia enjoyed the dancing and said at intermission, "It was really nice. I do ballet, so it was neat to see everyone do all the jumps and stuff."
"Classical Chinese dance has its own set of training methods in basic skills and has strict training in both physical expression and specific postures. It also involves learning combinations of leaps, turns, flips, spins, and other aerial and tumbling techniques. It is a vast and independent system of dance," according to Shen Yun's website.
Lydia's grandparents also greatly enjoyed seeing 5,000 years of traditional Chinese culture through Shen Yun's storytelling dance, orchestral music, renowned vocal soloists and digital backdrops.
"It's fabulous. It's just beyond belief," said Mr. Ray, who is a proud grandfather and sells copy machines and solutions for a company he previously owned, Presto Document Solutions.
Mrs. Ray said, "The arrangements are gorgeous and the backdrops are gorgeous."
"I liked the costumes, and I like the drums," Mr. Ray added.
Mr. Ray noted they were fortunate to travel to China, Japan, and Hong Kong. "So, we are just loving this."
The couple would definitely come back to see Shen Yun when it comes to Indianapolis. "It's well worth it," he said.
Reporting by Wan Ying and Cat Rooney
New York-based Shen Yun Performing Arts has four touring companies that perform simultaneously around the world. For more information, visit Shen Yun Performing Arts. 
The Epoch Times considers Shen Yun Performing Arts the significant cultural event of our time. We have proudly covered audience reactions since Shen Yun's inception in 2006.