Shen Yun Inspires Restauranteurs
April 25, 2014 1:47 pm Last Updated: April 25, 2014 8:20 pm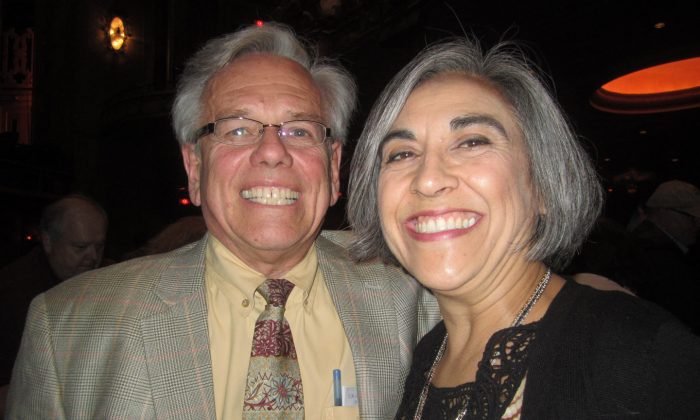 BUFFALO, N.Y.—Rick Newell and his wife saw a Shen Yun Performing Arts flyer in their restaurant and decided to attend the performance on Thursday night at the elegant Shea's Performing Arts Center. The renowned classical Chinese dance and music company is in the city for a couple of days as part of its 2014 tour, bringing a rich cultural program to Buffalo audiences.
Mr. Newell, who runs several restaurants with his wife, Sandy, is also a math professor at the Erie Community College in Buffalo.
"I think it's impressive to see what happened in China over the 5,000 years—very colorful, "he said.
"The artistic dance and everybody in unison and interacting with the back-screen and everything—very impressive."
Through works of classical Chinese dance, one of the most comprehensive dance systems in the world, as well as folk and ethnic dance, Shen Yun takes the audience on a journey from China's ancient origins to today's contemporary society.
Established in 2006 by a group of talented overseas Chinese artists with a mission "to revive the true, divinely inspired culture of China and share it with the world," according to the company website, Shen Yun is based in New York, and its four companies are now touring the world.
The Newells enjoyed the wide array of costume styles and and their vivid colors.
"The costumes are just fantastic," said Mr. Newell.
"Spectacular," said his wife. "Very colorful."
During the performance, two bilingual hosts introduced each piece giving an insight into the various dances, an aspect that Mr. Newell particularly appreciated.
He left the theater that night with a newfound respect for Chinese culture and a willingness to learn more.
Reporting by Lisa Ou and Madalina Hubert
New York-based Shen Yun Performing Arts has four touring companies that perform simultaneously around the world. Shen Yun's Touring Company will perform in Buffalo from April 24-25. For more information, visit ShenYunPerformingArts.org
The Epoch Times considers Shen Yun Performing Arts the significant cultural event of our time. We have proudly covered audience reactions since Shen Yun's inception in 2006.