DALLAS—Good fortune struck a pair of theatergoers recently in Dallas, when they found inspiration for their lives they hadn't expected at a performance by Shen Yun Performing Arts.

"Amazing. The flow, the culture, the choreography, the music, everything flowed, hit your soul, helped you find yourself as you float through this world and figure out who you are," said William Eck, owner of True North Connections, a fundraising company.
Eck attended a Shen Yun show at the Dallas AT&T Performing Arts Center on Dec. 28, 2019.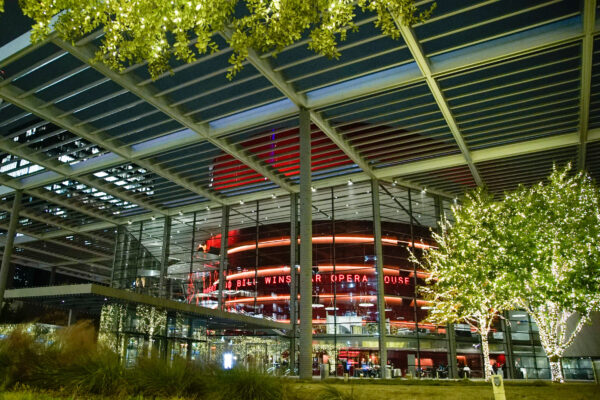 Eck, who said he learned a lot from Shen Yun, had high praise for the effect it had on him.
"I am inspired to go out and change the world, maybe pick up the guitar and try again, write some more poetry, and work on my art. So, I am excited," he said.
His guest, Rushma Barajuli, a computer science student, also thoroughly enjoyed the many artistic aspects of the performance.

"It was so elegant and colorful," Barajuli said. "I loved all the performances. They were amazing. The music was amazing and I had no idea about the culture. I learned a lot."

New York-based Shen Yun Performing Arts mainly features classical Chinese dance as a medium to express deep emotions and themes from throughout China's 5,000 years of history. It's comprised of seven touring groups that travel the world, each with their own orchestra to accompany the cast of highly trained male and female dancers.
Its mission is to revive divinely inspired, traditional Chinese culture.
"I was inspired to try to learn about the culture because it has such great influence in our world and I don't know much about the Chinese culture," Eck said about the performance. 
About the show's themes of faith and compassion in the face of persecution, Eck said, "I think we all want the same things: peace, tranquility, opportunities for family life, enjoying happiness of life, and so that's what we do."
Traditional Chinese culture has always acknowledged the presence of a Creator and Shen Yun includes that in its stories. The dances touched Eck and Barajuli as having universal themes that all can understand and enjoy.

"I think each is called to their own calling by the higher being. There seems to be so much similarity that, we as people across the world spend too much time to define what our differences are. Let's treat each other as human beings, not tear each other down," Eck said.
Barajuli thought the performances were beautiful.
"The thought about us, the divine power, is in everything, that is amazing. I think I learned a lot," Barajuli said. "How [Shen Yun] talks about human beings and the connection with the divine power, I think that we have to learn. … We have to learn about someone else's culture. I learned a lot about Chinese culture and I think the message is very beautiful."

Eck added that although he gained a sense of hopefulness from the performance, it's "also kind of sad that the show can't be seen in China."
"My sense is that it's [China] too restricted to what [certain] people want to be and trying to control rather than let people be free. If we are free we can figure out the problems and be one in this world, rather than somebody else's 'one,' I guess."
Eck said he would certainly recommend Shen Yun to others, and not only one time this season.

"At least two for me," Eck said about the number of times he'd like to see Shen Yun this year.

With reporting by Amy Hu and Brett Featherstone.
The Epoch Times considers Shen Yun Performing Arts the significant cultural event of our time and has covered audience reactions since the company's inception in 2006.
Dallas, United States
Shen Yun North America Company