Shen Yun Has 'Wow' Factor
April 6, 2014 7:02 am Last Updated: April 8, 2014 9:28 am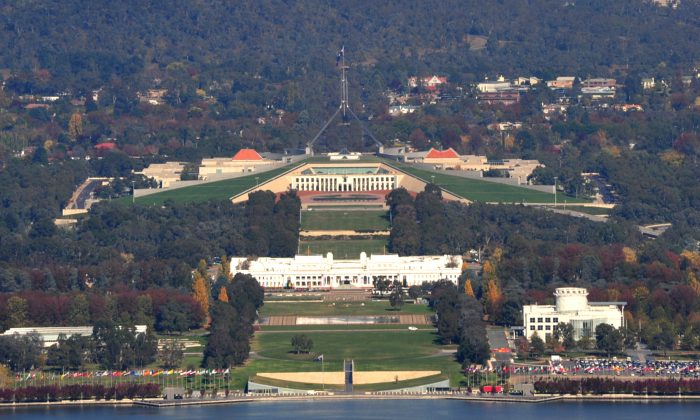 CANBERRA, Australia—A four-year wait had finally ended for Project Manager Sarah Luscombe and her daughter Amelia to see the renowned Shen Yun Performing Arts, world premier classical Chinese dance company at Canberra Theatre, April 5.
Ms. Luscombe, who works for the Department of Communications in Information Technology and Business, had been in Canberra for 10 years and had wanted to see Shen Yun for the past four.
She found the performance "very enlightening. It is showing me another side to the culture and the original dance. It is different to what I expected,"
Ms. Luscombe said. "It is good, very good. I like the way the dancers interact with the screen as well, it is very well done, quite subtle. But it still gives you the wow factor especially the opening of the show. We felt that was pretty cool."
"Sophisticated dance techniques, an orchestra joining instruments from both the East and West, beautiful costumes, and a stunning back drop—this is Shen Yun at first glance. But digging deeper, one discovers a sea of traditional Chinese culture. Mortals and divine beings merge on stage as one," the company website says.
"Principles such as benevolence and justice, propriety and wisdom, respect for the heavens, and divine retribution, all come to life, washing over the audience. Originating from Confucianism, Buddhism, and Taoism, these ideals are the essence of traditional Chinese culture."
"And I love the live orchestra with that backdrop, that modern feature with the classical orchestra feature as well," Ms. Luscombe said, commenting that she was impressed with the stage lighting.
Highly skilled in IT, Ms. Luscombe was particularly intrigued by the state-of-the-art digital backdrop.
"What I really found interesting was the interactive screen, the way they have put the graphics together, the technical qualities of the lighting as well. But I really loved the way the actors interact with the dance and the screen, so that you have the switch between the graphical screen presentation, and the live dance, that was really good," Ms. Luscombe said.
She encouraged families to see Shen Yun. "I love it," she said.
"Come along because it's a mixture of traditional culture, and modern graphic design and dance. So we found it quite engaging, not boring, quite modern. I love the mixture of culture and modern
"Overall, wow, beautiful, and I like the modern interaction with the music, the screen and the traditional dance."
Her daughter Amelia could not have agreed more. "It's my first time coming to the show, it's beautiful, and it's spectacular. I love it. I love other cultures and all the things they can bring.
"Come and see it because it is amazing and beautiful."
Reporting by NTD Television and Raiatea Tahana-Reese
New York-based Shen Yun Performing Arts has four touring companies that perform simultaneously around the world. For more information, visit Shen Yun Performing Arts.
The Epoch Times considers Shen Yun Performing Arts the significant cultural event of our time. We have proudly covered audience reactions since Shen Yun's inception in 2006