BIRMINGHAM, Ala.—Shen Yun is one of those rare brands that people instantly identify with and connect to. Formed in 2006, the New York-based performing arts company has won hearts and lifelong fans across five continents.
In the span of one show, speech therapist Kris Turney and her husband, real estate broker Joe Turney, were ready to become Shen Yun's newest fans and tell everyone they have to see Shen Yun. They spoke to The Epoch Times after the matinee at the BJCC Concert Hall on Feb. 12.
"I was just telling my husband, I wish all my family could see it. Like, every time there's an empty chair, I'm like, 'Why is there not somebody off the street that needs to experience this?'" Mrs. Turney said.
Shen Yun combines original live orchestral pieces with stunning choreography and a digital backdrop to transport audiences out of our modern-day and into the fantastical and diverse scenes of ancient China—ornate palaces, historical battlefields, and remote villages.
The past two years have been rough for many people due to the pandemic. Like many stage performances, Shen Yun's shows were postponed for over a year. Now that the tours are back on, audiences are more enthusiastic than ever, with some driving hours to the nearest town where Shen Yun is performing.
I think it's time to move on, to put it behind us and move on, and get back to life again.
"I think it's time to move on, to put it behind us and move on, and get back to life again," Mr. Turney said of the fear surrounding COVID-19.
Mrs. Turney agreed, adding that Shen Yun "brings such beauty and joy to your soul that it overcomes the sickness, it overcomes the depression."
"You can't be sad when there's beauty all around you and there's music all around you," she said. "It lifts your spirit way beyond the sickness.
"It's quiet beauty. The world needs more beauty," she added.
With colorful historical costumes, gravity-defying dance, and captivating storytelling, Shen Yun has become a universal favorite among theatergoers—no matter their background.
"It just brings out the joy in the simplicity of the dance and the music," said Mrs. Turney, relating the experience to her speech therapy work with children. "You don't have to be able to talk to be able to understand the beauty of it."
'Mesmerized'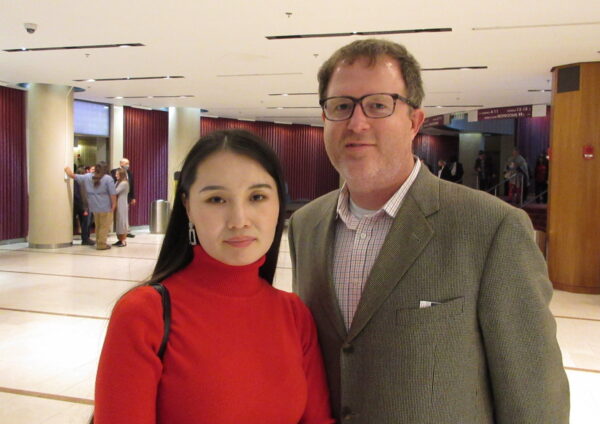 Among Shen Yun's regulars are quality engineer Mungu Edington and her husband Trip Edington, who is now retired and coaching wrestling.
Mrs. Edington hails from Mongolia. Hearing the music of Shen Yun—particularly the two-stringed erhu that has a sound reminiscent of the Mongolian morin khuur—filled her with nostalgia.
"It takes me back to my own country," she said. "Every moment, every second, I was just mesmerized."
The couple live in Huntsville where they have seen the show before. This year was Mrs. Edington's third time at Shen Yun and Mr. Edington's second time, but the couple agreed that it won't be their last.
"Every year, the performance changes—so I'll be here every year," Mrs. Edington said.
Reporting by Sherry Dong and Roland Ree.
The Epoch Times is a proud sponsor of Shen Yun Performing Arts. We have covered audience reactions since Shen Yun's inception in 2006.