Shen Yun Feels Like Christmas
April 26, 2014 11:46 pm Last Updated: April 26, 2014 11:46 pm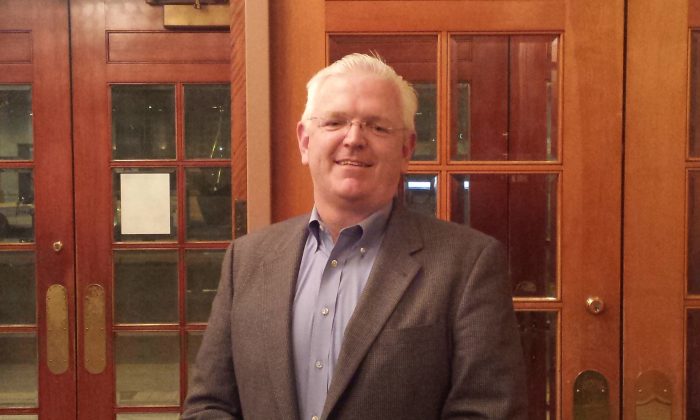 PHILADELPHIA—It's not often that grownups get to experience the youthful excitement that comes with Christmas morning gifts, but that's exactly how financial planner Peter May felt watching Shen Yun Performing Arts at the Merriam Theater in Philadelphia the night of April 26.
"I feel like a little kid on Christmas morning, I don't know which gift I should unwrap first," said Mr. May.
"It was very entertaining and informative," he said.
Mr. May said that watching the performance for him was "thought provoking, very interesting and very humbling because you look at it as entertainment but then as you get pulled in, you realize that it's more than just entertainment."
Shen Yun was established in 2006 in New York with the mission to revive 5,000 years of divinely inspired civilization, much of which had been lost under communist rule in China.
"It's interesting that we can come and listen to this in America … that they are able to share with us, and that they are not able to share with their own people," said Mr. May, referring to fact that Shen Yun is unable to perform in China itself due to the lack of freedom of speech under the current regime.
Mr. May made special note of what he described as the peacefulness of the performance. He referred to one of the dances in which practitioners of the spiritual discipline Falun Gong meditate in a park in China.
Buddha's Compassion Shines Forth shows a young couple practicing the meditative Falun Gong exercises and then being persecuted by Chinese policemen.
"There's a lot of turmoil over there … you have people that are talking about their homeland but probably will never be able to go back," Mr. May said.
At the core of the performance is classical Chinese dance. The performance is accompanied by an orchestra and also features Shen Yun's vocal soloists.
The performance takes the audience on a magical journey through China's rich and vast history, bringing them tales and legends, all the way up to present-day China.
Mr. May said he appreciated how the emcees of the performance explained the context of the performance. He also said he enjoyed the digital projection. Shen Yun uses state-of-the-art graphics technology in its performances to create vividly animated backdrops. The backdrops complement each part of the performance.
Mr. May said he is looking forward to seeing Shen Yun perform again.
"I'm glad I'm watching it from the front, but I would like to come back again to see it from a different angle, watch it from the expensive seats, the cheap seats, and all of them in between," he said.
Reporting by Valentin Schmid and Jasper Fakkert
New York-based Shen Yun Performing Arts has four touring companies that perform simultaneously around the world. For more information, visit Shen Yun Performing Arts. 
The Epoch Times considers Shen Yun Performing Arts the significant cultural event of our time. We have proudly covered audience reactions since Shen Yun's inception in 2006.