PHOENIX, Ariz.—Shen Yun is often described as 5,000 years of Chinese history live on stage. Through classical Chinese dance and live music, the New York-based performing arts group presents a sampling of China's rich heritage to audiences across the globe.
For attorney Kathy Fiechter, it was like watching the story of China unfold from ancient times to the modern-day under communist rule. She experienced Shen Yun for the first time on March 5 at the Phoenix Orpheum.
Shen Yun "exudes the history of China," she said, with "the culture being one of loving caring, and then … totally different culture with the change of leadership."
Over the past 70 years since that communist takeover, China has lost a great deal of its spiritually inspired culture. Shen Yun's mission is to revive that lost culture.
What struck Ms. Fiechter is Shen Yun's message of sincerity and hope.
"It's honest. That integrity alone tells me that the message that the show is trying to bring forward is what freedom can do. And I think all of the authentic historical dances contribute to that."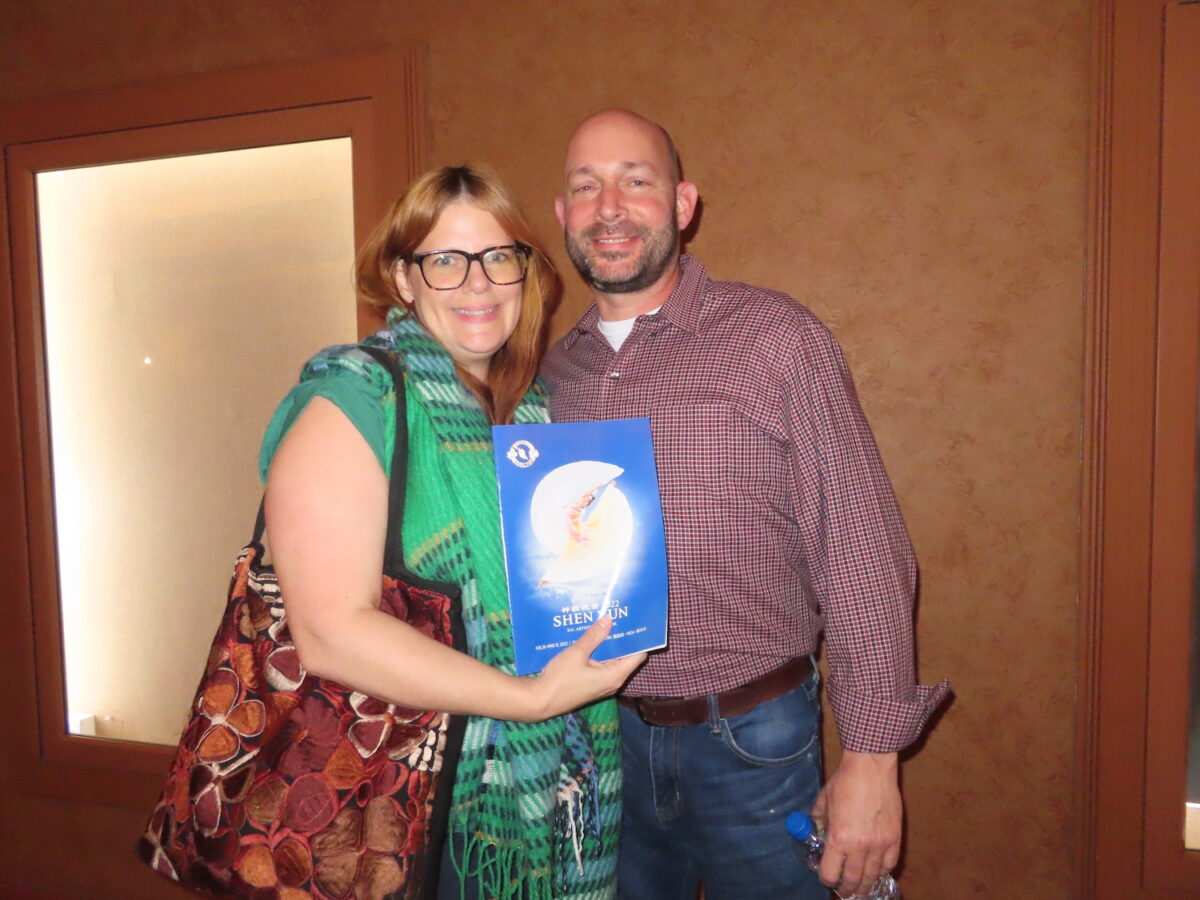 Adam Levinson is the chief technology officer with a bedding company and Kate Peterson is a teacher. They read the entire Shen Yun program book before the show began.
They loved "learning about the tradition and history," Ms. Peterson said, adding that she would recommend it to her students. She enjoyed "the depth of the show, that it's not just about dance, but telling stories," including a variety of folk tales.
Mr. Levinson received a message to be "open to connect with your roots a little bit," he said. "Don't be so closed off to what society says you're supposed to do today."
For thousands of years, Chinese culture has been based on the principles of Taoism and Buddhism. Those traditions are under attack today. Shen Yun displays this aspect of Chinese heritage through stories that connect humankind to the heavens.
"I can feel the entire audience feeling something, especially with the animation as they're showing going to the heavens," said Ms. Peterson. "That part, you can feel some kind of connection with the light. You know it's kind of a frightening story and then all of a sudden you're just lifted. And it is different being in a crowd with a lot of people."
"As I'm sitting there, I'm thinking of all the people I could bring to [Shen Yun]," she continued. "My mom would be interested, all the family members. It has something for everyone, I think."
Reporting by Linda Jiang and Alice Sun.
The Epoch Times is a proud sponsor of Shen Yun Performing Arts. We have covered audience reactions since Shen Yun's inception in 2006.