Shen Yun Dazzles Barcelona Audience Members
April 13, 2014 10:53 pm Last Updated: April 15, 2014 11:20 pm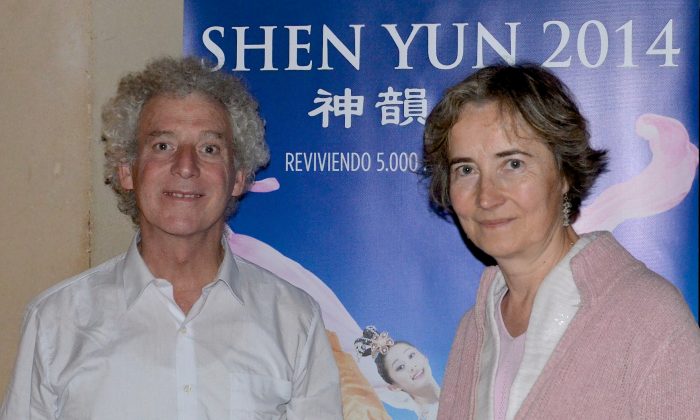 BARCELONA, Spain—With its stunningly beautiful and culturally rich performances, Shen Yun Performing Arts captured the heart of audience members at Barcelona's National Theatre of Catalonia during its four-day run from April 9-12.
The performance left art critic Joan Gil quite impressed.
"It [Chinese culture] truly is a culture we really do not know that well, and so I was impressed from a social point of view," Mr. Gil said.
"The technical aspect is undoubtedly worth mentioning, the special effects, including the whole philosophical part through the fables, which seemed important enough to be understood," he said.
Based in New York, Shen Yun aims to revive China's divinely inspired culture through the performing arts. Shen Yun's performances feature mainly classical Chinese dance, along with a few ethnic dances from different parts of China. The dances are accompanied by a live orchestra that combines classical Western instruments with Chinese instruments.
Opera singer Barbara Gondek said she enjoyed the performance very much.
"The stories told are very interesting, and with the explanations they give us, they give us the chance to understand China better and its myths," she said.
"I also noted that the movement of the dancers is very gentle. It is different from ballet—it has a harmony that ballet doesn't have," she said, adding that she has practiced in classical dance in the past.
"Chinese dance is at the heart of what Shen Yun does," states the Shen Yun website. "Known for its incredible flips and spins, and its gentle elegance, it is one of the most rigorous and expressive art forms in the world."
Roger Bell, a professor of management at the ESADE Business School, said he liked the performance very much, and was interested to see that the performance shows the persecution of Falun Dafa, a peaceful meditation exercise, in China today.
"The persecution was very explicit and very clear; [the emcee] said that it is going on still today and has been going on for many years," added his daughter Mary.
Ivalla Bricks, who runs an advertising agency, said she enjoyed the choreography, the colors, and the combination of technology with the use of animated digital backdrops in the performance.
"I think it's quite interesting, it's very different from what we're used to seeing here," she said.
Albert Garriga Puig, general director of a consulting company, said the performance has a message of "heaven and humans joining together."
"We really appreciate it, it is very beautiful; amazing."
Reporting by Mary Man, Florian Godovits, and Alejandro Nadal

New York-based Shen Yun Performing Arts has four touring companies that perform simultaneously around the world. For more information, visit Shen Yun Performing Arts. 
The Epoch Times considers Shen Yun Performing Arts the significant cultural event of our time. We have proudly covered audience reactions since Shen Yun's inception in 2006.