Shen Yun Dancers 'Profoundly skilled'
April 1, 2014 12:45 am Last Updated: April 1, 2014 4:50 am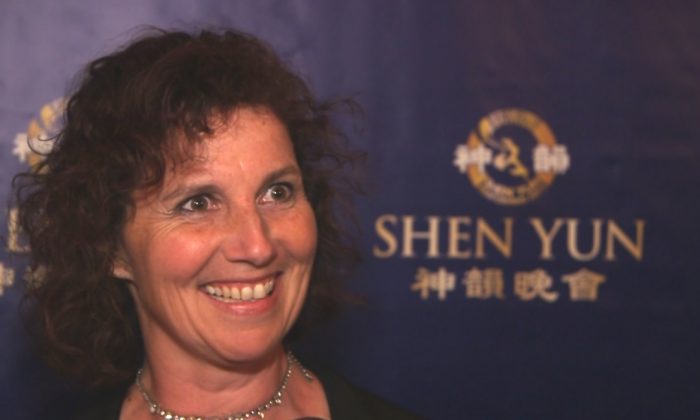 SANTA BARBARA, Calif.—Rachel Morris, executive director of non-profit corporation VCCool, which organizes action on climate change, attended Shen Yun Performing Arts at The Granada Theatre, on March 30.
"It was a wonderful show," said Ms. Morris. "I thought it was a very strong presentation."
Shen Yun was founded in 2006 in New York as a non-profit organization dedicated to reviving the 5,000 years of Chinese civilization—which has been almost lost—through breathtaking music and dance, according to the website.
"China was once known as Shen Zhou—The Divine Land. This profound name describes a land where deities and mortals coexisted, and a belief that the divine transmitted a rich culture to the people of the earth," says Shen Yun's website.
Ms. Morris really enjoyed the Shen Yun Orchestra, which includes traditional Chinese instruments along with traditional Western instruments. She also loved the erhu solo performance, which is a Chinese two-stringed bowed instrument. "It's just really beautiful," she said.
Shen Yun's dancers were very impressive to Ms. Morris, and she noticed that the choreography of classical Chinese dance, which incorporates many dancers in unison, was very different from ballet, which often focuses on partnership dancing.
"I felt like the performers were just profoundly skilled," she said. "They were so limber and so confident. They would do something that was incredibly difficult, and never wiggle. Just right on."
Ms. Morris said that the dancing was a very unique experience for her and connected with her, and that dance has the power to touch people's hearts.
"Dancers can do things that can reach people on a level that will go through their doors and reach into their heart," she said. "I think that I have not seen this before. I am very familiar with dance, and I would just say it's a very beautiful experience."
Ms. Morris said she would recommend the show to others and would enjoy coming again next year.
"I think I would say that it's something that really is to be experienced … I would encourage them to come out and just experience it," she said.
"I think that would be really neat to see next year. As I understand, there are going to be different dances, so I would enjoy that," said Ms. Morris.
Reporting by NTD Television and Sarah Le
New York-based Shen Yun Performing Arts has four touring companies that perform simultaneously around the world. For more information, visit Shen Yun Performing Arts.
The Epoch Times considers Shen Yun Performing Arts the significant cultural event of our time. We have proudly covered audience reactions since Shen Yun's inception in 2006