Shen Yun Dance Stories 'Incredible, Shows Real Tenacity,' Says Business Owner
April 11, 2014 4:49 am Last Updated: April 12, 2014 5:00 am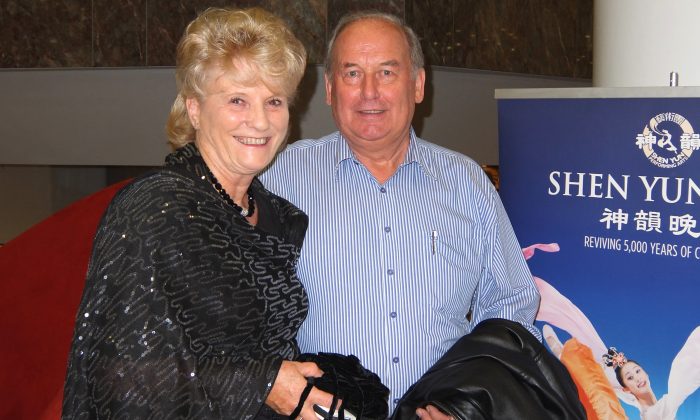 AUCKLAND, New Zealand— Shen Yun Performing Arts continued its New Zealand tour with the first of three performances on Friday night, April 11, in Auckland City's Aotea Centre.
Business owners Marj and Graeme Mulholland received tickets to Shen Yun as a birthday gift. They shared their reactions after the performance.
"It's just amazing … we're very excited about being here," Ms. Mulholland said.
"I think it's magnificent! I love the way the stage blends in with the scenery behind. That is just very, very clever technology and it gives a dimension that you don't normally have with just a stage production," said Mr. Mulholland.
Shen Yun's mission is to revive the 5000 years of Chinese civilisation through classical Chinese dance and music.
"I think going back 5000 years is fascinating," Mr. Mulholland said.
"So often you know about your own culture, but you don't understand and hear about other cultures I'm finding it very educational, interesting and fascinating."
As well as ancient myths and tales, the dances stories include stories about the present day persecution of the spiritual meditation practice Falun Dafa. These stories touched a chord with both Mr. and Ms. Mulholland.
"What I like is the realisation that the Chinese people had such a faith … yet that's been stamped out, and yet they're still hanging onto it. I find that absolutely incredible, shows real tenacity," Ms. Mulholland said.
"I just sense watching it, knowing students and young people here, they are wanting freedom. I think that they really—there's a whole generation. They don't want to be bound, they just want freedom."
"We've never been through the persecution and the issues that the Chinese people over so many generations, so to actually see it in a drama and dance form is quite moving," said Mr. Mulholland.
"It's almost man's inhumanity to man rather than recognise that there is a power and a force, an elevation that is higher than ourselves that we need to be able to reach out to. And this has been portrayed very well on the stage."
Ms. Mulholland owns an anti-aging business and Graeme Mulholland is the director of a behavioural analysis business.
Shen Yun will have two more performances in Auckland on Saturday April 12.
 Reporting by Li Ying and Rebecca Hunisett
New York-based Shen Yun Performing Arts has four touring companies that perform simultaneously around the world. For more information, visit Shen Yun Performing Arts.
The Epoch Times considers Shen Yun Performing Arts the significant cultural event of our time. We have proudly covered audience reactions since Shen Yun's inception in 2006.