Shen Yun Costumes 'Refined Like Chinese Culture': Prominent Fashion Designer
April 2, 2014 1:21 am Last Updated: April 12, 2014 1:47 am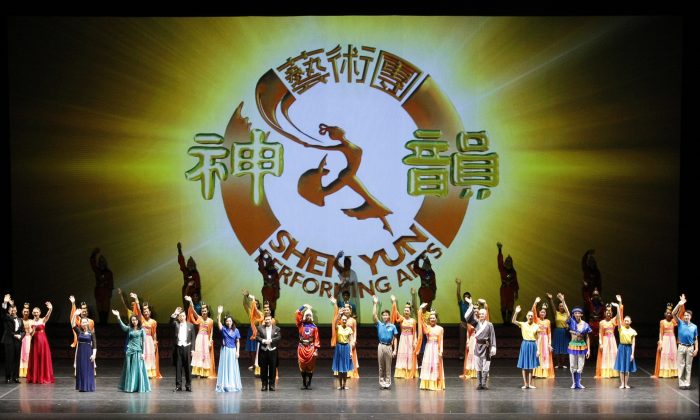 PARIS—Prominent fashion designer Erik Schaix thought Shen Yun Performing Arts is magnificent after watching the New York-based classical Chinese dance and music company perform at the Palais des Congrès, on March 28.
"It is very beautiful," Mr. Schaix said.
Commenting on the hundreds of handmade colorful costumes in the performance, the designer said he found all the different colors on the costumes to be very beautiful.
"I loved the green, pink, and white theme; it was superb," he said, adding that he was overwhelmed by the costumes in the last dance piece.
"The costumes are quite a success. They are very, very beautiful. They are very refined, like the Chinese culture."
According to the Shen Yun website, "Shen Yun's costume artists collect countless designs of traditional attire, ranging from those of emperors, ministers, and generals to the everyday clothing of the common people. They use bright colors to tailor and recreate hundreds of new pieces each season."
An Expressive Art Form
Shen Yun performances feature classical Chinese dance, as well as a few ethnic dances from different parts of China. Commenting on the dance performances, Mr. Schaix said the male and female dancers were amazing.
"I loved it," he said. "I found it quite fascinating; I loved the classical dance; I liked this way of communicating, through dance, spirituality from ancient China. I liked the different scenes," he said.
Classical Chinese dance, according to the Shen Yun website, is one of the most rigorous and expressive art forms in the world.
"Classical Chinese dance is a culture left to us by the ancients who came before us, its beauty should be riches shared by all of humanity, its purity should not be contaminated," says the Shen Yun website.
Discovering China
Mr. Schaix had come to see Shen Yun's performance to learn more about Chinese culture. Shen Yun, formed in 2006 by a group of leading classical Chinese artists, aims to revive China's divinely-inspired culture.
"We are just discovering it, that is what is so beautiful," Mr. Schaix said about Shen Yun. He also added that there is a lot of spirituality in Chinese culture.
"It is quite rewarding to go and see things that we do not know. Because Chinese culture is something ancient, that makes it magnificent to discover," he added.
Reporting by Edwige Ansah and Omid Ghoreishi

New York-based Shen Yun Performing Arts has four touring companies that perform simultaneously around the world. For more information, visit Shen Yun Performing Arts.
The Epoch Times considers Shen Yun Performing Arts the significant cultural event of our time. We have proudly covered audience reactions since Shen Yun's inception in 2006.