RALEIGH, N.C.—Shen Yun Performing Arts once more graced the Raleigh Memorial Auditorium to the delight of a New Year's audience. Shen Yun is the world's premier classical Chinese dance and music company, which went on to become a global phenomenon after its debut in 2006.
Each year, the New York-based company puts on a brand new performance with fresh choreography and original music, performed by a live orchestra that blends Eastern and Western instruments. These combined with a patented digital backdrop and colorful costumes and props create exhilarating scenes onstage.
A Birthday Present
Dylan Santeramo, a research scientist in plant biology, was moved to tears. Wanting to come for many years, he said he finally got to attend the show as a birthday gift from his fiancée. Because of an interest in Chinese culture, Dylan said he was happy to see that so ancient a tradition has survived to the modern day.
Dylan said, "Shen Yun has a very important message—that humanity has lost touch with its spiritual side and a lot of things harm the human soul."
A Christmas Present
Business owner Doug Robbins and his wife Leigh loved the spiritual nature of the performance. Mr. Robbins said the show was a Christmas present for his wife.
"The message of atheism is going to harm humanity. We love it that the [presence] of the Creator was part of this play," he said.
"We can feel the spiritual nature of the performance. We love that," Doug said. He believes when people say they get a message of hope from the performance. "Absolutely. Especially now!"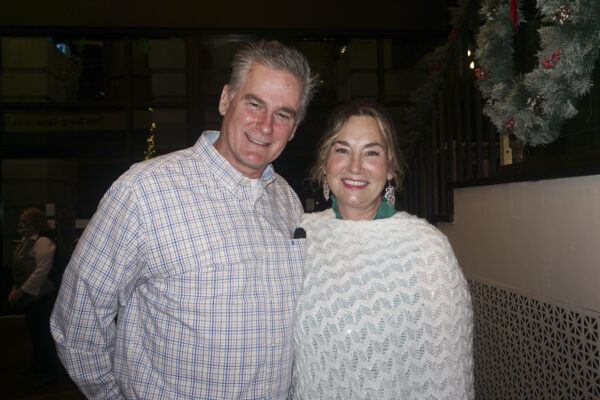 Leigh danced growing up and said the dance with the flowing sleeves was lovely. "It almost brought tears to my eyes." She was impressed by so many of the male dancers on stage in contrast to a ballet.
Doug enjoyed the singing, especially the lyrics. The vocalist "sang about hope and that came from the great Creator, which I love!"
Reporting by Nancy Bao, Yawen Hung, and Yvonne Marcotte.
The Epoch Times is a proud sponsor of Shen Yun Performing Arts. Audiences have responded in a resoundingly positive way since Shen Yun's inception in 2006.