Shen Yun Both Entertaining and Fun, Says University Professor
April 11, 2014 10:01 am Last Updated: April 12, 2014 4:50 am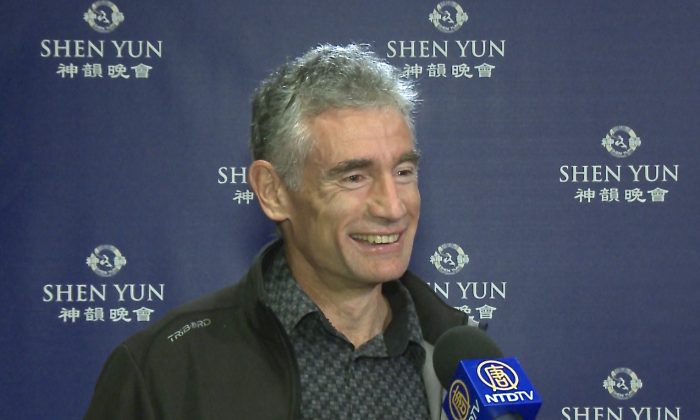 AUCKLAND, New Zealand—David Hamilton is a lecturer at the Waikata University, Hamilton and a Professor in Biological Sciences. He travelled over 100 km to see Shen Yun perform at Auckland City's Aotea Centre, on Friday April 11, on advice from a friend who recommended it.
"I loved it, it was fantastic!" he said. "Just seeing those five thousand years all condensed into dance and into theatre, it was fantastic."
Shen Yun's mission is to restore the 5000 years of Chinese civilisation through classical Chinese dance and music.
"I think it was fantastic to see that 5000 years, just stepping through it from the very start right up to the modern day society," he said.
For Mr. Hamilton, the orchestra music and the bel canto singing were highlights.
"I thought the singing was amazing. The soprano—just the ability to reach those high notes is quite amazing."
Another feature of Shen Yun's performances is the digital backdrop, which moves and changes with each performance, giving a full theatrical effect.
"When the dragon popped out of the screen, that was really exciting," Mr Hamilton said (referring to a dance story Ne Zha Churns the Sea about an evil Dragon King).
"And the ability of the people to blend what came out of the screen with what they were doing on the floor was pretty amazing."
Mr. Hamilton said the show was a really entertaining and fun way to learn about Chinese culture.
"That was a great show and I want to see you guys perform again. It was a lot of fun."
Shen Yun will have two more performances, in Auckland, on Saturday April 12.
Reporting by NTD Television and Rebecca Hunnisett
New York-based Shen Yun Performing Arts has four touring companies that perform simultaneously around the world. For more information, visit Shen Yun Performing Arts.
The Epoch Times considers Shen Yun Performing Arts the significant cultural event of our time. We have proudly covered audience reactions since Shen Yun's inception in 2006.