Shen Yun Allows Second Generation Chinese to Get in Touch With Roots
April 4, 2014 3:46 pm Last Updated: April 4, 2014 3:47 pm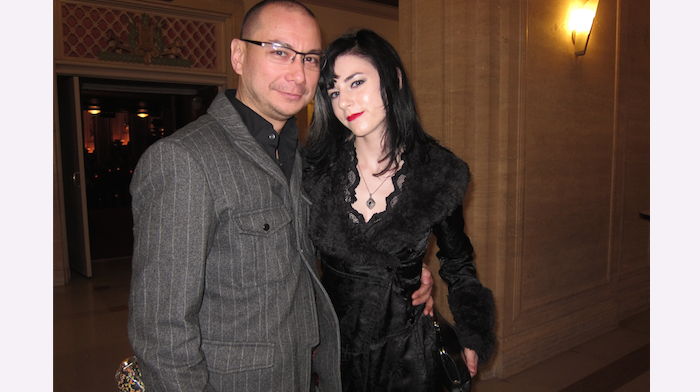 CHICAGO—David Winn explained that part of his heritage is Chinese but that he really hasn't had much chance to experience Chinese culture. That's why he was enjoying Shen Yun Performing Arts.
Shen Yun, based in New York, aims to revive 5,000 years of traditional Chinese culture and preserve its virtues and values.
"Our heritage is primarily brought to us by our parents, teaching us locally here," said Mr. Winn, speaking from the perspective of someone of Chinese ancestry.
"Many of us have never been to China or have never been to Asia. I have a couple of times, but you don't necessarily get a lot of that old culture or the old traditions unless you see it in a movie or you see it live here," he said.
Mr. Winn is an industrial designer and partner at Momentum Product Design, LLC. He attended Shen Yun at the Civic Opera House, on April 3, with Meghan Benson.
Shen Yun, based in New York, presents classical Chinese dance and music to the world as it tours over 20 countries and 100 cities. Each performance includes orchestral music played by both Western and Chinese instruments, colorful backdrops and costumes, and award-winning vocalists.
"It was actually very good. They did a very nice job and the dancing, a lot of the choreography, was really engaging," Mr. Winn said.
Ms. Benson is a percussionist, guitarist, and singer. She found the drumming inspiring. "As a percussionist, I really enjoyed the different drums that they used, and the way that they maneuvered their dance around them," she said.
She also commented on the beauty of the colors of the costumes and backdrop projections, describing them as mesmerizing.
As for the stories told through classical Chinese dance, she found them interesting: "I really liked seeing the good conquering over evil in people, overcoming injustices, and getting what they wanted at the end," that end, depicted in some of the dances, she saw as spiritual freedom.
Ironically, Shen Yun cannot perform in China today.
"Over its past 60 years of rule, the communist regime has treated traditional Chinese values—centered on the idea of harmony between heaven and earth—as a threat to its existence. And in its systematic campaigns like the Cultural Revolution, it has uprooted traditional beliefs and destroyed ancient treasures—bringing traditional 5,000 years of civilization to the brink of extinction," according to Shen Yun's website.
Thus, the reason for Shen Yun's mission: keeping the traditions alive.
Reporting by Valerie Avore and Sharon Kilarski

New York-based Shen Yun Performing Arts has four touring companies that perform simultaneously around the world. For more information, visit Shen Yun Performing Arts.
The Epoch Times considers Shen Yun Performing Arts the significant cultural event of our time. We have proudly covered audience reactions since Shen Yun's inception in 2006