Shen Yun 'A Unique Presentation,' Says Interior Designer
April 5, 2014 12:43 am Last Updated: April 5, 2014 5:32 am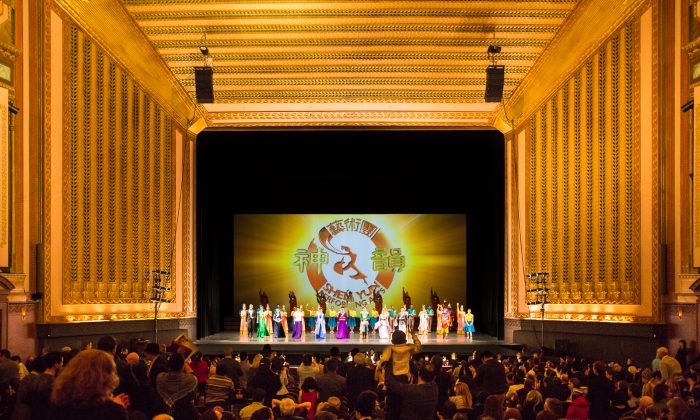 CHICAGO—Brent Denzin, partner and attorney at Ancel Glink, and Kristen Ekeland, principal interior designer at Studio GILD in Chicago, were inspired by the Shen Yun Performing Arts performance in Chicago's Civic Opera House, Thursday night.
"It's great. I love it, excellent," said Mr. Denzin about Shen Yun.
Ms. Ekeland found the performance "very engaging." She said,"I didn't know what to expect, so I am very pleasantly surprised."
Established in 2006, New York-based Shen Yun is a non-profit organization dedicated to reviving 5,000 years of Chinese civilization through breathtaking performances that feature classical Chinese dance and music. In just a few years, it has become a global phenomenon, reaching millions of people in about 20 countries and over 100 cities.
As a designer, Ms. Ekeland, paid special attention to the hundreds of striking and colorful handmade costumes: "I would say the costumes are just gorgeous and the palettes used in the costumes are very inspiring, and very pretty, very bright."
Shen Yun is well known for its hundreds of handmade, striking, and colorful costumes.
Ms.Ekeland also enjoyed Shen Yun's vibrant digital backdrop, which interacted with the performers on stage, allowing them to appear to leap into or out of the background as well as perform extraordinary feats.
She said, "I think it's a unique presentation with the interaction of the screen and then the dancers on the stage, I don't know if I have seen that in a performance before … I feel like it's a unique experience."
Both were impressed with Shen Yun's mini-drama pieces that draw upon stories and legends spanning China's long history.
"I think that not often do we get to experience Chinese culture in the States, in general. So I think for someone that would want to know what it's about, I would say it's an interesting experience to have because you have … one show, and you have all of these sort of myths and sort of things, that you are exposed to in a few hours," Ms. Ekeland said.
It was a educational experience as well for Mr. Denzin: "I never knew any of the stories before, and so they all are very interesting. The stories in it are just so beautifully done, so you are engaged in it."
"In less than ten minutes each, Shen Yun dances recount ancient myths, bygone heroes, or celestial paradises. Whether set in the past or in contemporary China, every dance embodies traditional Chinese values," reads the company's website.
Traditional culture is deeply rooted into spiritualism. Mr. Denzin noted, "It's a side of Chinese culture that I knew existed… and so it's interesting to see a lot of the spiritual components of mix between dance and mythology and just storytelling as well … I think it's a connection between a lot of other arts, and other cultures. If you go far enough back that they are from very similar roots."
In conclusion, they both appreciated Shen Yun. "It's a very one of a kind performance and stage setting," said Ms. Ekeland.
"I'd say it's beautiful. The music is beautiful, the dance is beautiful and then then there's an interesting story behind it," Mr. Denzin said.
Reporting by Sophie Wang and Nataly Teplitsky
New York-based Shen Yun Performing Arts has four touring companies that perform simultaneously around the world. For more information, visit Shen Yun Performing Arts.
The Epoch Times considers Shen Yun Performing Arts the significant cultural event of our time. We have proudly covered audience reactions since Shen Yun's inception in 2006