Shen Yun a Surprise Birthday Gift: 'It's like nothing you've seen before'
April 6, 2014 4:17 pm Last Updated: April 6, 2014 4:18 pm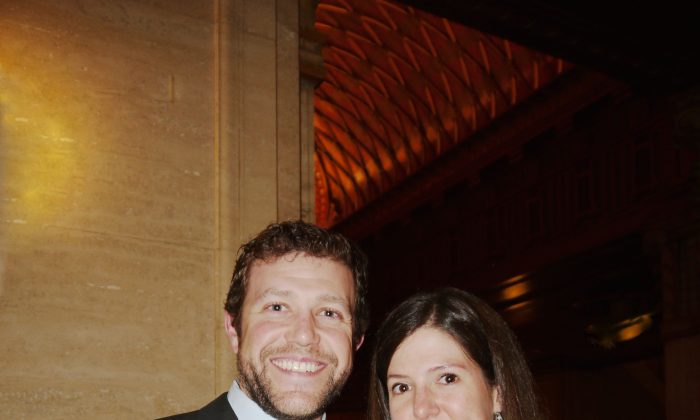 CHICAGO—Todd Smith surprised his wife, Margo, with tickets to Shen Yun Performing Arts at the Civic Opera House on April 5 for her February birthday. 
"It's wonderful," said Mrs. Smith of the gift. The Smith's are no strangers to Shen Yun as they have seen the performance several times.
What brings them back? "It's very beautiful and the costumes are amazing," said Mr. Smith, an attorney.
"It feels very authentic," said Mrs. Smith. The authenticity comes "I think probably [due to] the costumes, and there is great energy on the stage. You know, even the storytelling in between is really nice [as] it shows how it all ties together," she said, referring to the bilingual emcees introducing the short dances.
"Shen Yun draws top artists from around the world. With a passion for the classical arts, they join Shen Yun in its mission to revive a culture that was once almost lost," says the company's website.
Its trademarks are classical Chinese dance, a unique orchestra combining traditional Western and Eastern instruments, and animated backdrops, which take audiences to different dynasties and vistas, on heaven and earth.
What is most impressive to Mrs. Smith is the dancing: "The dancing was great, but I am sure that's fairly obvious," she said.
Her husband replied, "The flips and the jumps were really impressive." And, tumbling, she added.
Classical Chinese dance is comprised of demanding flips, spins and leaps, which audiences find thrilling. Another facet of the dance is that it's uniquely expressive so that Shen Yun relies on it to tell stories, purely through dance.
"We were just saying the story of the girl and the lotus, that it was very touching. You know even without lyrics,… you still have a very good sense of what is going on and it is still very moving." She is referring to the dance Steadfast Lotus about a mother and daughter being separated for their spiritual beliefs in modern China.
The story is multifaceted, she explains: "I think it's beautiful. It's really interesting. You do get a lot of the sense of the history of the time, especially in the lotus story, I would say. I found that to be very moving and somewhat sad." 
"But also, there is a lot of fun, right? Like the [dance performances of the] Mongolian chopsticks and the meatball," she added.
"Yeah, absolutely," Mrs. Smith would recommend the performance to friends. 
"It's like nothing you've seen before," said Mr. Smith, and she agreed. "Very unique," he said.
Reporting by Catherine Wen and Cat Rooney
New York-based Shen Yun Performing Arts has four touring companies that perform simultaneously around the world. For more information, visit Shen Yun Performing Arts.
The Epoch Times considers Shen Yun Performing Arts the significant cultural event of our time. We have proudly covered audience reactions since Shen Yun's inception in 2006.