Shen Yun: A First Step to Understanding Traditional Chinese Culture
April 5, 2014 2:53 am Last Updated: April 6, 2014 2:55 am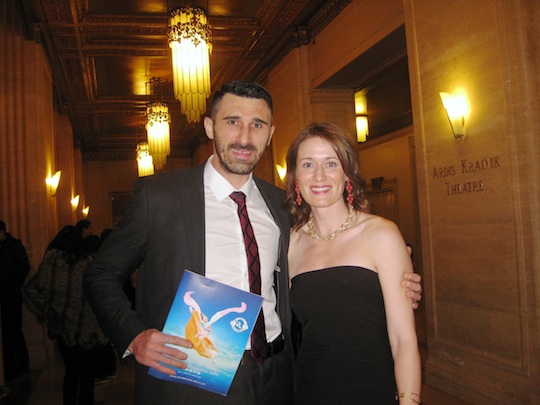 CHICAGO—Mike Wisniewski's gift to Kary Kaltenbronn were tickets to Shen Yun Performing Arts Touring Company. They attended the April 4 performance at the Civic Opera House.
Shen Yun's mission is to revive traditional and divinely-inspired Chinese culture by an all-new show each year that tours to some 350 countries and over 106 cities worldwide. Chicago is the 12th city out of 18 Midwestern cities that Shen Yun travels to this year.
"I really like it. It is a new experience for me.," said Mr. Wisniewski, who owns a painting business.
He had never seen a traditional Chinese cultural performance or attended the stately Civic Opera House. "I like it. It was so colorful."
The gift holder for the evening replied: "Me too! I really enjoyed it," she replied.
"It was definitely fun to see something different. I was impressed with the dancers. They were so athletic and the costumes were beautiful, and the music was awesome," she said.
"A Shen Yun performance features the world's foremost classically trained dancers, a unique orchestra blending East and West, and dazzling animated backdrops," describes the Shen Yun website.
Ms. Kaltenbronn, an emergency care physician, enjoyed the innovated backdrops for each of the performances that interact with the dancers. "I like the animation, nice, very impressed!' he said.
Shen Yun is the world's premier classical Chinese dance and music company. Its mission is to revive 5,000 years of divinely inspired Chinese culture through dance-based storytelling of beloved myths, legends, and ancient history as well as contemporary issues.
Yet, this traditional history, which is rooted in spirituality, morals, and values of the past, was almost completely destroyed by the communist regime's rule.
Ms. Kaltenbronn explained, "I think they try to show a very nice story. I feel a little sad because they were showing what they cannot show in China. But, I am happy that I can see it here."
"I think it was important for us to understand the history of Chinese culture. We are not particularly spiritual ourselves, but it was just interesting to see how connected that was with Chinese history and it was really important to see," said Ms. Kaltenbronn.
Shen Yun is an educational as well as an entertaining experience. "Actually, I don't know a lot about Chinese culture. I'm just starting, you know, discovering it. It was just like my first step," explained Mr. Wisniewski.
"I feel like I was happy that we were able to support Shen Yun, and I would come again," said Ms. Kaltenbronn.
Reporting by Teresa You and Cat Rooney
New York-based Shen Yun Performing Arts has four touring companies that perform simultaneously around the world. For more information, visit Shen Yun Performing Arts.
The Epoch Times considers Shen Yun Performing Arts the significant cultural event of our time. We have proudly covered audience reactions since Shen Yun's inception in 2006