Shen Yun 'A celebration of history'
April 3, 2014 1:51 am Last Updated: April 3, 2014 7:57 am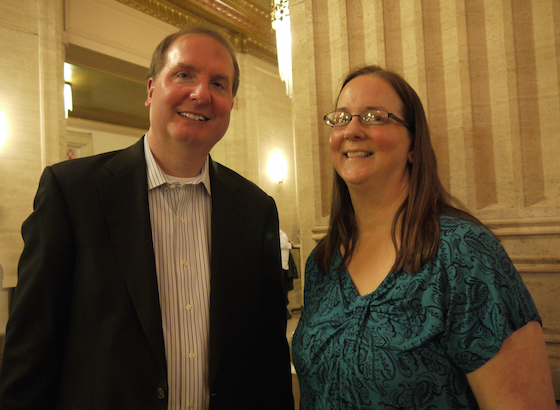 CHICAGO—"It's very colorful and vibrant," explained Craig Marr who attended the Shen Yun Performing Arts Touring Company's 5,000 years of divinely inspired civilization through the performing arts with Janet Sobolak.
"Let's just say, it's gone beyond my expectations," said Mr. Marr, an attorney. "I really enjoyed it."
"I would say that it is a really interesting way to view Chinese history and culture, not the typical way to learn about it," he said.
"It's just a feast for the eyes," said Ms. Sobolak. "I absolutely loved it!"
She explains further, "I visited China, but boy I really had no idea of the classical dance. I hadn't seen it."
Shen Yun is the premier classical Chinese dance company in the world. "Chinese dance is at the heart of what Shen Yun does. Known for its incredible flips and spins, and its gentle elegance, it is one of the most rigorous and expressive art forms in the world," states the company's website.
Ms. Sobolak is a watercolor artist and admired the art of dance. "A different art form for me, it's beautiful. It's got to be very difficult to learn, and those moves were incredible."
Shen Yun is known for its dance, unique combination of Western and Eastern traditional instrumental music, and animated backdrops for each of the some 20 dance and music performances.
Ms. Sobolak noted that "the backdrop was fantastic, really nicely done. Beautiful, absolutely beautiful, it's so vibrant, and I love how it gives that spatial feel that it's really going back."
At intermission, Mr. Marr stated, "The theme, at this point, with what we have seen so far, I would look at it as a celebration of history."
"The same, really," Ms. Sobolak added, "just a dazzling display of color and movement and music. I loved it."

Reporting by Catherine Wen and Cat Rooney
New York-based Shen Yun Performing Arts has four touring companies that perform simultaneously around the world. For more information, visit Shen Yun Performing Arts.
The Epoch Times considers Shen Yun Performing Arts the significant cultural event of our time. We have proudly covered audience reactions since Shen Yun's inception in 2006