Shen Yun a Breathtaking and Phenomenal Experience for Philadelphia Audience
April 27, 2014 4:10 am Last Updated: April 27, 2014 11:28 am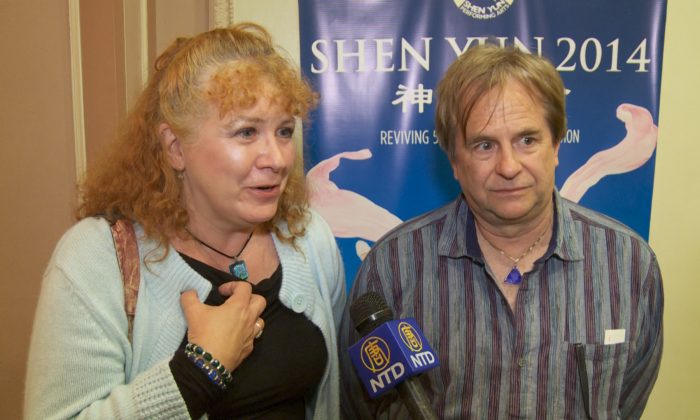 PHILADELPHIA—Seeing Shen Yun perform at the Merriam Theater in Philadelphia Saturday evening, April 26, was a breathtaking experience for Joan Conover and Brian Kunsman. 
"It's done really well. They synchronize so well," said Mr. Kunsman, who is the master and head instructor at the Bethlehem Kung Fu Center, located around 60 miles north of Philadelphia, after watching the performance. 
Ms. Conover, who is an emergency room nurse, also said she thought the performance was phenomenal. 
"Elegant and breathtaking. The colors, the form, the dance and the music were just phenomenal," she said. 
Shen Yun was established in 2006 with the mission to revive 5,000 years of divinely inspired Chinese culture. With classical Chinese dance as its hallmark, the performance takes the audience on a magical journey through China's history.
"Wonderful, wonderful choreography," said Mr. Kunsman. 
Ms. Conover said she was particularly struck by the piece "Lotus Fairies." The piece extols the lotus' virtues of purity and divine perfection, according to the Shen Yun program book. 
"The fluidity, it's just one movement after another, just beautiful," Ms. Conover said. 
Shen Yun's performances feature hundreds of brilliantly colored costumes inspired by China's traditional attire that create a spectacle for the eye. 
"The women's outfits were just brilliant, very beautiful," said Mr. Kunsman.
Each Shen Yun performance is accompanied by a live orchestra. Shen Yun's orchestras are unique in that they contain both Western and traditional Chinese instruments. 
"The combination of the Western and the Eastern [instruments] just melded so beautifully," said Ms. Conover.
Mr. Kunsman said that "the drumming was phenomenal."
In addition to dance and music, Shen Yun's performances feature vocal soloists. Shen Yun's singers use the bel canto technique to sing Chinese lyrics.
"The messages have been so profound, so profound. It was hard not to watch the singer but I wanted to read the words and they really were beautiful, beautiful messages," said Ms. Conover referring to the projection of the lyrics in English and Chinese on the backdrop. 
Mr. Kunsman said that he thought the lyrics contained "very wise messages."
Despite depicting China's true traditions and culture in around 20 countries and 100 cities each year, Shen Yun has been unable to perform in China itself due to the ruling communist regime.
"I think the saddest part is that in China they can't have such a beautiful message, how sad is that," said Ms. Conover. 
"That they can't celebrate such an enlightened message. It's a shame," she added. 
Mr. Kunsman agreed, saying, "they're missing out" in China.
Reporting by NTD Television and Jasper Fakkert
New York-based Shen Yun Performing Arts has four touring companies that perform simultaneously around the world. For more information, visit Shen Yun Performing Arts. 
The Epoch Times considers Shen Yun Performing Arts the significant cultural event of our time. We have proudly covered audience reactions since Shen Yun's inception in 2006.