PHILADELPHIA—Months of rehearsals and years of preparation came to fruition at Philadelphia's Merriam Theater on Feb. 25, 2020, when the curtain rose on Shen Yun Performing Arts' world-renowned classical Chinese dance performance. But all of the dancers' and musicians' hard work and preparation was especially appreciated by a certain audience member who has produced live events for some of the world's top performers.
"For years, I've been in professional sound. I did a lot of rock concerts and touring worldwide," Patrick Conneen began, during New York-based Shen Yun's intermission at the Merriam Theater. "I worked with a lot of major musicians like Michael Jackson and Rolling Stones, acts like that. So I am very used to large performances. And I really had a lot of fun watching [Shen Yun] so far."
"The syncopation and the dance coordination of this is absolutely fantastic. I mean anybody that's—whether you're in the backseat or you're paying top dollar upfront, you'll get your money's worth in this show [Shen Yun]. It's fantastic," Conneen continued.
For 13 years, Shen Yun has been astounding global audiences with colorful costumes and backdrops, live orchestral accompaniment, and storytelling dances told with what is perhaps the most expressive dance form in the world—the ancient and challenging classical Chinese dance.
"Actually, I was in awe," Conneen said. "I was just—as somebody who's worked with major artists, like I said, who's watched months and months of rehearsal come to something, come to fruition on stage, [Shen Yun's] execution has been perfect—absolutely outstanding."
According to Shen Yun's website, "China's deep cultural traditions are contained in classical Chinese dance, allowing its movements to be richly expressive, such that the personalities and feelings of characters can be portrayed with unparalleled clarity. It is therefore capable of depicting scenes from any time period, whether ancient or modern, Eastern or Western, in a strikingly vivid way."
Shen Yun's Authentic Culture 'Very Refreshing'
Conneen was also thoroughly impressed by the noble mission Shen Yun has taken on, which is to revive traditional Chinese culture from the brink of extinction and to share its artistic and deeply spiritual essence with the world.
Conneen said he is thrilled to hear about Shen Yun's mission, "especially over the fact that I learned that this can't be seen in China itself. As somebody who's been over in China numerous times for performances, where we've kind of been told there's a certain limit, we can't cross. I understand that. But to see how it kind of reaches back into the history and culture that isn't talked about, it's very, it's very refreshing … It creates awareness to how wonderful the Chinese culture was, and still is."
China was once known as "The Divine Land." Ancient Chinese believed that its dance, music, writing, and more was bestowed to them by the divine. Shen Yun continues this tradition by passing on legends and stories of heavenly realms, celestial beings and spiritual practices such as Buddhism, Daoism, and Falun Dafa.
"Well, actually, I love that a lot," Conneen said, about the divinely-inspired content in Shen Yun, "especially in the way that the, when you're seeing, there's a couple spiritual [scenes]; … parts, where you're seeing the spirituality transcend through the rear projection screen with the actors and they're replacing each other. And if you really see the coordination between what is supposed to be the fantasy or the tradition of the faith, to the transition into the reality of the piece itself."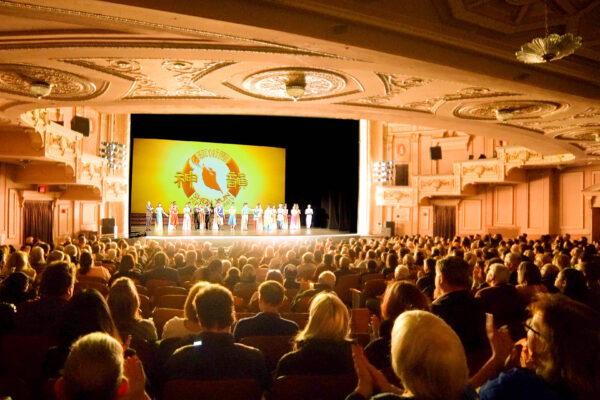 'You can see their faith'
Shen Yun's artists follow an age-old tradition of letting their art serve something higher.
The program explains that the artists are adopting a personal spiritual practice that they follow in their daily lives which also has the effect of enhancing their stage presence and plumbing the depths of their emotions to achieve greater expression. Falun Dafa is the spiritual discipline these artists follow, which includes energy-strengthening exercises and the moral teachings of truthfulness, compassion, and tolerance.
"Fantastic. It shows in their dance and their art form," Conneen said when he heard about Shen Yun performers' dedication to Falun Dafa. "It's very pure, it's very, it's saintly. It's very saint-like, if you would, if I can pull from another faith. There's a lot of piety and you can see their faith in their performance. So it shines through."
Conneen weighed in with his musical and sound expertise on Shen Yun's original musical compositions.
"The music is fantastic," he said, "It certainly sounds very traditional as far as … what you would expect a lot of the Chinese orchestral pieces to sound like."
"You can tell that there is a combination of both cultures, but you still get that overwhelming flavor of the Chinese culture."
Shen Yun sends an orchestra with each of its seven touring groups that travel the world. The compositions these orchestras play are firmly rooted in Western orchestral tradition while blending Chinese melodies and instruments for a totally unique effect.
Conneen wanted all of his friends, family, and colleagues to know that if they missed this show, they would regret it.
"It's worth the dollar, it's worth going out to see. You don't get to see theater like this or performances like this on a regular basis. It's something that will touch you a little differently than other things that you going to see," he said.
With reporting by NTD Television and Brett Featherstone.
The Epoch Times considers Shen Yun Performing Arts the significant cultural event of our time and has covered audience reactions since the company's inception in 2006.