Russian Ballet Teacher 'Really, Really Commends' Shen Yun
April 27, 2014 2:47 am Last Updated: April 27, 2014 11:42 am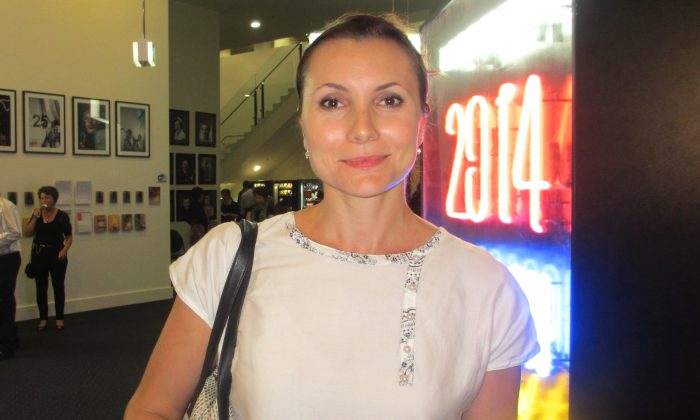 GOLD COAST, Australia—Choreographer, dancer and dance teacher Veronika Sheremetieva wished all her students had been with her for Shen Yun at the Arts Theatre on April 25.
"I wish that my students also would come and watch this," she said.
"I was watching the technique of the dancing in the show and I was watching the movements and how they approached them. … There are certain things that my students could apply … I wish they were sitting next to me and I would share that with them. Hopefully they will come next time."
Ms. Sheremetieva studied classical ballet, musical theatre, tap, and Russian folk dance, according to her website. She teaches ballet using the Vaganova method, which produced George Balanchine and Mikhail Barishnykov. A versatile artist, she teaches and performs other styles and kinds of dance as well.
She graduated from the ballet school of the Natalya Nesterova Academy in Moscow.
As a classically trained dancer Ms. Sheremetieva noticed every nuance of every dancer and appreciated the artists' dedication.
"I can see the unison in the dancers, especially the girls. They look at every detail, every fingertip, every eyelash and the turn of the head. So I can see how much work they have put into it so I really, really commend them on that."
Based in New York, Shen Yun has classical Chinese dance at its heart and also incorporates Chinese folk dance.
According to the Shen Yun website, "Soaking up profound wisdom from every era and dynasty, it has become a complete system of dance embodying traditional aesthetic principles with its unique dance movements, rhythms, and inner meaning."
Ms. Sheremetieva said that a complete performance is not just the dancing. She spoke of how the dancers used their costumes to extend their bodies and extend their dance, and how the digital backdrops contribute to a complete theatrical experience.
She said, "I loved the way they portray it through the costumes as well, because it was not just about the story, it was about the full package with the backdrop as well and the costumes, so that was really beautiful backdrop."
Shen Yun website says that the company's choreography "is built upon classical Chinese dance as a foundation, while also maintaining a number of ethnic and folk dances. This combination embodies Chinese people's aestheticism and ethnic character."
Ms. Sheremetieva appreciated the richness and variety.
"I love them taking arts from every corner in China. Because China is actually a big country and I know there's a multitude of nationalities and different ballets."
Shen Yun weaves a wondrous tapestry of heavenly realms, ancient legends, and modern heroic tales, taking you on a journey through 5,000 years of Chinese culture. Its stunning beauty and tremendous energy leave audiences uplifted and inspired," according to the website.
Ms. Sheremetieva felt that spirituality was an integral part of the Shen Yun performance.
"Every culture starts there. I think that was really important for China and for classical Chinese dance." To her, telling mythic and spiritual stories connected the dots from the past.
She would tell anyone to experience Shen Yun: "Come and see it, it is really unique.
"I think it is very, very beautiful. Beautiful on the eye and definitely the story behind every dance definitely made you think. You definitely leave with thinking about something. You are not going to just leave and go 'ah, that was great.'" You will actually appreciate every story the dancers portrayed on stage."
Reporting by NTD Television and Leigh Smith
New York-based Shen Yun Performing Arts has four touring companies that perform simultaneously around the world. For more information, visit Shen Yun Performing Arts.
The Epoch Times considers Shen Yun Performing Arts the significant cultural event of our time. We have proudly covered audience reactions since Shen Yun's inception in 2006