The green closes in around you very suddenly, and soon enough, as you wind deeper, you're surrounded—completely and entirely. Bamboo reaching for the sky, growing rapidly by the day, and eucalyptus, all the colors of the rainbow, all around you. And with all of it filtering out the sun in one of the world's sunniest places, you suddenly feel pleasantly alone, enjoying plenty of space, motoring through switchback after switchback in one of America's most popular tourist destinations. Ahead is the far side of Maui, rugged, independent, spiritual, with as much distance as you can fathom.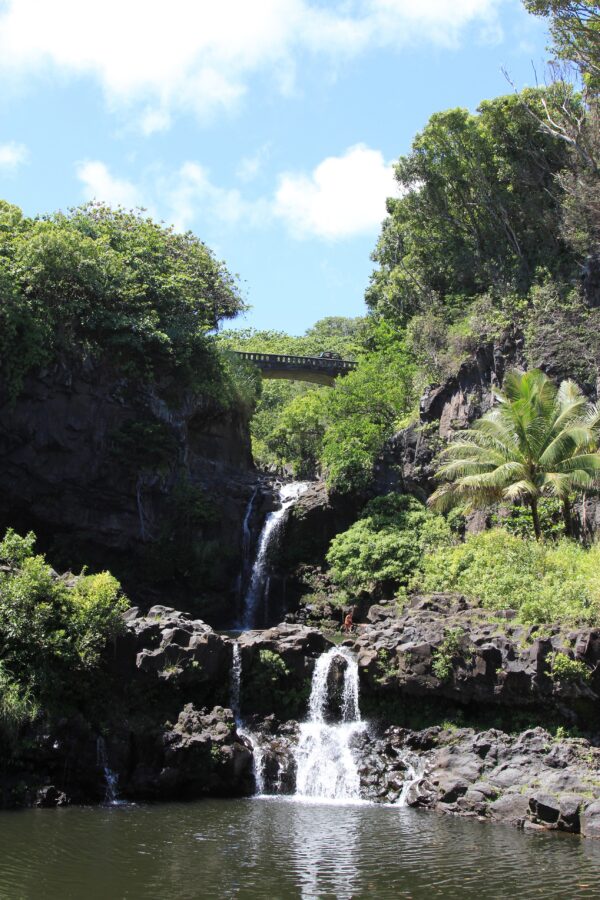 This is Hana Highway, which connects Maui's broad central valley, and beyond that, its busy beaches—famous places such as Polo Beach at Wailea and busy shops and restaurants at Lahaina—with a tiny village on the rainy side of the island. Stretching a total of 64 miles, this two-lane road transports you to another version of Hawaii. Along the way, you'll pass through thick tropical forest, skirting black-sand beaches and seaside cliffs and waterfalls filled with swimming locals, a long way from the poolside deck chairs of Kapalua.

And while Hana is worth the drive, the pleasure here is in the journey—as you steer down Hawaii Routes 36 and 360, you'll wind through more than 600 curves, and pass over 46 one-lane bridges. Those one-laners take a little getting used to—pull up to the line painted across the blacktop and, if you don't spot a car coming toward you in the other direction, proceed ahead, staying the course as the road narrows. Then, repeat, dozens of times, until you roll into Hana.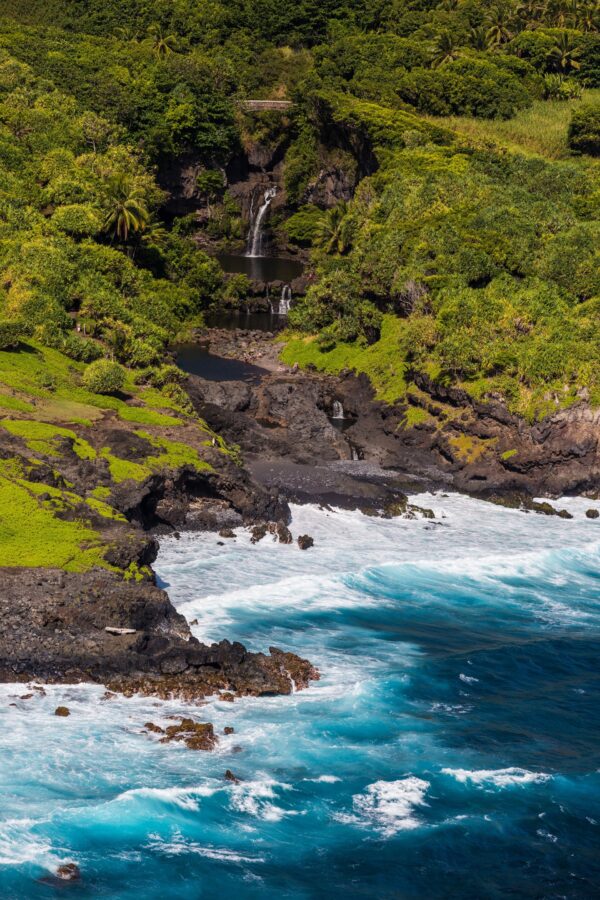 The History
While the highway wasn't paved end-to-end until the 1960s, this route has a long history. Originating with the 16th-century Alaloa, or "long road," travelers on this path were said to swing over the white water streams cutting across it by using hanging vines. Later versions eased travel by sealing the route with lava rocks. And while the road to Hana was officially completed in 1926, work on those many bridges continued into the 1930s.

The Beginning
Coming from the hotels of West Maui or Wailea, you'll approach the beginning of the Hana Highway along a four-lane highway, passing the island's main gateway, the international airport at Kahului. A few miles beyond, the road now narrowed to two lanes, you'll arrive in Paia, "busy town" in the local language. It's a former hippie hotspot, and home to one of Maui's best surf breaks, massive waves rolling onto the white sand from Paia Bay (feel free to stop—all beaches in Hawaii are public and free to access, if you can find a parking place).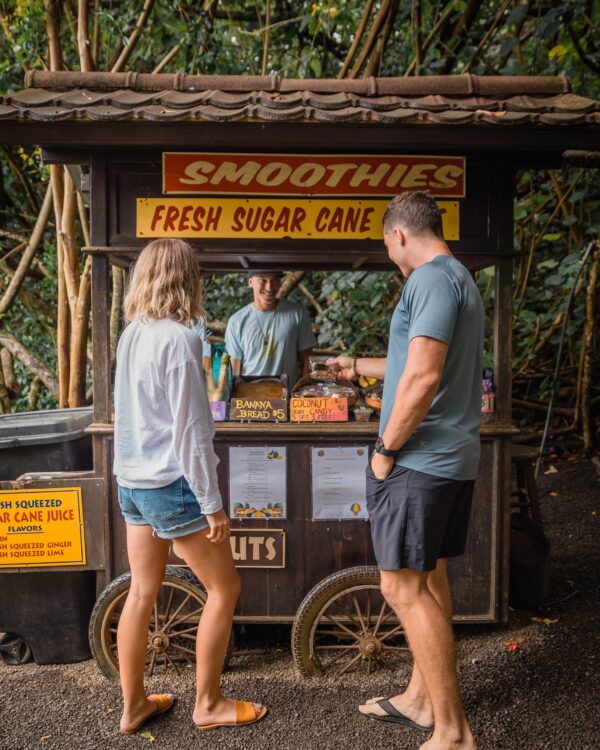 This small village serves up some of the island's best seafood at Mama's Fish House. A homey-feeling place set amongst swaying palms just past the main four corners in town, this restaurant even has its own dock, so fishermen can pull right up to the back and unload the day's freshest catch.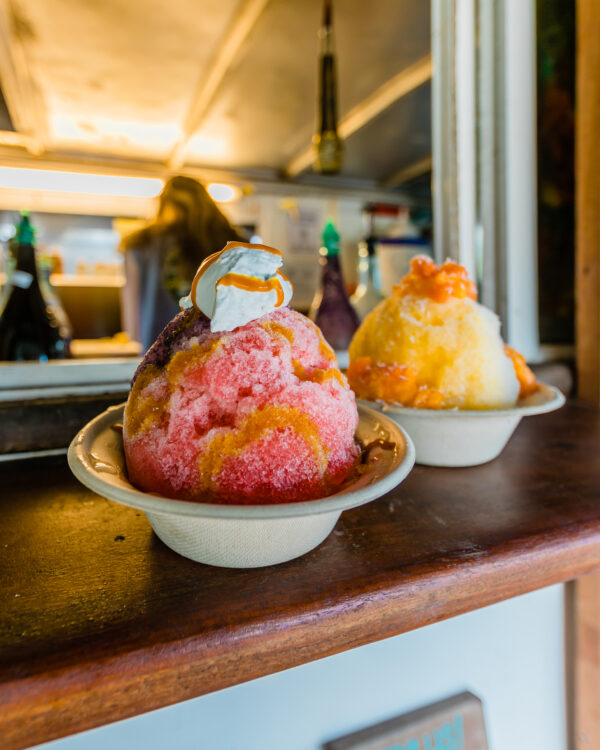 While you're just at the genesis of your drive, you would be well-justified to tarry here awhile—tuck into some ahi tuna, or mahi-mahi, with a mai-tai to wash it down, your table facing out to the Pacific, those sultry trade winds keeping you cool. And if you find that you're done for the day, Mama's also has a few spacious rooms, right on-site, where you can bed down, and face those curves in the morning.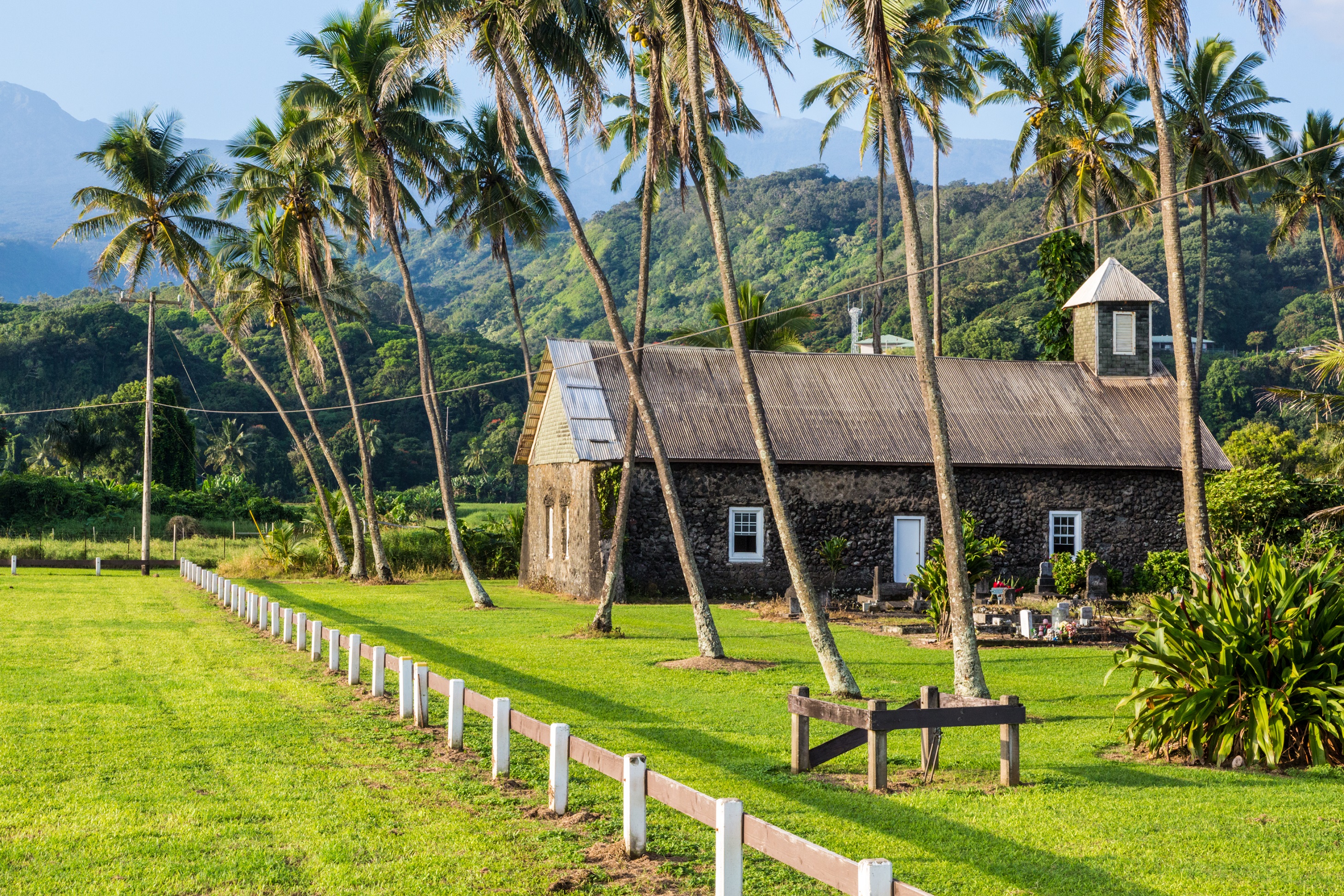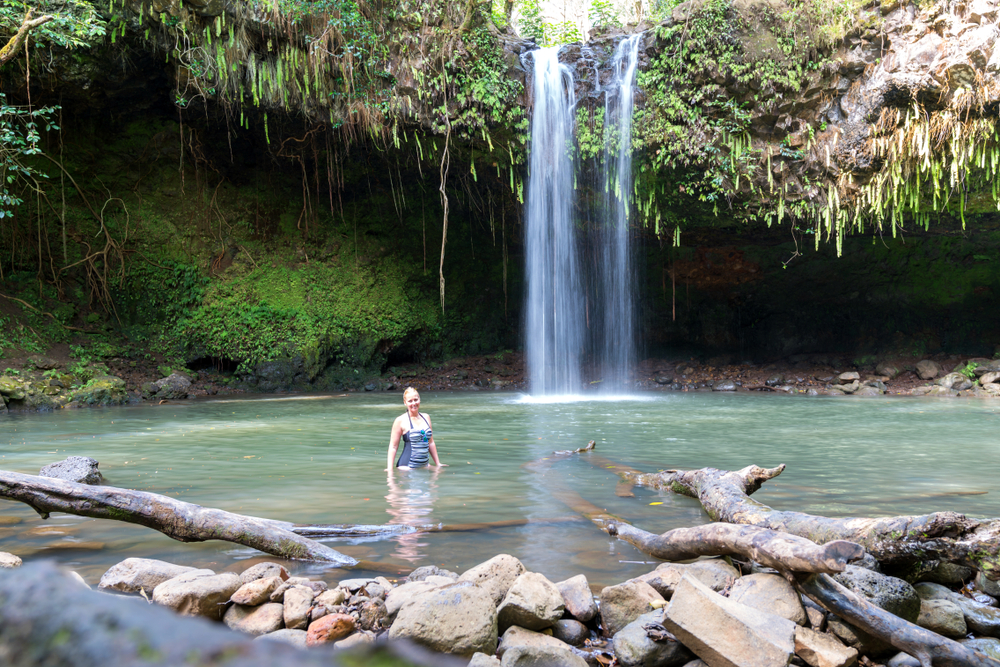 Mile Marker 2: Into the Canopy and Twin Falls
Rolling across the lower flanks of the Haleakala Volcano, soon the landscape begins to change dramatically, from wide-open vistas to dense, tropical forest. If you're already ready for a stop, park your car in the lot at Mile Marker 2 and take a hike (and a dip, if you like) in the pools and cascades that form Twin Falls, which run along two forks, the Ho'olawa li'ili'i (little stream) and Ho'olawa nui (big stream), cutting through the jungle and forming perfect tropical swimming holes, below clear, clean, tumbling water.
Mile Marker 10: Garden of Eden Arboretum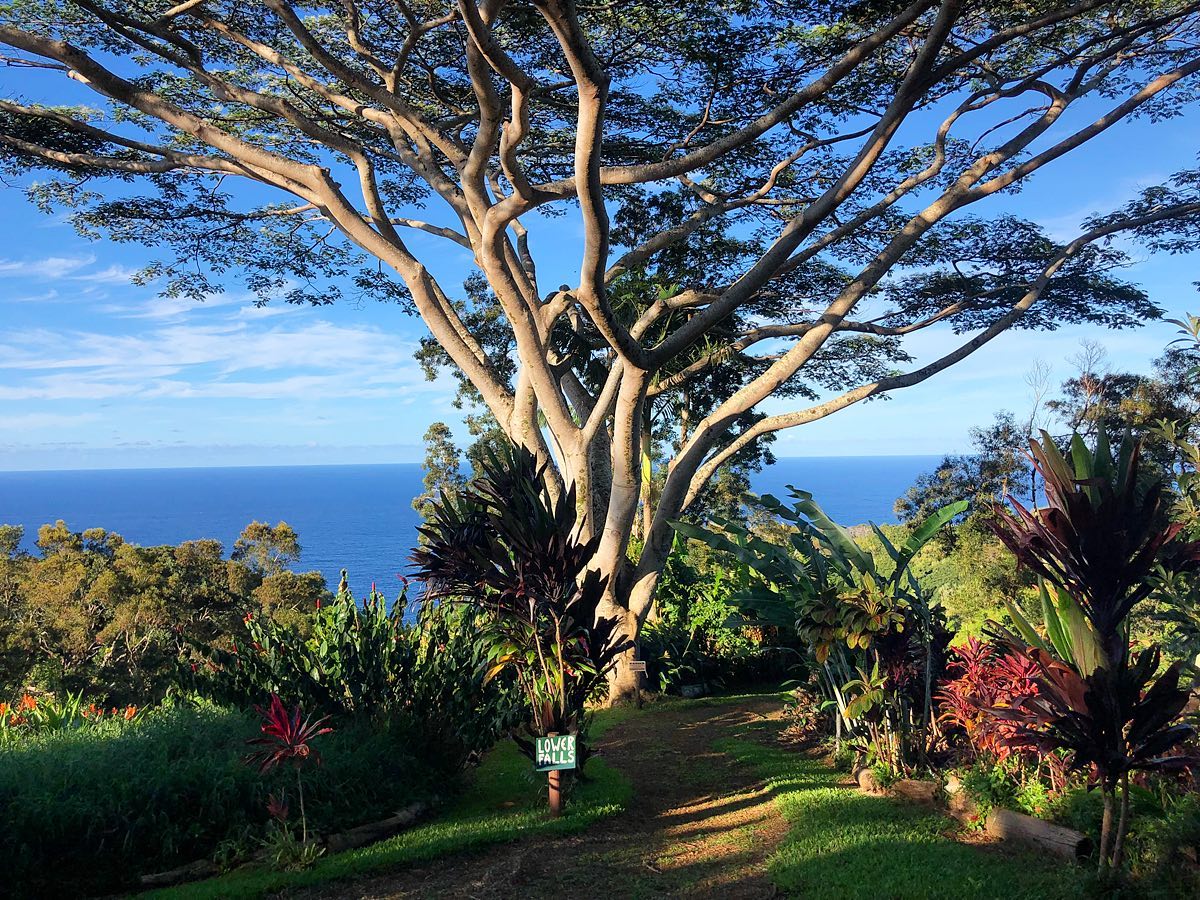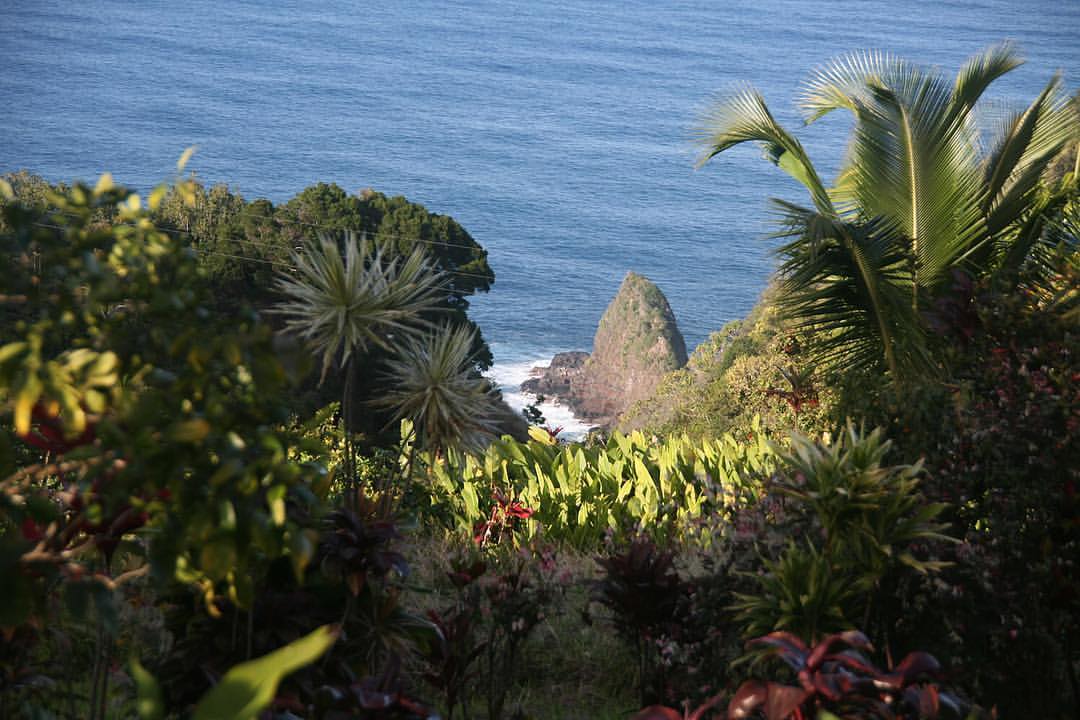 The Garden of Eden arboretum is an interesting place, even for those who don't love botanical gardens—a lush paradise with more than 700 labeled plant species, many of them were donated by the late George Harrison (the famous one, from The Beatles), who lived nearby, and had a green thumb. Walk the 2.5 miles of paths, enjoy the ocean views, and ask staff for the story behind Alan Bradbury, a musician and arborist—and the passionate creator of this place.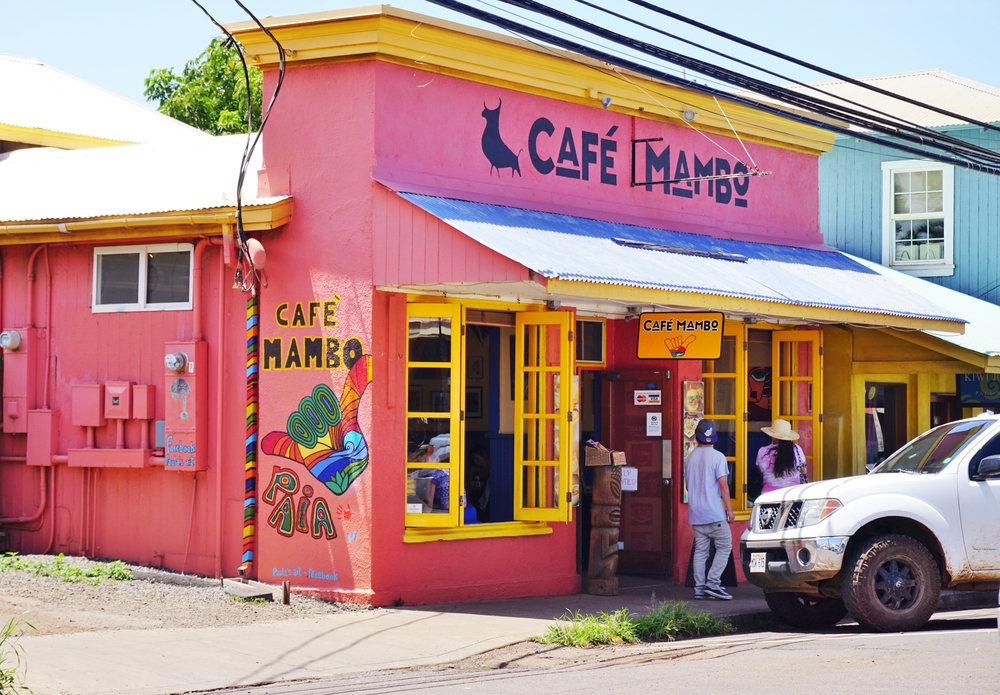 Mile Marker 17: Halfway to Hana
Although it'll feel like you're early in the drive, the halfway point comes quickly—at a classic snack bar called Halfway to Hana. Park and take a pit stop, picking up some of the island's favorite treats. In addition to standard fare like cheeseburgers and hot dogs, you can top up on shave ice (Hawaii's version of a snow cone—they have 13 different flavors) as well as the best banana bread you'll find along the way.
Mile Marker 31: Hana Lava Tube
Once a place of great heat and turmoil, molten lava poured through this underground passage, forming today's tunnel (the oldest of its kind on the island), its flow patterns now fossilized on the walls. Drive four miles off the main highway (up Ulaino Road), pay a small fee to enter the cavern, descend the steps, and take a self-guided tour into this natural tunnel, which will transport you to the volcanic times when Maui was born. Bring your own flashlight, and walk around their garden maze afterward.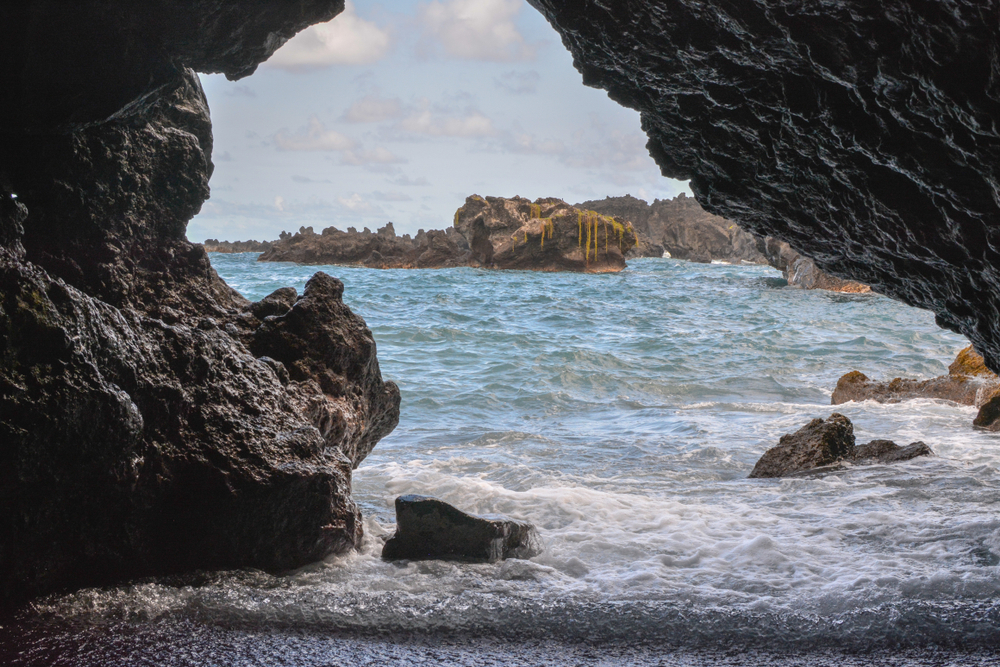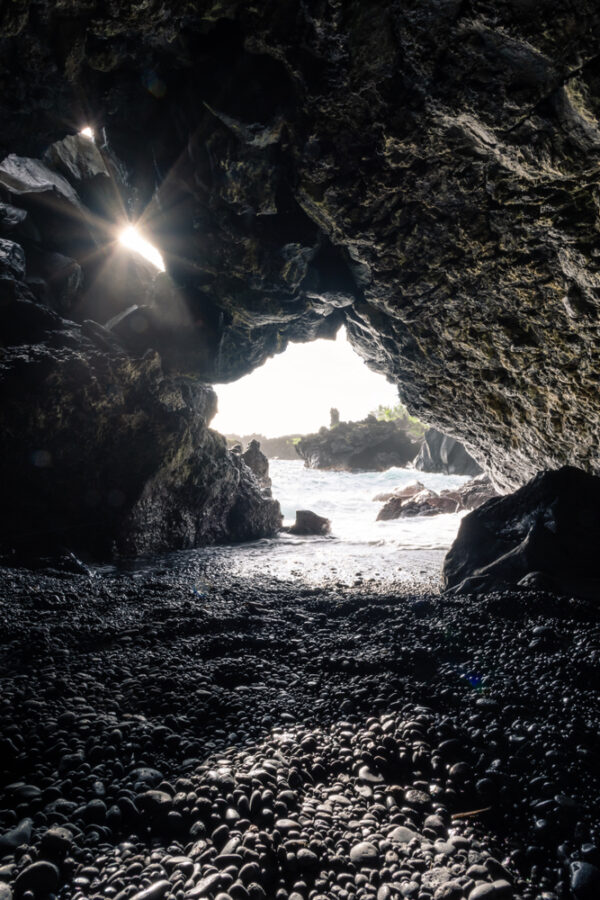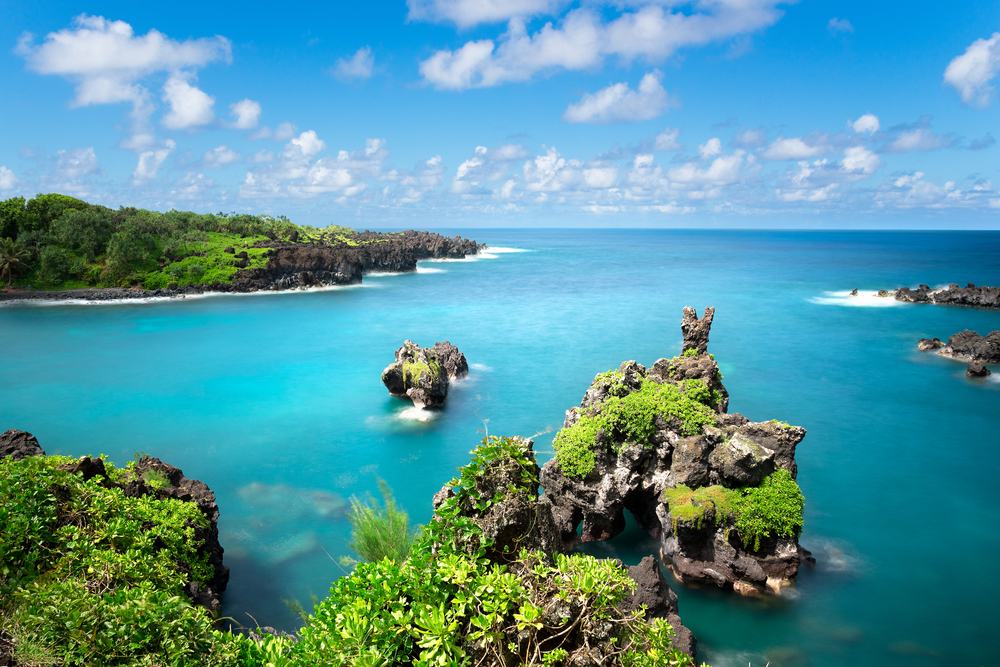 Mile Marker 32: Wai'anapanapa State Park
At this state park, black sand meets blue water. Walk the dark pebbles on the volcanic beach, visit an ancient temple, spot sea stacks, and look out on the ocean for the natural stone arch. If you brought your bathing suit, this is an excellent time to wade into the Pacific.
Mile Marker 34: Hana Town
Not so far from the rest of Maui, but a world away from busy, touristy Hawaii, Hana is sleepy and charming and personal, a place that feels like home, on the far side of the island. (Local shops encourage this image, selling T-shirts billing the village as "Far from Waikiki.") While the Hana Highway can be driven, round-trip in a single day, it's worth staying at least one night here. A number of super-local hotels and cottages offer no frills accommodation, or you can go luxe at Hyatt's Hana-Maui Resort, a series of ocean-facing, hillside rooms and residences surrounding a big pool.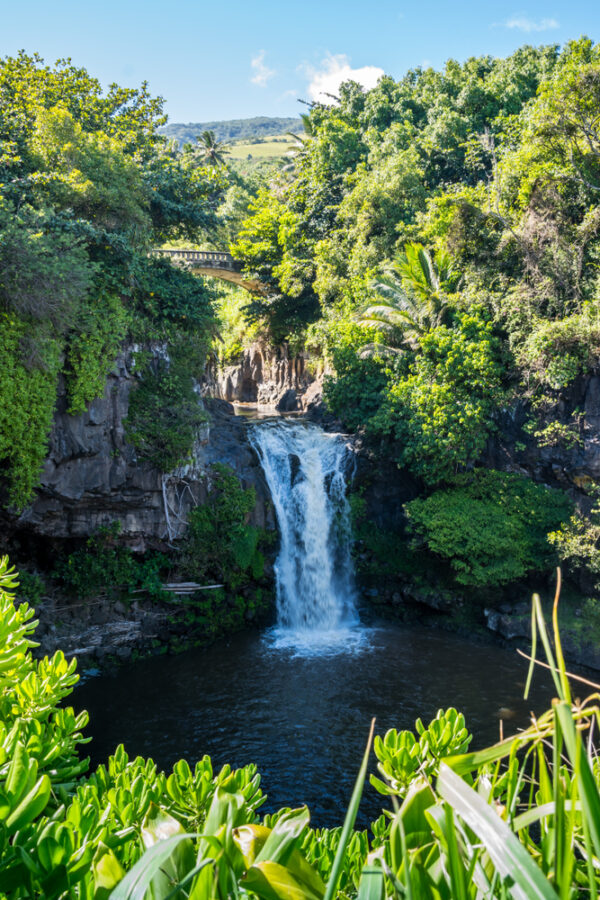 Beyond Hana
The Road to Hana extends beyond the town itself. Take some time to drive all the way to the very end, pulling off at some of the remotest beaches on the island (including Hamoa, and Koki), as well as waterfalls, an organic farm, and the legendary Pools of Oheo (sometimes called the Seven Sacred Pools), at Mile Marker 42, part of Haleakala National Park.
Plan your trip at GoHawaii.com/islands/maui/regions/east-maui/Hana.
Toronto-based writer Tim Johnson is always traveling, in search of the next great story. Having visited 140 countries across all seven continents, he's tracked lions on foot in Botswana, dug for dinosaur bones in Mongolia, and walked among a half-million penguins on South Georgia Island. He contributes to some of North America's largest publications, including CNN Travel, Bloomberg, and The Globe and Mail.