Retired Company Director Says of Shen Yun 'Everything was perfect'
April 29, 2014 11:18 pm Last Updated: April 30, 2014 11:43 pm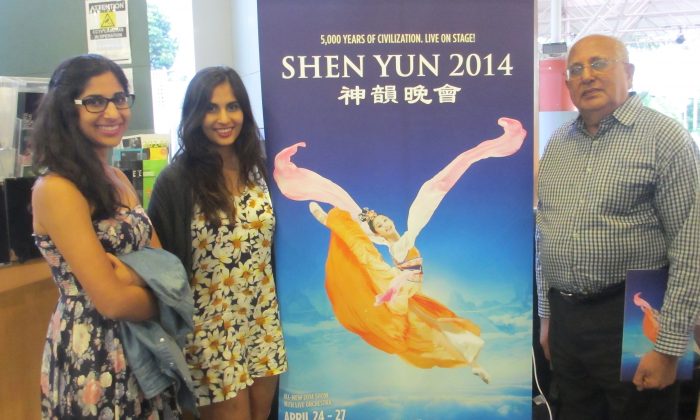 GOLD COAST, Australia—The final performance of Shen Yun Performing Arts at the Arts Theatre, Gold Coast on Sunday April 27 saw a packed house of an enthusiastic audience giving warm and spontaneous applause throughout.
Chimen Bhoola, now retired, was a director and shareholder of a large company in South Africa, N Bhoola & Sons Pty Ltd in Durban was there with his granddaughters.
Mr. Bhoola had a Shen Yun brochure and had read a little bit about the performance and encouraged his granddaughters to go with him. He said he had not expected it to be so nice.
He thought Shen Yun was fantastic, and wished he could "jump like those people can jump." He explained his late wife was a musician and so is one of his granddaughters.
Shen Yun is based in New York and has classical Chinese dance at its heart but also incorporates folk and ethnic dance as well as solo singing performances.
"I think it's one of the best shows I've seen," he said. "Everything was in sequence, you don't see one girl or one man being out of place, you know—the movements. I was only three rows from the front, and I was able to see perfectly everything. I was completely taken back. I never saw anything like this before. … Everything was perfect."
Shen Yun Does 'Awesome job'
One of his granddaughters is Vidya Bhoola, a student at university studying performance, singing, and acting. She was very impressed with the quality of the performance.
"Those dancers are amazing, amazing. They were just powerful, energetic. I couldn't take my eyes off them on stage," she said. "They just clean the space, definitely. From the get go, you don't want to look away."
The Shen Yun website says, "Classical Chinese dance has its own set of training methods in basic skills and has strict training in both physical expression and specific postures. It also involves learning combinations of leaps, turns, flips, spins, and other aerial and tumbling techniques. It is a vast and independent system of dance."
It was much more athletic than she thought it would be. "Awesome job! They were really, really great, very talented," she said.
The Shen Yun orchestra is a unique blend of traditional Chinese and classical Western instruments playing original scores.
Ms. Bhoola really appreciated the music. She said, "Gorgeous, really, really gorgeous, really together, it was beautiful, beautiful underlying the work on stage."
Reporting by NTD Television and Leigh Smith
New York-based Shen Yun Performing Arts has four touring companies that perform simultaneously around the world. For more information, visit Shen Yun Performing Arts.
The Epoch Times considers Shen Yun Performing Arts the significant cultural event of our time. We have proudly covered audience reactions since Shen Yun's inception in 2006.