Representative Jan Angel 'Very impressed' With Shen Yun's 'Flawless' Performance
April 1, 2013 3:37 am Last Updated: December 22, 2013 2:44 am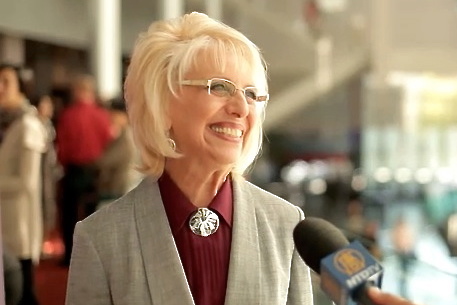 SEATTLE—Rep. Jan Angel (R-Wash.) was left with a lasting impression after attending Shen Yun's third Seattle performance Saturday afternoon at the Marion Oliver McCaw Hall.
"I think it is amazing," she said. "My daughters make their living in the performing arts and I keep thinking, 'I wish they were here with me that they could see this.' The performance so far to me has been flawless. It's wonderful."
Shen Yun Performing Arts views music and dance as a universal language. Through this medium, the performances transport audiences to "heavenly realms, ancient legends, and modern heroic tales," according to its website. Audience members travel through 5,000 years of Chinese culture.
"Its stunning beauty and tremendous energy leave audiences uplifted and inspired," reads Shen Yun's website.
The performances feature classical Chinese dance, a live orchestra that blends instruments of East and West, and spectacular vocal performances. Rep. Angel said she most enjoyed the dancing.
"I've enjoyed the male dancers because I don't get to see quite as many of them, and I enjoy the precision," she said. "And I know from watching my children how hard these moves are, and they've been flawless."
Chinese dance is the main feature of a Shen Yun performance. "Known for its incredible flips and spins, and its gentle elegance, it is one of the most rigorous and expressive art forms in the world," states the website. Adding to the breathtaking dance performance is the precision of the coordination between the orchestra and the dancers.
"Of course, live music is amazing," she said. "I've played in a symphony, so I was listening to the oboe then the drums coming in."
"So I think it's all come together, and the background with the different scenes is just great!"
Every piece is performed before a state-of-the-art digital-backdrop, which provides vivid graphics that portray ancient landscapes and add incredible depth to the stage.
Rep. Angel traveled to China in 2005, and the show gave her an opportunity to reflect upon her experience.
"We saw many of the huge rivers. We at fish and chicken a lot," she said. "We traveled most of the time for two weeks on a bus, but we went as far inland as from Seattle to Chicago. So we went in quite a ways to the inland."
Today's China is a very different place than what is experienced through Shen Yun's performances, as traditional Chinese culture has been all but lost due to the oppressive communist regime. Shen Yun performances, which seek to revive 5,000 years of traditional culture, cannot be seen in China today.
Despite repression in China, Shen Yun, a nonprofit organization, has brought the rich beauty of ancient Chinese culture to millions of audience members around the world.
Rep. Angel would recommend the performance to her colleagues and staff, rating the show with perfect marks.
"Grace," she said of the show. "The costumes are amazing, and the coordination between the sets and the costume, and of course the flawless dancing and music—I'm very impressed. Very impressed."
With reporting by NTD Television and Katherine Fitzgerald
New York-based Shen Yun Performing Arts has three touring companies that perform simultaneously around the world. For more information, visit ShenYunPerformingArts.org
The Epoch Times considers Shen Yun Performing Arts the significant cultural event of our time. We have proudly covered audience reactions since Shen Yun's inception in 2006.