Passed | 1h 45min | Romance, Western | 1950
After I'd watched 1949's "She Wore a Yellow Ribbon," I learned that it was part of director John Ford's "Cavalry Trilogy." I recently watched and reviewed the first film in the series, 1948's "Fort Apache," and now I've seen 1950's "Rio Grande." I'm actually glad that I viewed the first and third films back-to-back, as "Rio Grande" is nearly a sequel to "Fort Apache."
In "Rio Grande," John Wayne reprises the character of Kirby Yorke, a lieutenant colonel and commander of a cavalry regiment on the fringes of Texas, not far from the Mexican border. Local Apaches intermittently harass Texans and largely avoid capture by conveniently skipping across the border whenever the cavalry pursues them. Due to a U.S. agreement with Mexico, the cavalry is forbidden from crossing the Rio Grande into Mexico.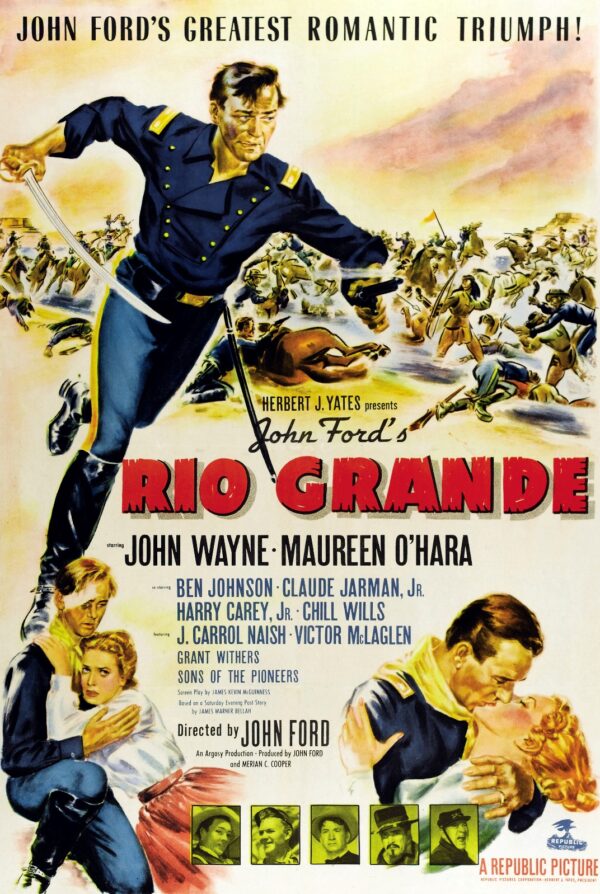 An added ripple of complication shows up in the form of Kirby Yorke's son, Jefferson "Jeff" Yorke (Claude Jarman Jr.), who was randomly assigned to his unit. Having failed the mathematics requirements to secure a spot at the prestigious U.S. Military Academy West Point, the youngster chose to sign up as an enlisted man and serve his country.
Both the younger and older Yorkes agree to not let their relationship interfere with their sworn duties as military men, even though they haven't seen each other in 15 years. Soon, the younger Yorke gets involved in a "soldiers fight" with another enlisted man and earns respect among the soldiers, specifically two other recruits,  Travis Tyree (Ben Johnson) and "Sandy" Boone (Harry Carey Jr.).
If that weren't enough of a strain for Lt. Col. Yorke, his long-separated wife, Kathleen (Maureen O'Hara), shows up at the post. She's determined to take their son back home to Virginia with her. She dislikes the military way of life and considers it not only unnecessarily dangerous but an extremely lonely existence. Indeed, Lt. Col. Yorke is quite the silent, suffering type.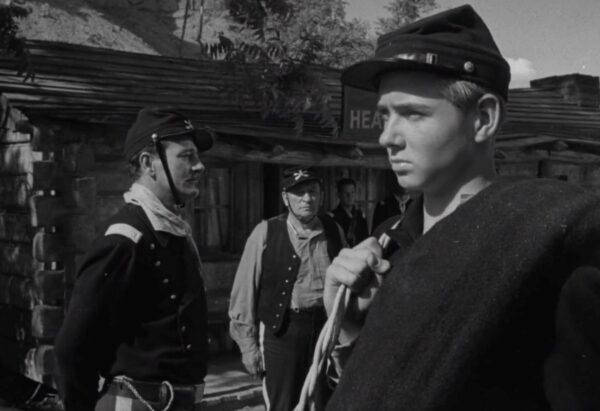 The smoldering passion between Kathleen and the elder Yorke is almost palpable, but he tries his best (at least initially) to resist her. Meanwhile, she tries to convince her son that military service isn't for him. But the youngster's commitment to his duty and service to his country is resolute, and he shrugs off her suggestions.
As Jeff adroitly points out—both of his parents are extremely stubborn in their own ways. Later, Lt. Col. Yorke explains to Kathleen that if their son was to return to Virginia, he'd rightly be viewed as a quitter—he also has an obligation to protect his honor and own up to his word as a man.
Another subplot begins to develop as a couple of Texas lawmen show up looking for a man accused of manslaughter. That man happens to be Tyree, who is eventually placed in the post's stockade. But the recruit escapes his imprisonment after stealing Lt. Col. Yorke's horse.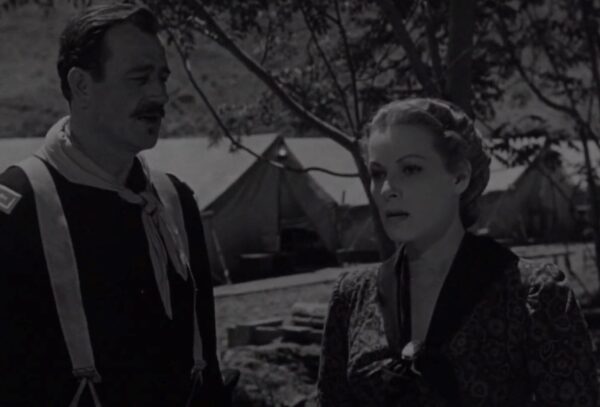 Lt. Col. Yorke and Kathleen begin to heal their fractured relationship, while simultaneously trying to outdo each other with regard to knowing what's best for their son.
As their complicated relationship gradually mends, Lt. Gen. Philip Sheridan (J. Carrol Naish) drops some heavy orders on Lt. Col. Yorke: He's to take a cavalry detachment with him and pursue the Apache into Mexico, run them down, and put an end to them once and for all. It's a risky maneuver since it's essentially invading Mexico.
A Fine Finale
This final piece of the Cavalry Trilogy is probably the most nuanced of the three films. It's essentially a romance and a heartfelt one at that—with intermittent bits of drama, comedy, and action thrown in to liven things up.
While they're all excellent in their own ways, Ford, Wayne, O'Hara, and the scene-stealing Victor McLaglen (as the hilarious Sgt. Maj. Timothy Quincannon) seem to be at the top of their form here, having made a multitude of films together by the time this one was produced in 1950.
"Rio Grande" is a tremendous cinematic achievement and one of the most convincing, non-corny romantic films I've ever seen. It reveals how lonely military life and one's commitment to the service of their country can sometimes be. It also carries the message of how it's never too late for a fractured family to heal.
Not to take anything away from the other two films in the Cavalry Trilogy, but this is probably my favorite.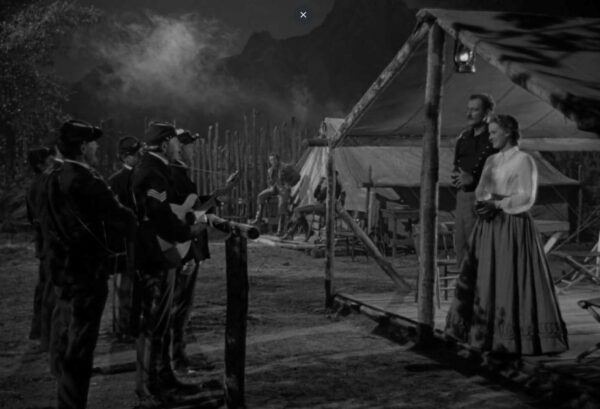 'Rio Grande'
Director: John Ford
Starring: John Wayne, Maureen O'Hara, Ben Johnson
Running Time: 1 hour, 45 minutes
Not Rated
Release Date: Nov. 15, 1950
Rated: 5 stars out of 5

Ian Kane is a filmmaker and author based out of Los Angeles. To learn more, visit DreamFlightEnt.com or contact him at Twitter.com/ImIanKane.