Passed | 1h 44min | Western | 22 October 1949 (USA)
"She Wore a Yellow Ribbon" (1949) marks legendary director John Ford's second film in his Cavalry Trilogy—nestled smack dab in between "Fort Apache" (1948), and "Rio Grande" (1950).
After the crushing defeat of Lt. Col. George Armstrong Custer and his 7th U.S. Cavalry Regiment at Little Big Horn (in Montana Territory) in 1876 by a coalition of Native American tribes, the U.S. Army braces for further hostilities and bloodshed.
The film is centered on a small outpost in Texas called Fort Starke. Stationed there is a small U.S. Cavalry detachment including Capt. Nathan Brittles (John Wayne) and his direct superior, Maj. Mac Allshard (George O'Brien).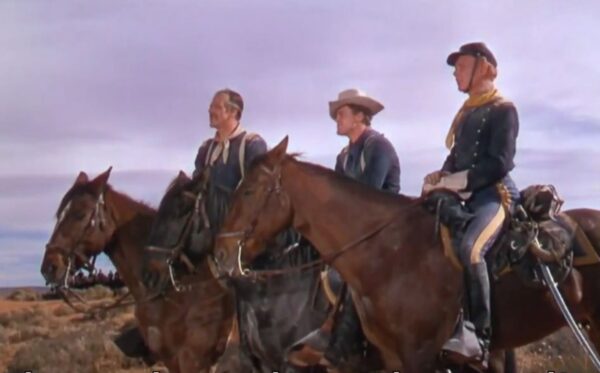 It opens in an unexpectedly humorous way. The fort's senior enlisted soldier and Brittles's right-hand man, Irishman Top Sgt. Quincannon (Victor McLaglen), apprises Brittles of the past weekend's report. While Brittles is putting on his uniform in his bedroom, Quincannon takes several swigs of whiskey from a bottle that he has secreted nearby.
When Brittles finishes dressing and walks out into the main quarters' room, he slides up to Quincannon's liquor-soaked jowls and takes a big sniff. Reeling back, he exclaims: "Ya got a breath on ya like a hot mince pie!" Brittles then turns to cross out another day on his calendar; he is to perform his last patrol before retiring from the military in six days.
Things get more serious when one of Brittles's men, Sgt. Tyree (Ben Johnson), reveals that major moves are being made by the Southern Cheyenne in the area. The tribe's aggression is rapidly stepping up. This, in turn, worries Maj. Allshard since his wife, Abby (Mildred Natwick), and her niece, Olivia (Joanne Dru as the woman who wears the yellow ribbon), are living at Fort Starke with them.
In light of this development, Allshard orders Brittles to transport the two women to another outpost, where they'll be able to travel back East to safety. Brittles is initially resistant to the plan since being laden down with "women's junk" will endanger his patrol. Things are even more complicated because two lieutenants stationed at Fort Starke are vying for Olivia's amorous attentions. However, Brittles is a career military man who obeys orders and also has a soft spot for both women. Therefore, he agrees.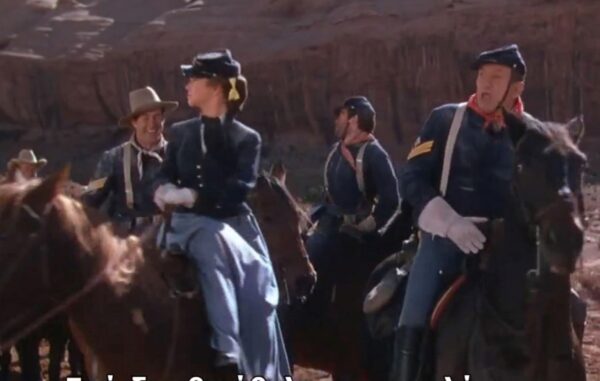 The romantic subplot, involving the two junior officers Cohill (John Agar) and Pennell (Harry Carey Jr.) and their contentious courtship of Olivia, plays out during Brittles's last patrol. When the patrol finally reaches the designated outpost, they find it embattled by Natives and chase them off. But the place has already been devastated, sustaining heavy losses. When Brittles discovers that the wagons that were going to transport the two ladies have been destroyed, he takes it hard and blames himself for a "mission failure."
Just after Brittles and his men bury the dead, Cohill and Pennell choose that most inappropriate time to challenge each other to a bout of fisticuffs over Olivia. Brittles quickly puts the kibosh on the two men's quarreling and chides them severely. From that point on, the two young men settle into a less contentious friendship.
It soon becomes apparent that a major assault on Fort Starke is being planned by a large coalition of Native tribes, similar to the one that obliterated Custer's regiment. It is against this looming menace that the reality of retirement begins to set in on Brittles. Having served 40 years in the Cavalry, it's the only thing he knows. And since he lost his wife and two children to the Natives, he has no real home to return to. To a career military man like Brittles, his fast-approaching retirement almost seems more daunting than the impending assault on the fort, especially at a time when he feels everyone needs him the most. Will he rise to the occasion on the eve of battle and somehow manage to thwart the impending attack?
Ford's cavalry tale moves at a rather ambling pace, although the strong performances turned in by its stellar cast make the watching easy. Wayne is surprisingly multidimensional as a grizzled yet compassionate military man afraid of reaching the end of his trail—with regard to retirement.
This heavy subject matter is elevated in part by the comedic chemistry between Wayne's Brittles and McLaglen's Quincannon. In fact, I could have seen a sitcom being developed around these characters and their hilarious interactions.
Mildred Natwick also gave a great performance as Allshard's wife, Abby, who is ever-supportive of the rank-and-file cavalrymen on patrol, helping to nurse a severely injured man and also lending her sewing skills for a confederate flag needed for a funeral.
In all, "She Wore a Yellow Ribbon" is a beautifully shot Western that works. It even turns scenes that would be considered corny or cliché into displays of quiet earnestness and sincere sentimentality. That, in my book, is quite an achievement—any way you slice it.
'She Wore a Yellow Ribbon'
Director: John Ford
Starring: John Wayne, Joanne Dru, John Agar
Not Rated
Running Time: 1 hour, 44 minutes
Release Date: Oct. 22, 1949 (USA)
Rated: 4 stars out of 5
Ian Kane is a filmmaker and author based out of Los Angeles. To learn more, visit DreamFlightEnt.com or contact him at Twitter.com/ImIanKane