Taiwanese actor, singer, and songwriter Hsieh Ho-hsien, known to fans as A Chord, gained pop stardom early on, in his teens. A self-professed follower of rock music, Hsieh said he came to see Shen Yun Symphony Orchestra (SYSO) in concert because he wanted to see what the fuss was about—in just a few short years, and with very limited tours, the East-West classical orchestra has taken Taiwan by storm. 
Hsieh found it more than lived up to the hype.
"I feel like there is an electric current running through my body," Hsieh said on Sept. 25, at the Chung Shan Hall in Taichung City, Taiwan, during a sold-out concert.
To say Hsieh was inspired would be an understatement; Hsieh felt the experience was closer to enlightenment.
"It's like every cell of my being is responding to the music," Hsieh said.
He said, joyously, that it was like parts of his mind that were previously not accessed had opened up to him, and artistic visions hidden in his subconsciousness had been unlocked.
"I'll be leaving with a lot of inspiration to take back with me," he said.
SYSO was formed due to popular demand. The music of Shen Yun Performing Arts, the premier classical Chinese dance company formed in 2006, is all original and new every year. The dance company travels the globe every season with a live orchestra that draws massive attention.
The orchestra is unique in that it blends East and West; ancient Chinese instruments are folded into a Western symphonic ensemble, and Chinese melodies are arranged with classical Western techniques.
Healed Through Music
Sitting in that auditorium, Hsieh said he felt fulfillment both emotionally and spiritually.
"This music is very special," Hsieh said. "While I was listening today, my heart became peaceful as I sat there listening with my eyes closed. I felt total enjoyment."
"It's the feeling of being fully rejuvenated. It really is a feeling of being healed in my heart, through music," Hsieh said.
"I felt as if I was brought to the universe, in an outer dimension, and it was very peaceful in the universe. It was a picture of serenity and I felt I was on a journey with the divine." 
Shen Yun means something like "the beauty of divine beings dancing," and traditional Chinese culture is known to be a divinely inspired one. Hsieh certainly felt that touch of the divine present in the music, which was a program of classical favorites as well as the original works in the unique style Shen Yun is known for.
He said the East and the West melded together perfectly, with the musicians themselves conveying divine harmony in unison.
"They are divinely in sync, able to communicate without a single word," Hsieh said.
"The entire musical experience, the entire concert and performance felt like a journey with the divine. There were several places in the music where I felt an electric current went through my body." 
Like Water
Hsieh compared the music to water, with its healing effects, its power, and omnipresence. In traditional Chinese culture, water symbolizes the all-encompassing wisdom of the natural world. Laozi said, "The highest excellence is like that of water"—striving for the benefit of all things without need of recognition or reward.
"It soothes our hearts," Hsieh said. "When you need it, it comforts you very quietly. You drink, and it's light and delicate. However, when it strikes, it's like an ocean wave, and the image and impact will stay in your mind," he said.
Hsieh said he came to observe how the East and West could be blended together to complement each other, and from the performance he understood that and so much more.
"I think I need to work toward this direction, one that combines both Eastern and Western music. I hope that the world's people can stay peaceful and then be immersed in music regardless of their ethnicity or nationality," Hsieh said. "I am so grateful to Shen Yun."
"I shall work hard starting now by incorporating what I saw, heard, and learned today into my music."
Two Traditions
SYSO made stops in 10 cities in Taiwan during its tour through Asia, and on Sept. 27 in Chiayi county dazzled a chorus director and musician with its musical excellence.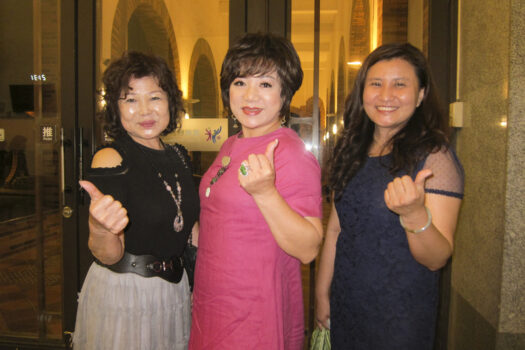 "This is indeed a world-class musical extravaganza, very powerful!" said Ms. Lining Wang, the executive director of a local women's chorus. "It speaks a universal language and brings hope and light to the world."
A former pipa player, Wang paid keen attention to the orchestra's instrumentation.
Ancient instruments like the pipa, a four-stringed upright lute, and the 4,000-year-old erhu, a two-stringed bowed instrument, take center stage amid a classical Western symphony. But the two traditions on stage don't clash.
"I was impressed by how the Western flute was able to express the feeling and mood like a Chinese flute," Wang said. The flute as we know it is a metal instrument, not wooden, but from one composition to another it adapted to the character of the tune. "I was greatly shocked."
"Today I heard the harp playing with the pipa, both plucked instruments, and the harmony was simply marvelous," Wang said.
"These are excellently trained musicians; to be able to hear them today, I am very honored and very moved."
Shen Yun Symphony Orchestra will start its four-city U.S. tour at Carnegie Hall in New York on Saturday, Oct. 12, 2019, with a matinee and evening performance. It will next continue on to Washington D.C., Chicago, and conclude its 2019 tour in Boston at the Symphony Hall. The full schedule can be found at ShenYunPerformingArts.org/symphony