A New York pizza parlor is attaching flyers of local shelter dogs to their pizza boxes in a bid to help the deserving pups find their forever homes.
The Just Pizza & Wing Co. franchise in Amherst, New York, has teamed up with the Niagara Society for the Prevention of Cruelty to Animals (SPCA) for the unique pizza-powered collaboration. The campaign idea came up after the pizza company's owners, Mary Alloy and her three children, started volunteering with the SPCA.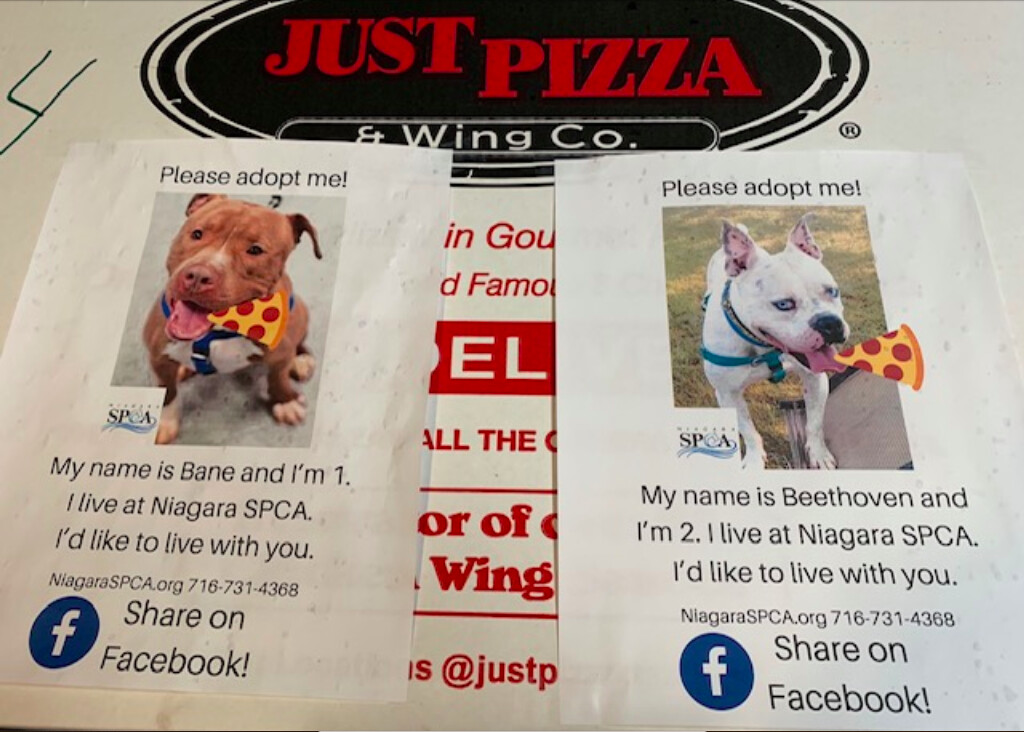 "Kimberly [LaRussa, SPCA coordinator] texted me one night and was like, 'Hey, what would you think about putting pictures of the dogs on pizza boxes?' and I just couldn't wait," Alloy told CNN.
"We are all animal lovers here," Alloy continued, adding that she sought permission from the franchise to go ahead.
Alloy is no stranger to charitable giving. "We have donation boxes all over the store," she said. "Anything I can do to the help the community, I'm going to do it."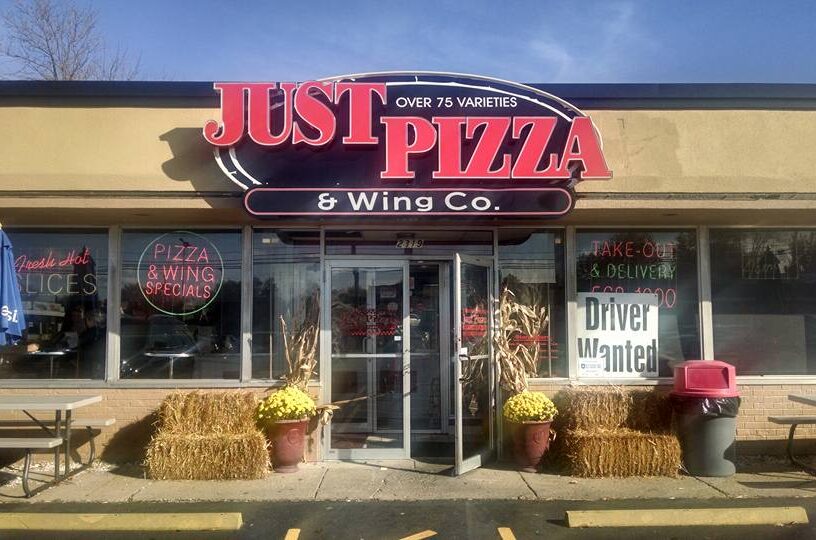 The pizzeria started delivering pizza boxes with photos of SPCA pups attached to their lids on Feb. 28, 2020. The customers loved it, and the initiative quickly went viral. The heartwarming collaboration has already reaped one success story.
A 6-month-old puppy named Larry found an adoptive family after his photo was shared on a pizza box. Larry went home just one day after his sweet face appeared on a takeaway pizza box. Larry's adoptive family described him as "such a lover," according to the SPCA's Facebook page.
"We did not realize we were adopting a celebrity! What a unique idea to spread the word about the animals that need adopting. He is doing great! Such a lover!" the family said.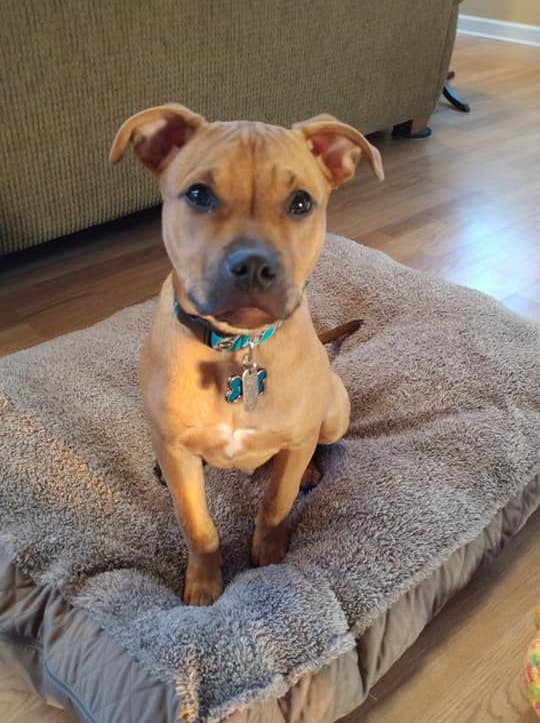 "Many people want to order a pizza just to get the shelter dog photo," LaRussa told CNN, "other pizzerias have offered to put flyers on their pizza boxes, and so many people are tagging their friends and family."
The pizzeria said that anybody who comes forward to adopt a dog as part of the pizza box initiative will also receive a tasty reward for their kindness: a $50 gift certificate from Just Pizza & Wing Co. to be spent in-store.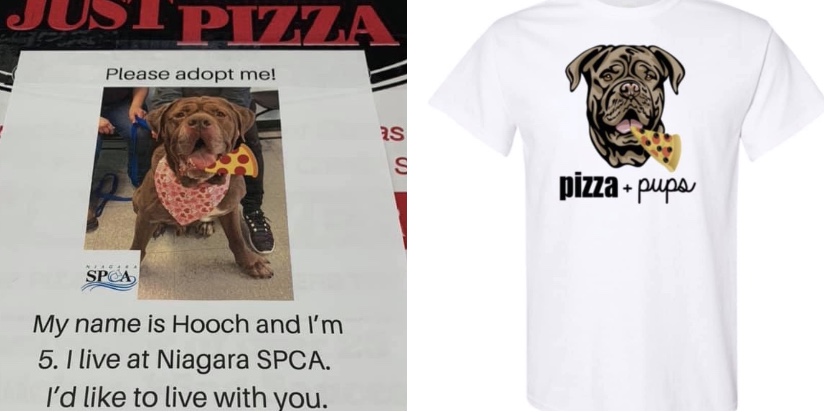 Following the rip-roaring success of the pizza box initiative, both Alloy and LaRussa have voiced their intention to continue affixing pictures of shelter animals onto pizza boxes for "as long as it takes" to find every single adoptable animal at the SPCA a permanent home.
Inspired by Alloy and LaRussa's success, other pizza parlors have reached out to the two women for advice on how to start their own "pizza and pups" campaign with local animal shelters.
Papa Louie's Italian Kitchen & Motocross Café in Brookfield, Ohio, was one of the first, according to WFMJ. The pizzeria has partnered with Jason Cooke, the founder of The Healthy Hearts and Paws Project, to help shelter dogs find homes.
"Not everyone is on social media or Petfinder," said Cooke, "so hopefully, this reaches that audience, and we can get some pups adopted. Plus, nothing goes better with pizza than a shelter pup to enjoy it with."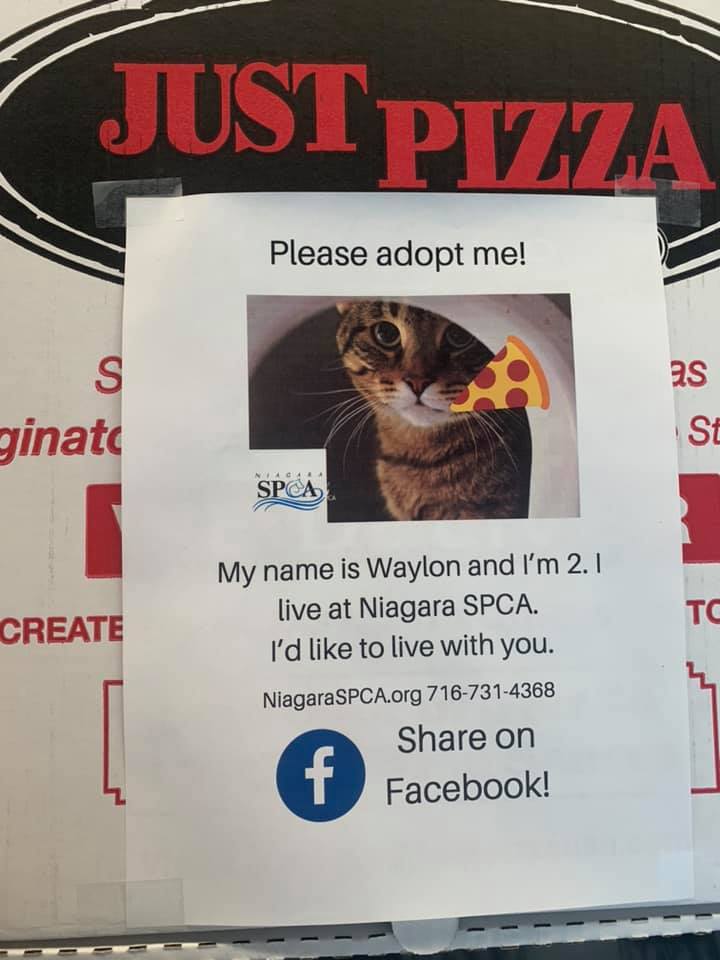 The Amherst-SPCA collaboration is now including adoptable cats, too.
"I just hope that maybe one day we can walk into the shelter and have all the cages cleared," LaRussa said. "That is what I hope comes out of this."