Piano Teacher: Shen Yun Orchestra 'A good combination' of East and West
April 5, 2014 9:00 pm Last Updated: April 8, 2014 9:31 am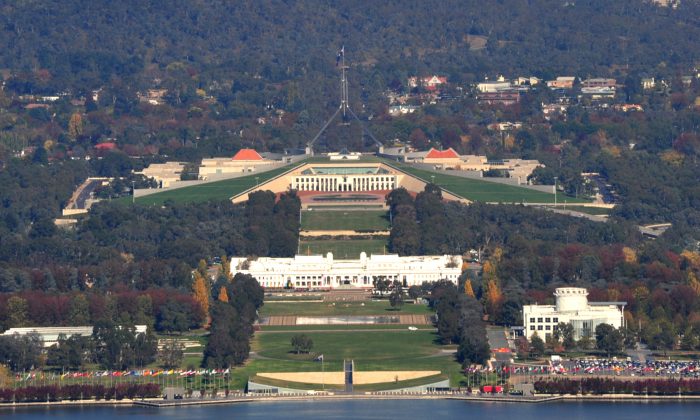 CANBERRA, Australia—"The music was good … It was different" said Margaret Bowcher, piano teacher, after experiencing Shen Yun Performing Arts International Company perform at the Canberra Theatre, on April 5.
"It was good to hear the combination of the brass instruments, the glockenspiels and the different Chinese instruments, as well as the French horns and clarinets, the flutes and violins. It was lovely!"
Ms. Bowcher, AMEB piano teacher and concert pianist said she basically works at musical directing and conducts the orchestra for the Albatross Musical Theatre Company.
Based in upstate New York, Shen Yun tours with an orchestra comprising traditional Chinese and classical Western instruments playing original scores.
The Shen Yun website explains, "The Shen Yun Orchestra combines the spirit, beauty, and distinctiveness of Chinese music with the precision, power, and grandeur of the Western symphony orchestra. The result—two great traditions producing one refreshing sound."
Ms. Bowcher was enthralled by the mixture of the instruments.
"It just blended so well! Everything just flowed! It was almost like flowers blossoming each time, it was very beautiful, very beautiful," she said.
"From the moment the gong is struck to herald the beginning of the show, you know you are in for something musically memorable," the website states.
"I haven't had a lot to do with Chinese instruments, but it's got a nice earthy woody sound with the glockenspiels. Yes, it's lovely."
Ms. Bowcher used the dance Mongolian Chopsticks as an example of the synchronicity of the dancers and the orchestra.
"And the drums! I like the drums and the dancing together, and the chopsticks you know where they had the chopstick dance I thought that was very good because the dancers and the performers also had to be musicians as well because they have to have the rhythmic pulse, so that was interesting," she said.
In Mongolian Chopsticks according to the program "Against a vista of endless blue skye, Mongolian men gather in companionship and pull together to form a traditional chopstick dance."
There were many aspects to the performance Ms. Bowcher loved.
"It was very colourful and delightful to watch. And really interesting to get the background of the Chinese culture and the dancing."
Reporting by NTD Television and Leigh Smith
New York-based Shen Yun Performing Arts has four touring companies that perform simultaneously around the world. For more information, visit Shen Yun Performing Arts.
The Epoch Times considers Shen Yun Performing Arts the significant cultural event of our time. We have proudly covered audience reactions since Shen Yun's inception in 2006