Photographic Film Sales Manager Calls Shen Yun 'Visually enthralling'
April 18, 2014 6:53 am Last Updated: April 20, 2014 12:53 pm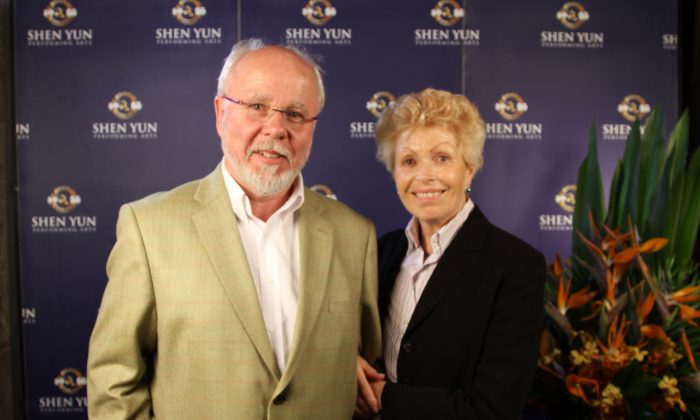 SYDNEY—Shen Yun Performing Arts International Company enthralled the audience at the Sydney Theatre on April 16.
Ian Andrews, sales manager for Fuji Film, is also the president of the Australian Koi Association. He attended the performance with his wife Kate, hospital scientist, koi judge and author.
Mr. Andrews said the show blew him away from first the moment.
"Visually enthralling!" he said. "It was just stunning from the moment the curtain came up. Without giving anything away to those who have not seen it, the costumes, the colour, the vibrancy of the show and I guess the energy that came from the show was something else. I thoroughly enjoyed it, really nice."
Shen Yun is based in upstate New York and according to the company's website, "Chinese dance is at the heart of what Shen Yun does. Known for its incredible flips and spins, and its gentle elegance, it is one of the most rigorous and expressive art forms in the world."
Mr. Andrews said, "The girls were stunning, the guys, the acrobatics were sensational. A little bit more than I expected, a lot more acrobatic than I expected. I thoroughly enjoyed it."
The website explains that, "Every costume in a Shen Yun performance is presented with brilliant colours, displaying a splendid spectacle—from the Tang Dynasty's "Raiment of Rainbows and Feathers" to imperial dragon robes, phoenix coronets, and cloud capes."
Mr. Andrews thought they were "excellent." He said, "The costumes from the first moment blew me away."
He said they had come to see Shen Yun based on the recommendation of a client who had seen last year's performance. "Wonderful show! I would recommend it to those that haven't seen it and I believe it is different every year. And we would come back again."
He said, "come along and be blown away. It was just entertainment at it's highest level … the performance was first class, sensational."
'Incredibly special.'
Mrs. Andrews said she had wanted to be a ballet dancer as a child, but she was not flexible enough. She felt this made her appreciate the Shen Yun dancers' performances even more.
"It is just absolutely wonderful … I could watch it forever. I just wish I could do it too," she said. "It was magnificent, it really, really was; it was just incredible."
Shen Yun uses mini-dramas to bring 5,000 years of history and culture to the stage with myths and legends, as well as contemporary stories.
"It has some sad elements actually, there is constant striving for improvements … there is such beauty there as well. It is lovely to behold! It is just magnificent! I really, really enjoyed it," she said.
"It is an interesting mixture of ancient and modern."
She continued, "It's like nothing else, I have never seen a show like it. It was a wonderful experience. I shall really remember it."
Mrs. Andrews said she would recommend Shen Yun to everyone. Shen Yun is "something incredibly special that they really need to see. You know, it is one of those experiences that changes your perceptions and it is just very, very beautiful, it really is."
Mrs. Andrews is highly respected in the world of koi carp enthusiasts, and authored Koi Appreciation: The First Step. According to an editorial review of her book, "In 1990, after BKKS Judges Training program, Kate became the second woman in the UK to have achieved full show-judge status. She was elected chairman in 2000."
Reporting by NTD Television and Leigh Smith
New York-based Shen Yun Performing Arts has four touring companies that perform simultaneously around the world. For more information, visit Shen Yun Performing Arts. 
The Epoch Times considers Shen Yun Performing Arts the significant cultural event of our time. We have proudly covered audience reactions since Shen Yun's inception in 2006.