Paleontologist Finds Shen Yun a 'Celestial' Performance
April 18, 2014 6:49 am Last Updated: April 20, 2014 7:15 am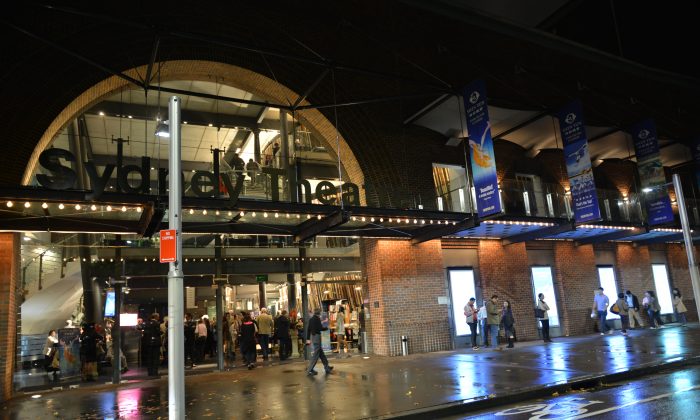 SYDNEY, Australia—Palaeontologist Lucy Sorentino took a break from studying fossils to discover the Shen Yun Performing Arts International Company at the Sydney Theatre on April 16.
"It was sensational," Mrs. Sorentino said. "I've been looking forward to Shen Yun for a long time and I'm extremely impressed. The music, the song, the message, I think is spectacular, not to be missed, I thoroughly enjoyed it. I came with my husband and it was superb."
"I am extremely impressed by the opera singer and the whole dancing which is completely different from what we are used to seeing."
The classical Chinese dance company is based in New York. According to its website, "The primary trait that distinguishes the singers of Shen Yun is their use of bel canto technique to sing Chinese text. This means that the singer must, while continuing to meet the challenges inherent in bel canto technique, retain proper Chinese pronunciation and diction. Today, these singers' ability to do this is unparalleled."
Mrs. Sorentino continued: "Her voice is immaculate and also the way she goes about giving the message with maximum energy–and it does sound special."
"It has to do with a spiritual energy, and her beliefs, her belief in Falun Dafa. It's celestial, it's a celestial show."
The Shen Yun website states, "Forcing atheism upon society, the Chinese Communist Party has for decades launched various campaigns—most notably the Cultural Revolution—to destroy not only cultural sites, temples, and relics, but also the Chinese people's belief in virtue and faith in the divine. Today, on the surface, the Chinese Communist Party claims to be reviving traditional Chinese culture. But no matter how its efforts are framed, they are ineffectual. For the Chinese Communist Party removes the cultural essence of respect for the divine, thereby extracting the heart and soul of traditional Chinese culture. Shen Yun, formed in 2006, seeks to revive these virtues the world over."
Mrs. Sorentino felt peaceful after watching the exhilarating performance.
"Extremely peaceful and relaxed, and in a different sphere," she said. "Thank you for having me here, it's been a pleasure and I hope you can send this message of peacefulness to every country."
If she could, she would like to say to the Shen Yun artists, "Keep up that energy, keep that spirit, and all the very best for you."
Shen Yun 'A richness of culture'
Born in Iran, Ali Sahebi, a clinical psychologist for 22 years, and his wife, a psychiatrist, were drawn to see Shen Yun because they both service a multicultural community.
"It was really interesting for us just to watch," Mr. Sahebi said. "It was a richness of the culture, and then the art and music–everything was great."
His wife agreed. "Very beautiful and very nice. It was interesting for me how much the culture was full and beautiful. So I think we enjoyed both."
After seeing Shen Yun, the couple realised there was much more to China than they had thought.
"We know that there is a history and a story behind each performance," Mr. Sahebi said. "There is a harmony, [like] another culture. And the performance was talking to people about something."
That "something" was the spirituality imbued in the Shen Yun performance, but prohibited in China after some 60 years of communist rule.
Mr. Sahebi said all they had known before was about Chinese art and the Chinese New Year.
"But now we know a lot … Like all the art that they [performed] tonight," Mr. Sahebi said. "There was plenty, plenty of things."
The company website says, "In less than 10 minutes, each Shen Yun dance recounts ancient myths, bygone heroes, or celestial paradises. Whether set in the past or in contemporary China, every dance embodies traditional Chinese values. Ideals of loyalty, filial piety, and veneration for the divine are cherished and celebrated. Heroes are extolled for their compassion and tolerance as much as their courage or determination when facing adversity."
Mr. Sahebi said the concept of a "divine culture" filtered through each dance.
"Yes definitely. You can see that. But it was really new for us that in the background of the Chinese culture there is something [divine] … they [Shen Yun] want to promote that side of the culture as well.
"We also have a very old history and very beautiful traditions. Iran and China are almost the same in the beauty and living in the culture."
Mrs. Sahebi said the message Shen Yun portrayed was similar to her own views.
"People have come from heaven to help other people and to save other people in the universe and to do something on Earth and then come back to the heaven. It's their destiny and they should do it. And not to listen to the lies of the demon. So it's what we should try as human beings," she said.
Mr. Sahebi would recommend sending his clients to see Shen Yun as worthwhile therapy.
Reporting by NTD Television and Raiatea Tahana-Reese
New York-based Shen Yun Performing Arts has four touring companies that perform simultaneously around the world. For more information, visit Shen Yun Performing Arts. 
The Epoch Times considers Shen Yun Performing Arts the significant cultural event of our time. We have proudly covered audience reactions since Shen Yun's inception in 2006.